Cheap Las Vegas Wedding Packages For Two in 2023
All-inclusive, cheap Las Vegas wedding packages just for Two in 2023 - Bride and Groom, or for a couple of guests? They do exist! Getting married in Vegas on a budget, without all the fuss of guests (you may never meet again), never-ending (and off-putting!) ceremonies and frivolous expenses that burn a gaping hole in your pocket? Well, look no further since we have compiled together 11 of the most unique, affordable Las Vegas wedding packages, priced from $62 to $325, you are ever likely to find around Sin City – ones which will let you get hitched, without any hitch whatsoever! The only prerequisite is a Marriage License from the Marriage Bureau, costing just $60, and you will have your awesome affordable wedding!
Quickie Las Vegas Wedding at Paradise Wedding Chapel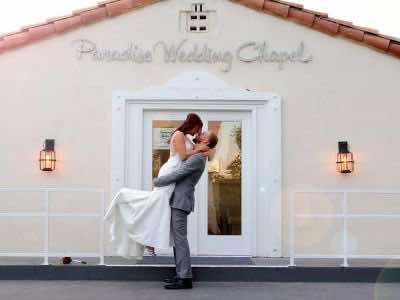 Prices start at $65.00 per group (up to 2)
Couples ready to take the leap into matrimony but don't want the hassles of planning should check-out the Quickie Sign & Go a cheap Las Vegas Wedding at Paradise Wedding Chapel. Your 1-hour ceremony is perfect for couples that are on the go and want to spend more time exploring Sin City and the surrounding attractions. Before you arrive you will need to have your Nevada Marriage License which you can apply for and pick-up at the Nevada Marriage Bureau that is located a mere two minutes away from Paradise Wedding Chapel. Once inside the chapel, a licensed minister will sign your marriage license and then file your license for you with the Clark County Clerk. This is a base package geared toward no-frills and a quick in-n-out ceremony. Couples can add-on several other items from flowers to photographers to wedding vows as they choose for an additional cost at the chapel.
More Romance
Get Your Free Las Vegas Events Calendar!
Best of Vegas