Las Vegas Attractions On The Strip In 2023-2024
Here is a complete list of Las Vegas attractions in 2023-2024 located right on The Strip, or just close by, inside hotels and casinos! Most of these attractions are within walking distance, so that you can make the most out of your Vegas vacation. Feel free to let me know if I forgot to mention anything important!
More Attractions
West Side
Mandalay Bay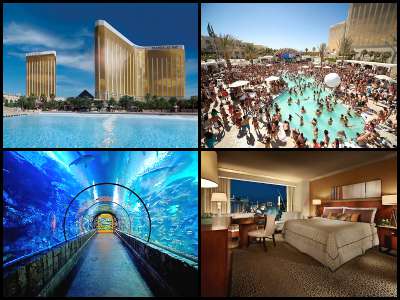 Mandalay Bay Resort & Casino Las Vegas attractions:
Michael Jackson One is a Cirque du Soleil show playing at Mandalay Bay.
Mandalay Bay Events Center Shows
One of the better places in Sin City for you to catch an event or concert is the Mandalay Bay Events Center. The 12,000 seat arena has many exciting features including great sight lines, acoustics and plenty of food and drink amenities for you to enjoy while you watch everything from sporting events to world renowned musicians.
Various concerts at House of Blues Music Hall
The House of Blues Music Hall at Mandalay Bay is a super venue to catch a show. The 1,800 seat amphitheater offers tiered seating with superb sight lines, an old style theater atmosphere and a state-of-the-art sound system that keeps the place bouncing throughout the concerts.
Various concerts on Mandalay Bay Beach
The Mandalay Bay Beach is an ideal place for you to see one of the many outstanding musical artists that hit the stage. The unique experience allows guests to bring a blanket to relax on the beach or you can wade in the surf while listening to the best music in town.
You can watch some of the best female ballers in the world when you attend one of the many exciting games of the Las Vegas Aces. Playing at the Mandalay Bay Events Center, basketball fans will be amazed at the talent that is on the floor each and every night.
The Shark Reef Aquarium offers is an incredible Las Vegas attraction where you will learn the wonders of the ocean. You will be thrilled with various tanks that hold 2,000 animals including the 1.3-million gallon tank featuring a shipwreck teeming with 15 species of sharks and don't forget the Touch Pool that is packed with marine life you can feel.
When you want to chill out and get out of the heat then the only place to go is the Minus 5 Ice Bar. With 90 tons of ice used to build this winter wonder land, you will be pleased after donning your jacket with plenty of drink specials, entertainment and lots of additional games like foosball.
The Light Nightclub is a chic industrial style club that offers everything a party goer is looking for. When you arrive you can indulge in an Ibiza type party atmosphere with stadium seating, a huge dance floor, a state-of-the-art multimedia system and plenty of drink specials all night long.
One of the best day club parties you can attend is going on at the Daylight Beach Club. You can hangout around the 5,000 square foot pool which boasts plenty of daybeds, chic party cabanas and lots of room to dance to the many live performances and DJs that keep the place hopping.
Get Your Free Las Vegas Events Calendar!
Grand Canyon Helicopter Tours by Papilloin
Grand Canyon Helicopter Tours by Maverick
Awesomest Things to do in Las Vegas Every Day!

East Side Of The Strip
Las Vegas Attractions off Strip
Get Your Free Las Vegas Events Calendar!
Best of Vegas