Best Grand Canyon Helicopter tours From Las Vegas
Here are the best Grand Canyon helicopter tours originating from Las Vegas! Helicopter flights to the Grand Canyon are extremely popular and shouldn't be missed while you are planning your Vegas vacation! Many of these exciting helicopter rides include landing and activities at the Grand Canyon - horseback riding, pontoon boat tours, white water rafting, overnight stay at a real cowboy ranch.
Sunset Grand Canyon helicopter tour With Las Vegas Strip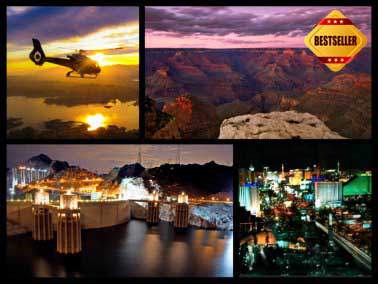 Price From $409.99; Duration: 4 hours
Highlights
Free pick up / drop off
Scenic flight each way
Landing at the bottom 4,000 feet
Champagne picnic
Watching sunset at the Grand Canyon
Views of Hoover Dam in the evening
Views of Vegas Strip in the evening
Review: Is there a better way to celebrate, well, anything? Vacation in Las Vegas, helicopter tours of the Grand Canyon with a flight over Lake Mead, extinct volcanos and the Nevada desert, then a yummy picnic with a glass of real champagne at the bottom of the Canyon near the river, and finally a flight over The Strip!
The champagne picnic at the Grand Canyon might be a perfect way to celebrate a birthday while in Las Vegas, or even to propose!
If the Grand Canyon is breathtaking by day, imagine what it looks like during sunset! The canyon never looks the same - it's always different depending on the sun and angles of shadows Price From the clouds passing above. During your Grand Canyon Helicopter tours from Las Vegas during sunset - best time of the day - you will be able to witness the game of changing colors as you are having your picnic at the bottom of the Canyon, with champagne.
A friendly pilot will answer any questions you may have about this natural wonder. On the way back, your helicopter will fly low over the magnificent hotels as you watch the light show of the Strip down below, before you get a ride back to your hotel in a shuttle.
There's little in this world that is as gorgeous as the Grand Canyon - now imagine looking at this beauty from a bird's eye view! All trips include pre-recorded and live narrations by pilots/tour guides. No matter which Grand Canyon Helicopter tours from Las Vegas you choose - friendly pilots do everything to make your experience unforgettable!
Plan Vegas Stay