Best Grand Canyon Helicopter tours From Las Vegas
Here are the best Grand Canyon helicopter tours originating from Las Vegas! Helicopter flights to the Grand Canyon are extremely popular and shouldn't be missed while you are planning your Vegas vacation! Many of these exciting helicopter rides include landing and activities at the Grand Canyon - horseback riding, pontoon boat tours, white water rafting, overnight stay at a real cowboy ranch.
Grand Canyon All American Helicopter tour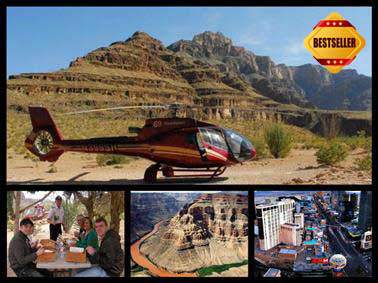 Based on over 6600 reviews
Price From $399.99; Duration: 3 hours 30 minutes
Highlights
Free pick up / drop off
45 minutes scenic flight each way
Landing at the bottom
Champagne picnic
Review: The "All American" is the best Grand Canyon helicopter tour from Las Vegas! The tour to the West Rim with landing and picnic top my list because it deserved so many positive reviews that it's impossible to ignore them! "All American" is easily the most popular and convenient tour that includes a hotel pick up and drop off in a limo, and flying over the Grand Canyon and over the Las Vegas Strip on the way back. The tour offers 4 departure options from early morning to late afternoon.
As you arrive to the Grand Canyon, your helicopter will land at the bottom where you will enjoy a yummy picnic with a bottle of champagne under a Ramada shelter. On the way back to Las Vegas, your helicopter will fly slowly above the Strip. Currently, this is one of the most affordable Grand Canyon helicopter tours from Las Vegas, and the most popular one.
There's little in this world that is as gorgeous as the Grand Canyon - now imagine looking at this beauty from a bird's eye view! All trips include pre-recorded and live narrations by pilots/tour guides. No matter which Grand Canyon Helicopter tours from Las Vegas you choose - friendly pilots do everything to make your experience unforgettable!
Plan Vegas Stay