downtown Las Vegas hotels and casinos Reviews
Here are the best downtown Las Vegas hotels that put you in the middle in the Freemont Street Experience. Families who are looking for more onsite amenities should try the Golden Nugget Hotel, the Plaza Hotel or the D Hotel. If you are looking for a historic property with roots to the early days of Las Vegas then a super choice is the El Cortez Hotel, the Freemont Hotel or the Golden Gate Hotel. Trendy boutique hotels like the Thunderbird Hotel and the Oasis at Gold Spike are ideal for trendy adults looking for value. Older adults are comfortable at the California Hotel and the Main Street Station Hotel. When you are looking for a comfortable place to recharge at a budget price try the Downtowner Motel or book at the Four Queens Hotel.
Golden Nugget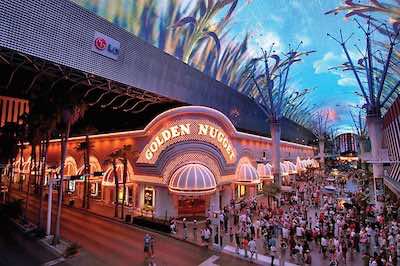 Address: 129 East Fremont St
The Golden Nugget Hotel is an ideal downtown Las Vegas hotel which has plenty of onsite amenities and is superb for families as well as all types of travelers. Located in the center of the Freemont Street Experience, the Golden Nugget Hotel has 1,914 rooms and suites which boast a contemporary interior. There are eleven categories of rooms available with varying amenities from VIP passes to discounts on spa treatments to no resort fees. The average room size is 364 square feet with a choice of bedding and views of the pool area or skyline. The one-bedroom Rush Tower Corner suite has a separate living room and panoramic views. The one-bedroom Parlor and Spa suites are 1,200 square feet of living space on two-levels with a separate living room, floor to ceiling windows, some units offer an in-suite Jacuzzi and you have views of the Shark Tank freshwater swimming pool as well as the skyline. The Golden Nugget Hotel has a lively atmosphere and is close to many nearby attractions such as the Discovery Children's Center, shopping at the Las Vegas Premium Outlet Mall as well as you are right across the street from SlotZilla Ziplines within the Freemont Street Experience. The Golden Nugget downtown Las Vegas hotel has numerous onsite amenities which start with two freshwater swimming pools that include an adults-only as well as a family pool with a Shark Tank and waterslides. There is an arcade for children, a fitness center and full service spa onsite. Dining at the Golden Nugget Hotel includes nine restaurants from the Chart House to Vic and Anthony's Steakhouse to Grotto Italian Ristorante to the Claim Jumper. Other dining choices onsite include Lillie's Asian Cuisine, Red Sushi, the Cadillac Mexican Kitchen, the Grille and there is a buffet restaurant. Nightlife at this popular downtown hotel onsite includes Gold Diggers Night Club, the Showroom features live music from top notch bands and you can party at the Ice Bar, Claude's Bar, H2O Bar, Cadillac Tequila Bar and the Rush Lounge.
More Hotels