Best Wineries Near Las Vegas
Discover the best wineries near Las Vegas that offer a great day trip from The Strip and provide an enjoyable alternative to the usual activities in Vegas. These wineries come highly recommended and are a must-visit for anyone looking for a unique and relaxing experience outside of the hustle and bustle of Las Vegas.
Map
Pine Hollow Winery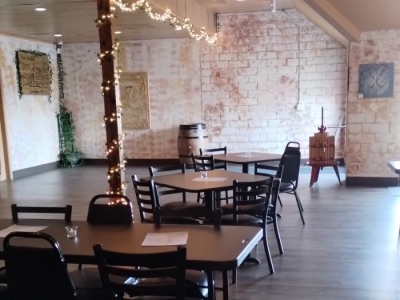 Address: 7018 W Charleston Blvd.In the corner @ Fiesta Square.
You don't have to travel to California or even the East Coast to find some fascinating wine to sip on when you visit Sin City. The winery is owned by Barbara DiVirgilio, and her husband John is the Vintner. When you stop by Pine Hollow Winery and located very close to the Strip in Las Vegas, you'll know you've found something unique. Located along West Charleston Boulevard in Fiesta Square, Pine Hollow Winery is the only winery in Las Vegas serving up their tasty handcrafted selection by the flight, glass, and bottle.
The winery originated and first operated in Pennsylvania, founded by Barbara and John DiVirgilio before they decided to take the plunge and bring their unique flavors and selections of handcrafted wines to Sin City. The couple took eleven years formulating a plan that brought their winery from the East Coast to Las Vegas, along with their ingenuity to form the first winery within Las Vegas city limits.
Each of their selected wines has a special quality, with every bottle prepared with a mixture of love, flavors, and care to bring out the best in their wines. Pine Hollow Winery offers a variety of fun tasting wines, including Ginger Snapped, a sweet dessert wine; Toasted Joe, a coffee-infused dessert wine; Peppermint Dreams, a merlot-style wine; and Monkey Business, which has a Pinot Gris-style sweetness.
Other delicately crafted wines at Pine Hollow Winery include Warm Fuzzy, a Chardonnay-style wine; Blackberry Zinger, which has a cabernet-style finish; and Naughty Noiret, a heavier Pinot Noir-style wine made from grapes originating in the Lake Erie region. In total, the winery boasts 15 different flavors for you to indulge in while visiting their splendid tasting room.
When you experience one of their tastings, you have several options for how many wines to enjoy during your visit, and you can also add quick appetizers like spring rolls.
Artesian Cellars Winery And Restaurant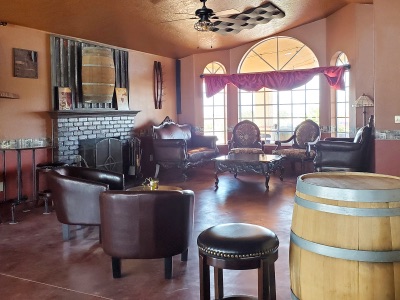 Address: 1731 NV-160, Pahrump
Website: artesiancellars.com
Phone: 775-600-7144
If you're looking for a charming winery near Las Vegas, Artesian Cellars Winery is definitely worth checking out. Located just a short drive from Sin City in Pahrump, this hidden gem offers a peaceful escape from the Strip.
Owned by Tim Burke and Pam Tyler, Artesian Cellars Winery is a cozy spot where you can enjoy delicious food, great wine, and friendly company. The staff is knowledgeable and welcoming, making you feel right at home.
One of the highlights of Artesian Cellars Winery is their wine slushies. These frozen drinks are the perfect way to cool off on a hot day while sipping on some fantastic wine. They also offer wine tastings where you can try a variety of their own wines, which are made from grapes sourced from Nevada, California, and Washington.
They also have a restaurant that serves their own wines, making it a fun place to hang out with friends and family. Aside from wine tastings and delicious food, Artesian Cellars Winery hosts music events by local musicians, paint and wine nights and music bingo.
The tasting room is small and cozy, located in a converted house that gives it a homey feel. The outdoor seating area offers stunning views of the mountains and desert sunsets, making it the perfect place to relax and unwind.
Reservations are suggested, so be sure to plan ahead. You can call them or make a reservation on the website. Whether you're a wine lover or just looking for a unique experience in Pahrump, Artesian Cellars Winery is definitely worth a visit.
Sanders Family Winery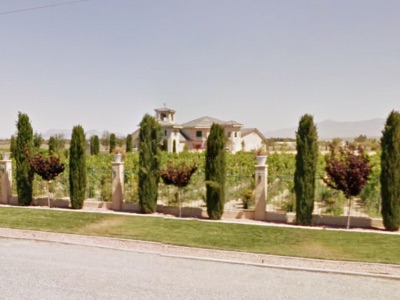 Address: Sanders Family Winery 3780 E Kellogg Road Pahrump
Website: sanderswinery.com
Phone: 775-727-1776
If you're looking to visit a winery near Las Vegas, consider making a trip to the oldest vineyard and winery in Pahrump - the Sanders Family Winery. Located along East Kellogg Road about an hour outside of Sin City, the winery has been handcrafting delicious wines in Pahrump since 1988, when founder Jack Sanders planted the first vineyard and established the winery. As the first winery in Pahrump, Sanders Family Winery are pioneers of the wine industry in Nevada.
Once you arrive at the Sanders Family Winery, you'll be amazed by the stunning Renaissance Tuscan-style facility that will transport you into a world of wine, fun, and happiness. Start off at the visitor center and get a rundown on the operation before taking one of the many different tours through the two onsite vineyards. Stroll through the numerous rows of meticulously manicured grapevines before viewing the production facilities (when available).
The fabulous Renaissance Tuscan-style facility is set amidst stunning mountain views and is home to great wine tastings offered every day of the week. The interior of the building is adorned with classic artwork from local artists, giving the space a romantic, relaxing, and comfortable feel as you sip on various handcrafted wines. Enjoy chardonnays, semi-sweet Serenity with hints of pear, Harmony with citrus notes, chocolatey merlots, peppery cabernet sauvignon, and a sweet burgundy with complex flavors.
In addition to their excellent selection of wines, the winery produces delicious ports and cream sherry that are perfect for dessert. During your leisurely wine tasting, a knowledgeable professional from the vineyard will be available to explain everything you wish to know about their exciting handcrafted wines
Sanders Family Winery has much more to offer than just wine tastings. The large amphitheater, The Betsie Sanders Theater For The Performing Arts, is located on the grounds and hosts outstanding concerts throughout the year from a variety of musical genres, as well as special events from corporate gatherings to weddings. During your visit, inquire about joining their wine club, which offers competitive prices and shipping to more than 20 states across the country. Overall, this winery is highly recommended for those looking for a unique experience near Las Vegas
Vegas Valley Winery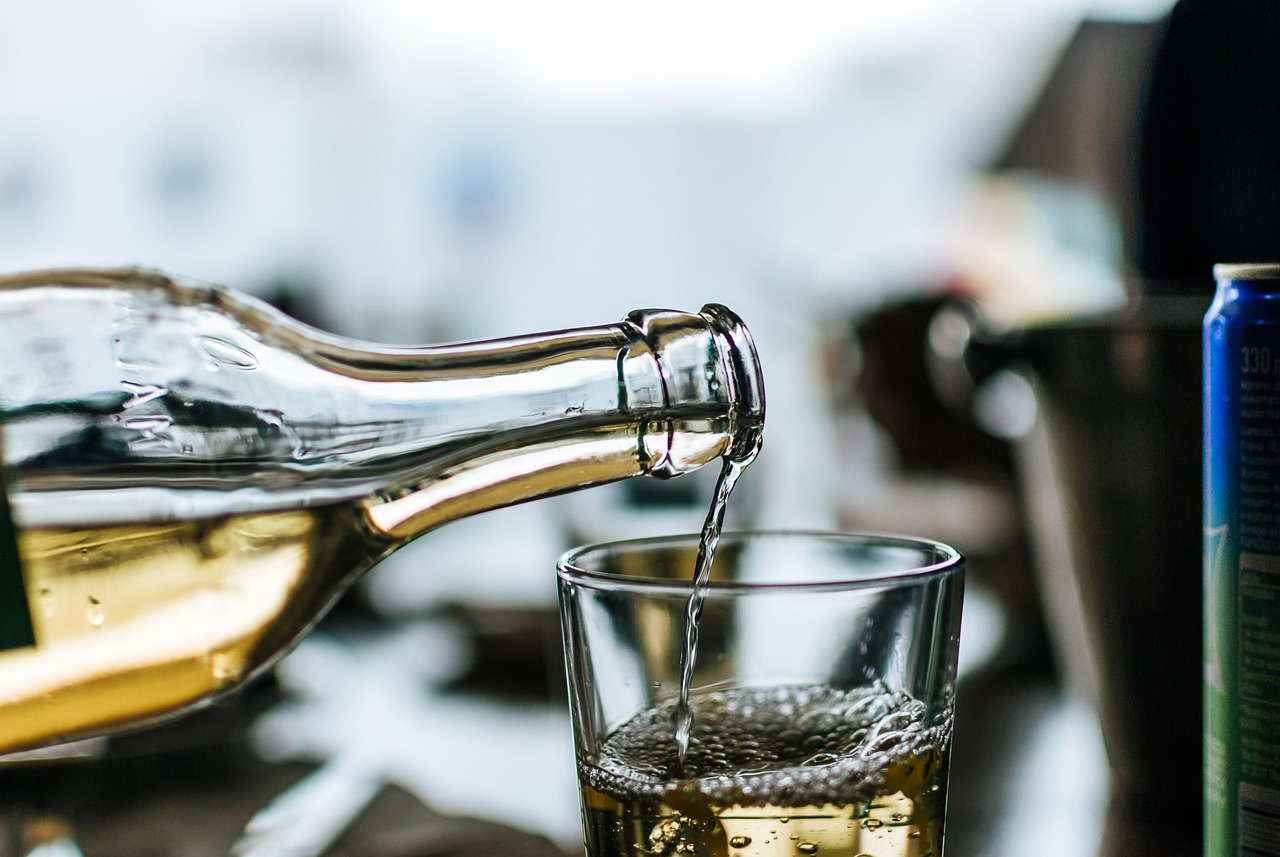 Address: 7360 Eastgate Rd Ste 123, Henderson
Website: vegasvalleywinery.com
Phone: 702-823-4065
Vegas Valley Winery is located along Eastgate Road at the Harsch Henderson Commerce Center in Henderson, also known as the Henderson Booze District. It opened its doors in 2017, and is one of the best wineries near Las Vegas that you can visit. As a sister property of Grape Expectations, which is reviewed below, Vegas Valley Winery offers a unique and enjoyable wine tasting experience.
Enjoy a splendid time at Vegas Valley Winery tasting a variety of onsite handcrafted wines, including cabernet sauvignon, sangiovese, tempranillo, rose, muscat, and dry riesling. In addition, the winery offers specialty hard ciders with the perfect mix of flavor and alcohol. During your visit, you can learn more about the grapes used, which come from California and Nevada. The pressing and storing process results in delicate and flavorful wines with a unique blend of ingredients.
Vegas Valley Winery offers a neighborhood tasting room and wine lounge where you can enjoy a flight of wines or a glass accompanied by a charcuterie platter, custom pizza, and rich chocolates while savoring some of the region's best wines. The facility also offers tours of the production area, where expert winemakers are hard at work crushing grapes, pressing, storing in barrels, and bottling and corking. It's the perfect opportunity to witness the winemaking process firsthand.
At Vegas Valley Winery, there's plenty of space for special events in the open area surrounded by wooden storage barrels used to age the wines.
Vegas Valley Winery is a great place to hang out and take a break from the Strip. The winery offers a variety of events, including live music on Saturdays, yoga and wine events, charcuterie workshops, open mic nights, and comedy shows.
Grape Expectations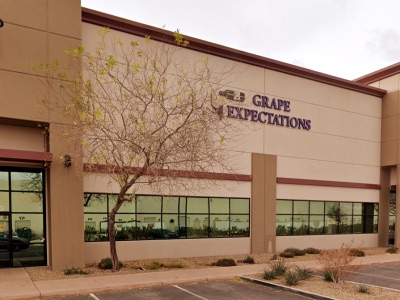 Address: Address: 7360 Eastgate Rd Ste 125, Henderson
Website: grapeexpectationslasvegas.com
While visiting Las Vegas, most people would expect to be able to take a class on how to play blackjack or poker, but an exciting alternative available in Sin City is to take a wine making class at Grape Expectations: A Nevada Wine Making School.
Grape Expectations is located along Eastgate Road in the Henderson Booze District, near Vegas Valley Winery reviewed above, making it a perfect alternative for visitors looking to spend some time away from the Strip in a winery near Las Vegas.
Founded in 2005 by registered sommelier Charlie Peters, Grape Expectations is a true treat to visit and offers patrons numerous activities to help them learn more about wines and the wine-making process.
At Grape Expectations, the 11,000-square-foot facility offers superb wine-making classes that take you through the entire process of making handcrafted wine. You'll learn everything from crushing the grapes and pressing them to placing the wine in an American white oak barrel, sorting the sediment, and finally bottling and corking your creation in stainless-steel tanks.
Classes take place twice a year, depending on grape harvesting, such as the Spring classes with grapes harvested from Chile, South America. These classes take place from April to May for crushing and pressing, with racking happening in October the next year, followed by bottling in February or March. Fall classes start around September or October with grapes harvested from California and follow a similar timeline but with different months that may overlap at times with the Spring harvest classes, allowing you to enjoy the full gamut of wine-making.
Grape Expectations is also a great idea for corporate events where you can learn about team building, following strict processes, and enjoying the fruits of your labors. The establishment is perfect for those looking for a unique gift, as you can create your specific label and tasty wine for clients, guests at your wedding, or that special party that needs something extraordinary in the gift bag.
Pahrump Valley Winery - CURRENTLY CLOSED - Rebranding as Charleston Peak - MORE TO FOLLOW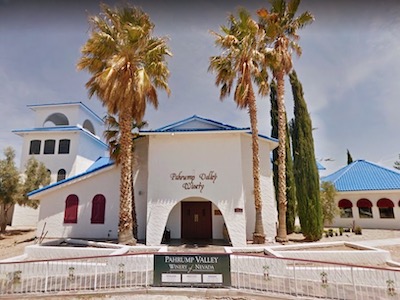 Address: 3810 Winery Rd, Pahrump, NV 89048
An excellent way to spend some time away from Sin City is to take a day trip to a winery near Las Vegas, and one of the best options you'll find in Nevada is the Pahrump Valley Winery, owned by Gretchen Loken. Located just one hour outside of Sin City in Pahrump along Winery Road, this winery is a true gem in the midst of a desert oasis.
The winery offers a wide range of labels for you to experience, including Charleston Peak, Nevada Ridge, Moody Creek Wines, and their signature offerings from Pahrump Valley Winery. Once you arrive, there are plenty of activities to indulge in, from taking a tour of the facility and vineyard to tasting a flight of their handcrafted wines. You can also enjoy a delicious meal at their onsite restaurant, Symphony's
The small estate vineyard is a truly special place to visit, and due to its popularity, reservations are typically required to experience the unique feeling of friendliness that greets you as you enter the property. The casual upscale restaurant is also a must-try, where you can learn how to pair wine with innovative cuisine for breakfast, lunch, and dinner.
For breakfast, the restaurant offers a variety of egg-based dishes, waffles with chicken, and several styles of eggs benedict. The lunch menu is more extensive, featuring everything from shrimp cocktails, crab cakes, and charcuterie platters to numerous salads, fruit and cheese platters, traditional pasta dishes, and blackened mahi-mahi. Dinner brings out all the delicious cuisine, including baked brie, andouille mac & cheese, a variety of red meats, pasta dishes, and the winery's signature chicken marsala.
Other stellar activities at Pahrump Valley Winery include a special tour of the vineyard and production facilities that runs twice daily in the afternoon. Wine tastings happen daily from 10am to 8pm, where you can try many of the twenty flavors of wines from four different labels including a cabernet sauvignon, chardonnay, a pinot noir, a savory merlot, a red zinfandel, a perfect pinot grigio that will tantalize your taste buds.
During your visit, you can also sign up for Pahrump Valley Winery's wine club to learn how you can have their superb wines sent straight to your home or business in over 25 states around the country. Pahrump Valley Winery is a highly recommended winery near Las Vegas, offering a unique and enjoyable experience for visitors.
Get Your Free Las Vegas Events Calendar!
Best of Vegas