Circus Circus Hotel Las Vegas Review

The Circus Circus Hotel Las Vegas will satisfy the inner child of anyone on the plant, whether you are young or old.
The famous Big Top that can be seen from the Strip is full of fun, adventure and reasonable no nonsense rooms. The Circus Circus property has been a family and children friendly complex from the beginning. The live circus performers that exhibit their skills daily highlight the carnival atmosphere that Circus Circus Hotel delivers.
The Adventuredome is sure to keep even the biggest of children occupied with the thrilling selection of amusement rides. The arcade and carnival style games throughout the complex will have guests feeling young at heart. Enjoy dining that is family priced with options from McDonald's to the Circus Buffet to tacos at the Blue Iguana.
There are two pools that offer ample deck space for sun lounging. There are several choices for lodging that includes an RV Park with a pool, the Manor Motor Lodge and three towers full of rooms as well as suites that are priced perfect for families. The casino area has plenty of games for the players with an additional race and sports book area. If you are looking for a reasonably priced salon then Let Your Hair Down is the ideal spot. The shopping provides ample opportunities for you to buy souvenirs and you can always fade away into the corner with some fabulous cotton candy while you gaze at the free circus show.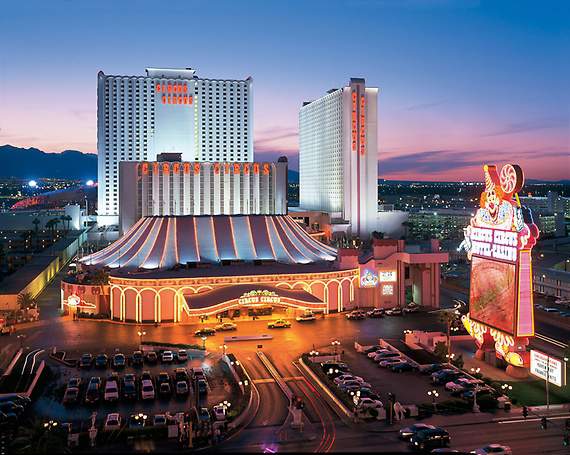 Entertainment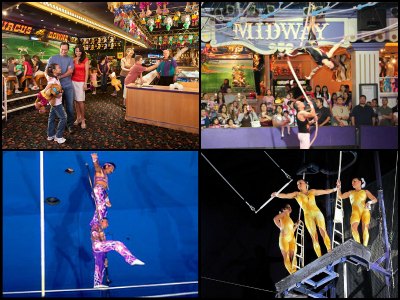 The entertainment at Circus Circus Hotel Las Vegas is simply unique. This is the home to the largest indoor theme park in the United States and the only permanent circus in the world.
The Midway has been a staple at the Circus Circus Hotel since opening in 1968. Many of the legendary circus acts have performed under the Big Top over the years and the tradition stands strong. The Midway is the largest permanent circus in the world and serves up complimentary shows throughout the day and evening.
The circus artists amaze audiences on a daily basis with hilarious clown shows, dizzying aerialist, animal trainers and high flying trapeze performers. The Midway is designed to bring the little kid out of everyone with over 200 carnival type games surrounding the main show area where guests can win prizes.
Photo by
David Stanley
Rooms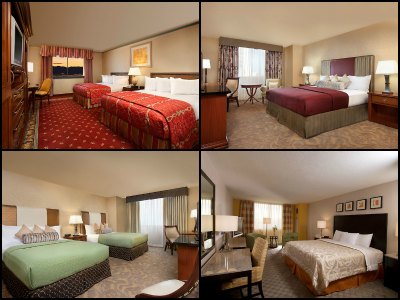 The 3,700 plus accommodations at Circus Circus Hotel Las Vegas range from a RV Park to the Manor Motor Lodge to one of the three distinct towers to well appropriated suites. Rooms located in the Skyrise Tower are 351 square feet of simple wood décor.
These rooms have a king or two queen size beds with a work desk area and armoire. The bathroom has a tub/shower combination and a vanity. The West Tower rooms boast 364 square feet and are located near the shopping promenade and Adventuredome. The rooms include a king or two queen size beds, table with chair and work area. The bathroom has a vanity and a tub/shower combination.
The Casino Tower rooms are 364 square feet with the rooms being remodeled in a contemporary décor. Rooms are available with a king or two queen size beds, a table with chairs and a work desk. The bathroom has a tub/shower combination and a vanity. The Large King Rooms in the Casino Tower are 434 square feet and has an enlarged sitting area that includes a king size bed, a table, chairs and work space. The bathroom has a vanity and a tub/shower combination.
There are also suites scattered throughout each of the three towers. Suites range from one bedroom to split levels to whirlpool to parlor to penthouse. Each suite is fashioned in themes that match the hotel's fun circus and family style atmosphere.
The Manor Motor Lodge is located one-half block away from the main Circus Circus Hotel Las Vegas. The motor lodge has five three-story buildings that contain rooms that are 351 square feet in size with a king, two king or two queen beds. There is also a table, chair and work desk area with a bathroom that includes a tub/shower combination. The RV Park is within walking distance to the main complex. There are electricity, water and sewage hook-ups available for 170 spaces that range in size from 60 to 80 feet long. There is also a pool and small store on site for guests
Nightlife - clubs & bars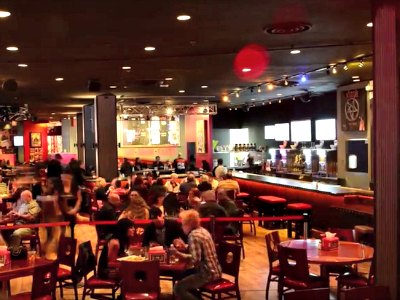 The Circus Circus Hotel Las Vegas has six main casino bars sprinkled throughout the complex. The Sports Book Bar, the Slot A Fun Bar and the West Bar are open 24 hours a day for guests to enjoy signature cocktails.
The Lobby Bar is great for meeting people; guests can indulge in a frozen daiquiri at the Big Chill; the Pool Bar can cure your thirst and the Adventuredome Cactus Bar has fun drink concoctions with souvenir glasses.
Guests that are looking for a more upbeat party scene can try the Vince Neil's Eat-Drink-Party! There is live DJ's, a party bus, interesting cuisine and plenty of libations at this location.
Casino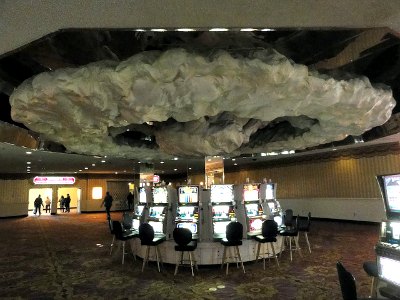 The casino area at Circus Circus Hotel is 100,000 plus square feet of everyone's favorite table games as well as a plethora of slot and video poker machines. Table games for different budgets include everything from blackjack to roulette to craps.
Circus Circus Hotel Las Vegas has poker tables for players of Three Card Stud, Pai Gow and Caribbean. The newly remodeled race and sports book offers modern amenities with personal betting stations as well as a sports bar for patrons to view their favorite events.
Photo by
inazakira
Buffet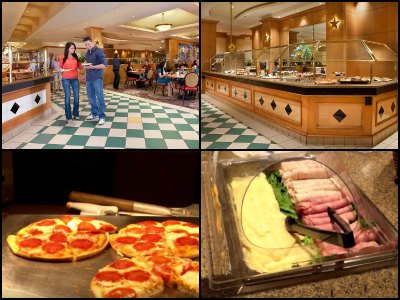 The Circus Buffet not only serves up cuisine for breakfast, lunch and dinner as well as hosting a daily brunch. Guests will be amazed by the size of the buffet and selection of cuisine. The atmosphere is casual and guests will find an assortment of cuisine from around the world as well as American style buffet classics.
There are live cooking stations that include items like omelets for breakfast to a carving area of fine meats at dinner. The daily brunch buffet is perfect for families and guests that may have had a busy morning or a late night.
Restaurants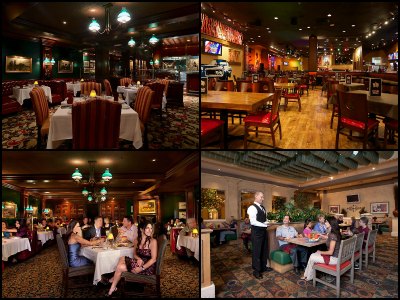 There are plenty of different dining options at Circus Circus Hotel Las Vegas from quick bites to large steaks and the prices are all family friendly. On the quick side of food fares there is a McDonald's and Krispy Kreme for doughnuts.
Guests can indulge in the Garden Grill serving chicken wings and burgers; Barista Bagels and More serves up bagel specialties and coffee; the Westside Deli boasts sandwiches, salads and pastries and the Horse-A-Round Snack Shack furnishes guests with cotton candy and other carnival delights.
There is also affordable Mexican style food at the Blue Iguana; patrons can find every kind of cuisine imaginable at the newly remodeled Circus Buffet and pizza, calzones and other Italian favorites are served at the Pizzeria. On the casual to upscale side of dining there is The Steak House for that aged cut of prime beef and Vince Neil's Eat-Drink-Party delivers the same high energy as Motley Crew with signature burgers and innovative dishes in a total party atmosphere.
Pools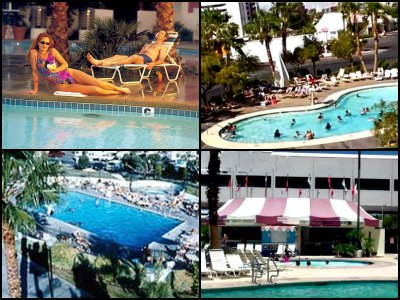 The Circus Circus Hotel Las Vegas has three free-form pools and two Jacuzzis within the complex. There are two pools that serve the main hotel with adjacent Jacuzzis. There is plenty of deck space for lounging in the sun with palm trees offering shade.
The pool area has a snack bar for guests that want quick drink and food. The third pool is located at the Circus Circus RV Park and is only available to these guests.
The Adventuredome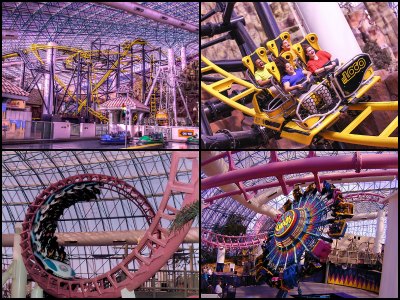 Circus Circus Hotel Las Vegas presents the Adventuredome which is one of the more exhilarating attractions in Las Vegas.
The Adventuredome is the only theme park located in Las Vegas and has the added bonus of being indoors with a controlled climate.
The theme park contains many one-of-a-kind thrill rides like the Canyon Blaster which is a double-loop and double corkscrew roller coaster; the Sling Shot serves up 4+ G's going up and a -1 G on the way down; El Loco is a recording breaking roller coaster that boasts negative G's as well as hair raising turns and twist and guests will get tossed in all directions while riding the Chaos.
There is a unique 4-D extreme ride theater that delivers high energy to all ages with Dora the Explorer and SpongeBob SquarePants adventures. The Adventuredome has plenty of traditional rides and entertainment like bumper cars, clown shows, carnival games and a carousel for all ages to enjoy.
Weddings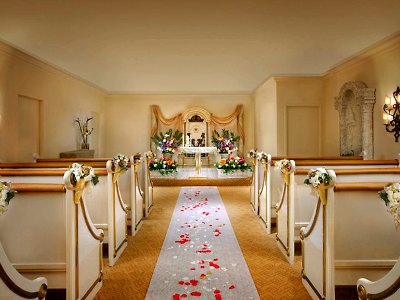 Weddings at Circus Circus Hotel Las Vegas are performed at the beautiful Chapel of the Fountain. This chapel has an intimate English garden décor with seating for up to 50 guests.
The complex offers several different packages and there are expert wedding planners that can make your day truly special. Planners can help make your special day easier by creating your dream wedding.
Salon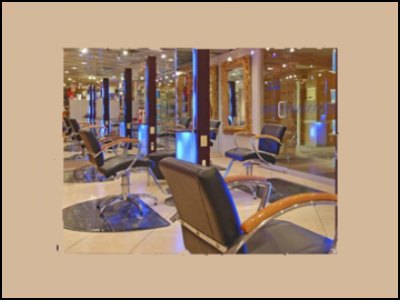 Let Your Hair Down Salon at Circus Circus Hotel Las Vegas offers all of your standard services you would expect like manicures, haircuts, facials, waxing and spray tanning.
The salon is unisex and has a limited selection of holistic as well as therapeutic massages that can help relax your tense body. The salon has several signature packages like the Spa Classic and the Spa Sampler which include massages, facials and other beauty treatments.
Shopping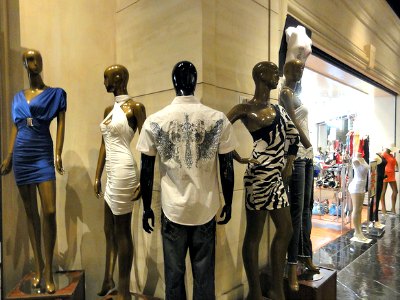 The shopping at Circus Circus Hotel Las Vegas is an opportunity to browse moderate retailing shops that offer trendy designs and the necessary essentials.
Shops like Circus Spirit, Headliners and Market Express offer snacks, film, liquor and other items; the Trading Post is a unique candy experience; Las Vegas Popcorn and Ice Cream boasts incredible circus style edibles; Gifts 4 Less has all the souvenirs you need.
The shops include Circus Spirits for all of your party needs; the authentic luxury aromas at Designer Fragrances will heighten your sense and B-ICONIC is the perfect place for both men and women to find apparel as well as accessories.
Photo by
inazakira
Get Your Free Las Vegas Events Calendar!
Best of Vegas