Donny Osmond Las Vegas Show Review
Donny Osmond Las Vegas show is not what you might think about after a stellar 11 year run at the Flamingo with his sister Marie, because after cutting his 65th album of his career, Osmond takes to the stage by himself.
Performing at Harrah's Showroom, Osmond brings everything to the table from his stellar six-decade career as a top-notch entertainer. His work ethic, showmanship, and still flourishing singing voice is showcased during his new residency. Osmond will take you back and to his current musical adventure in a production that features everything from video panels to lasers to artificial smoke to plenty of confetti at the end and don't forget about his singing and dancing skills.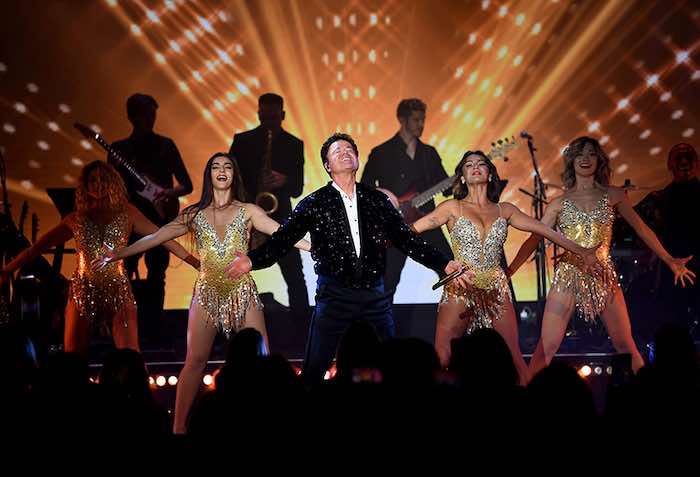 During the Donny Osmond Las Vegas show you get a taste of him stealing the show from Andy Griffith as a child to his classic hit Puppy Love to some of his new stuff from his latest album Start Again which leans more into EDM. There are some videos of him singing Ambitious with Jeff Beck from his darker days of the music industry and there are glimpses of his days in the 1970s when sequins ruled the day and a shirtless Osmond belts out his iconic hits from Joseph and the Amazing Technicolor Dreamcoat.
Believe it or not this is the first time that Donny Osmond has played on the Strip by himself. The production highlights much of career and there is even a section of the show where the audience is asked to pick a song from any of his albums. Sure, the full band that accompanies him on stage may stumble but Osmond tries really hard to remember the lyrics as he sings. Throughout the production Osmond displays his talents and showmanship over and over again like when he plays a little piano and tap dances a bit which solidifies how this 63-year old guy has stayed on top of the entertainment world for so long.
The Donny Osmond Las Vegas production is masterful with award-winning Greg Young as the producer helped out by Raj Kapoor as the director. The Nappytabs (aka. Napoleon and Tabitha Dumo) are in charge of the choreography. The whole show is something to marvel and you get the idea at the end that Osmond is not ready to quite performing anytime soon.
Sure, you might be disappointed that Marie is not performing with her brother but you never know when she might pop out of the audience. But there is a beautiful tribute to his sister and their stellar careers together when Osmond sings the Beatles hit In My Life. The production concludes with a clever rap by Osmond that starts from the beginning of his career to his present-day life which still brings all of the attributes of a world-class entertainer to the stage.
In the end, Donny Osmond Las Vegas show is a must see on many levels and is something you don't want to miss out on when you are visiting Sin City.
Venue
Donny Osmond Las Vegas show is performing at the 544-seat Harrah's Showroom. The venue has individual, table, and booth seating available. The best seats are found in section A which is the middle section right in front of the stage. Sections AA and AAA are also in the front with a side views. Any of these seats are ideal if you want to be close to the show and action on stage. Booth seating is directly behind these front sections with booths K and KK offering seating for groups of four to eight people. Table seating is available starting in section L and LL and offer good sightlines with value. After this the rows are rotated between booth and table seating with booths Q and QQ at the upper level of the venue. These seats offer good value with good sightlines from a distance and can accommodate four to six people.
Cast
Donny Osmond has been in the entertainment business for close to 60 years. His accomplishments range from singing to acting to a racecar driver to being a television host on three different levels including a talk show, variety show, and game show. Osmond has 33 gold records to his name and has sold more than 100 million albums over the years. Over much of his career he was accompanied by his sister Marie which together had an incredible 11 year run residency at the Flamingo. He recently released his 65th album entitled Start Again that includes 12 tracks of Pop/R&B magic which were co-written and produced by himself.
The Donny Osmond Las Vegas show is produced by Tony Award winner Greg Young of Mojave Ghost. The show is directed Raj Kapoor who has helped live shows with the Backstreet Boys, Maria Carey, and Shania Twain. Choreographers are Napoleon and Tabitha Dumo also known as Nappytabs.
Tickets
Donny Osmond Las Vegas show is playing at Harrah's Showroom within Harrah's Las Vegas. The 90-minute production runs Tuesday thru Saturday beginning at 8:00p.m. Tickets start at $68.00 for upper level seats, $94.00 for middle section seats, and $117.00 for front section seats. There are VIP packages available which include meet and greet opportunities, Platinum seats, and 3D Collector tickets. Tickets may be purchased for guests of all ages.
Get Your Free Las Vegas Events Calendar!
Best of Vegas