Encore Hotel Las Vegas Review

The Encore Hotel Las Vegas is an upscale boutique property that is located adjacent to the Wynn Hotel complex and is exactly what you would expect from another Steve Wynn property.
The extra amenities and personal service provided by the complex are truly a cut above other hotels in this price range. This all-suite complex offers a variety of suites that include some of the best accommodations in Las Vegas. The Encore Hotel is luxury presented in a contemporary comfort right down to the signature Steve Wynn Dream Bed. The suites are large with enough space for solitude or entertaining and the décor will please all of your senses.
The Encore Hotel Las Vegas has an exquisite décor that includes Swarovski Crystal and hand blown glass chandeliers along with artistic sculptures throughout the property. The grounds are lush with greenery and include many spectacular features like waterfalls. The pool area is perfect with a separate wading pool and an adult only pool where European sunbathing is permitted.
Cuisine at the Encore is upscale with a variety of restaurants that serve delicious dishes such as Old Blue Eyes favorite of spaghetti and clams at Sinatra as well as an innovative Wagyu beef and lobster roll at the famed Andrea's. Vegans will be pleased to know that each restaurant also offers specialty vegan cuisine that will delight their pallet.
The shopping at the Encore Hotel Las Vegas Esplanade includes luxurious brands like Chanel and Hermes. The nightlife at the Encore includes the spectacular XS Nightclub which has been rated number one in the United States for many years. All-in-all the Encore Hotel has something for everyone that is looking to have a slice of luxury while visiting the greatest entertainment city of the world.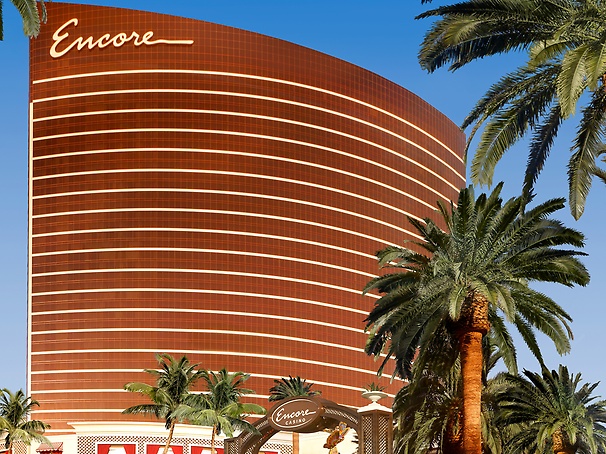 Rooms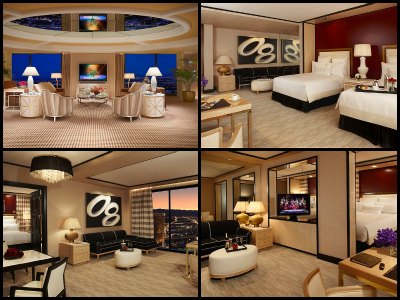 The Encore Hotel Las Vegas boasts nothing but suites for their guests. There are no regular rooms available at this complex and the amenities associated with each suite add value to your stay. Each suite delivers comfort, style and elegance in a way that you will appreciate the price tag. From such items as a Steve Wynn Dream Bed to one touch climate comfort to signature toiletries, the guest knows that only the finest will be offered
The Resort Suite is over 700 square feet of pure luxury living. These suites are located between the 7th and 30th floors and offer a view of the Strip or pool. There is a separate living area with a dining table, a minibar, a work desk area and the bathroom includes a dual sink vanity with a soaking tub as well as a large walk-in shower. This suite is available with either one king or two queen sized beds. The Panoramic King Suite is similar in size as the Resort Suite with the option of a view of the Strip or historic Downtown Las Vegas. The living area has floor to ceiling windows, a dining table, minibar and a work area. The bathroom is slightly larger with a makeup vanity, dual sink vanity and a soaking tub with an oversized shower.
If you are looking for that VIP experience then staying at one of the three suites in the Tower Complex will amaze you. These suites all offer a separate check-in area, concierge services, paid daily resort fees, exclusive pool access, daily newspaper, a breakfast credit daily through in-room dining and several other upgrades throughout the Encore complex. Tower Suites are around 700 square feet with a living area, dining table, work space and minibar. The bathroom has a dual sink vanity, soaking tub walk-in shower and plenty of wardrobe space.
The Parlor Suite is 1,408 square feet that offers a larger living area with a dining table, minibar and work desk. There is a separate massage room in-suite for that special relaxing moment. The bathroom features a dual sink vanity, soaking tub, a makeup area and a large walk-in shower. The Parlor Suite is available with one king or two queen sized beds.
The Salon Suite is 2,261 square feet of a smartly decorated space that includes an exquisite living area that mixes solitude with entertaining at the Encore Hotel Las Vegas. The space includes a separate dining area, a wet bar, a dedicated work space and an incredible view provided by the floor to ceiling windows. There is a private massage room and the bathroom includes a makeup area, dual sink vanity, an extra closet, soaking tub and a large shower.
Nightlife - clubs & bars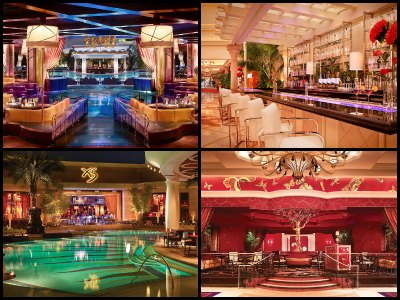 Nightlife does not get any better in Las Vegas than the nightlife at the Encore Hotel Las Vegas. There are several unique bars and lounges within this complex that amaze guests like the Lobby Bar and Café which has a large statue of the Greek nymph, Daphne and serves unique cocktails and coffees in the morning; the Eastside Lounge where Michael Monge sings all of your old time Las Vegas favorites; the Tower Suite Bar offers wonderful morning coffee as well as champagne cocktails in the evening and VDKA is situated near the entrance to Andrea's and boasts 150 different types of chilled vodka as well as signature martinis.
There are three distinct nightclubs that are sure to please every party goer and adventure seeker. The Surrender Nightclub sports a yellow colored plush interior with a 90 foot snake adorned above the gorgeous neon bar. There is also an outside area where you can reserve a private cabana with VIP amenities to help dance the night away; the Encore Beach Club is open seasonally and is the spot in warm weather to dance to such DJ's as Diplo and the most impressive nightclub at the Encore is XS where David Guetta calls home.
XS has been recently renovated to include upgraded sound and visual technology that now includes out-of-this-world production items like pyrotechnics, lasers and numerous LED lights. There are also poolside cabanas outside for rent as well as a huge dance floor for patrons. The XS Nightclub has been voted the number one nightclub in the United States for five years running and is considered a must experience in Las Vegas.
Casino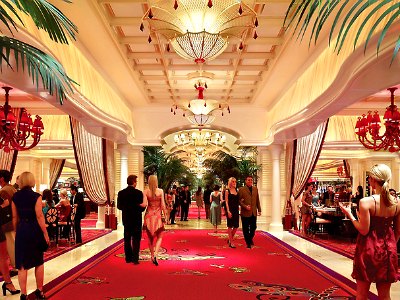 The casino area at the Encore Hotel Las Vegas is over 100,000 square feet with a red and gold décor that features 130 hand blown glass chandeliers. There is also natural sunlight provided by the stained glass windows that overlook the pool area. The space is filled with all of the necessary gaming tables and machines.
Players can choose from a wide range of atmospheres that include lush garden to lots of neon to the intimacy of the high limit area. The Encore Hotel casino has all the favorite slot and video poker machines that people want to play. You can also play blackjack, roulette, craps and several types of poker such as Texas Hold'Em, Stud and Caribbean.
Restaurants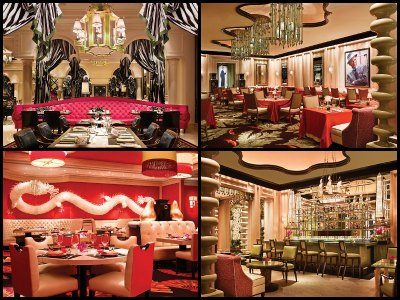 Dining at the Encore Hotel Las Vegas has a unique flare that will leave your stomach happy and a smile on your face. The dining components of the complex are also vegan friendly and very upscale.
Patrons can view the 27 foot dragon made of 90,000 individual crystals and indulge in Pan-Asian classics by Chef Chen Wei Chan at Wazuzu; Sinatra boasts a superb ossobuco as well as Italian cuisine prepared by Chef Theo Schoeneggar's in a setting that is adorned with memorabilia of the iconic singer; Andrea's, which overlooks the Encore Beach Club, has Chef Joseph Elevado preparing an exotic five-spice garlic lobster; the Society Café Encore features a décor of Victorian era London while preparing innovative American comfort food.
Pools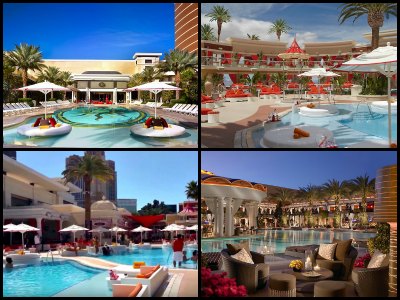 There are two separate pools at the Encore Hotel Las Vegas that are set in a lush garden between the Wynn Hotel and Encore Hotel. The pool area is viewable from many vantage points including the XS Nightclub and the convention space at the Encore Hotel. There is plenty of deck space to soak in the sun at both locations with lots of lounge chairs.
The larger pool is open to all types of guests from young to old with cabanas and day beds for rent that include splendid amenities. There is also a wading pool and waterfall that are separated by a scenic walkway making the area somewhat secluded. The second pool is limited to adult guests and features topless or European style sunbathing. There is also a hot tub within this area.
The Encore Beach Club is an indoor/outdoor setting that is associated with the XS Nightclub. This Beach Club has hosted wonderful events by such DJ's and artists like David Guetta, Kaskade and others. There are 26 exquisite cabanas and eight bungalows for rent that surround one of the hottest pool areas in the country.
Weddings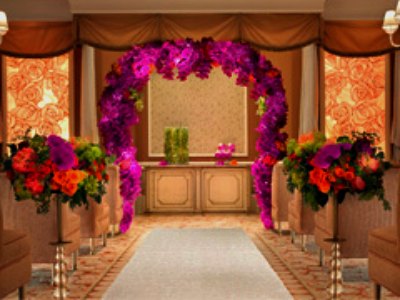 The Encore Hotel Las Vegas complex offers a unique wedding location within the Spa at Encore. Weddings are performed in Tranquility Hall under the glow of a giant Buddha and the aisles are laminated by lanterns from Morocco.
The setting is unique and available with several different food and beverage options. The Encore Hotel offers several different packages for all types of services and there are also expert wedding planners that will guide you through the process.
Spa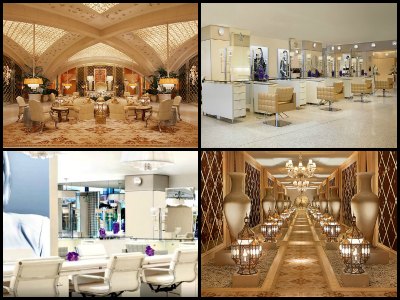 The Spa at Encore Hotel Las Vegas is a 60,000 square feet area that is adorned with Swarovski Crystal chandeliers. There are separate lounges for men and women as well as plunge pools of hot and cold water for each facility. The space is lush with tropical plants and there are even private waterfall showers.
There are a wide variety of packages available that include everything from facials to body wraps to massages. One signature treatment at the Spa at Encore is the Lavender Stone Ritual which incorporates a massage with lavender oil as well as stones of varying temperatures. The Nalu Body Massage is also a favorite that intertwines Hawaiian Lomi Lomi techniques in a soothing wave of relaxation.
Shopping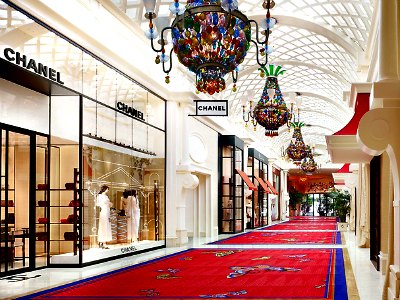 The Encore Esplanade has some of the world's most exciting and coveted retailers in Las Vegas. The esplanade is a gorgeous lighted walkway with natural sunlight and fine chandeliers that allows for an exquisite shopping experience where guests can find the latest fashion and perfumes from Chanel; stunning stylish clothing from Hermes; luxury watches can be found at IWC Schaffhausen as well as Jaeger-LeCoultre; Piaget specializes in one-of-a-kind pieces of fine jewelry; Loro Piana brings exotic cashmere and wool merchandise from around the world and you can browse the unique handcrafted shoes of Nicholas Kirkwood.
Get Your Free Las Vegas Events Calendar!
Best of Vegas