Grand Canyon Skywalk tours from Las Vegas 2023
Grand Canyon Skywalk tours from Las Vegas in 2023 are an experience you will never forget. This is a wonderful piece of modern day engineering. The four-inch thick glass bridge is suspended 4,000 feet above the canyon floor. The 70-foot horseshoe shaped structure offers 360-degree views of the natural surrounding beauty. Below are some of the best tours and day trips from Las Vegas to Grand Canyon West that include the Skywalk.
Grand Canyon Skywalk Odyssey tour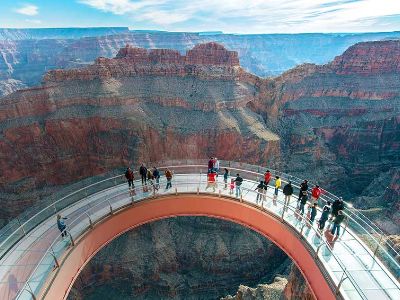 Take a direct helicopter from the Las Vegas Strip and experience the engineering and natural marvel of the Grand Canyon Skywalk. You will fly for 45-minutes over Las Vegas with spectacular views of Hoover Dam, Lake Mead and the Grand Canyon. Your pilot will offer you interesting information that will enhance your experience. When you land at the West Rim of the Grand Canyon, you will be taken to the Grand Canyon Skywalk located on the Hualapai Reservation.
Once at Skywalk you will be given front of the line access to walk across one of the most intriguing pieces of engineering in the world. Your 4-hour Grand Canyon Skywalk tour concludes with another exhilarating 45-minute helicopter flight. Please note that this is a tour for those that wish only to fly to the Grand Canyon and experience the Skywalk. Additionally, patrons over 300 pounds in weight will be required to purchase an additional adjacent seat, at a reduced cost, for helicopter safety reasons.
Get Your Free Las Vegas Events Calendar!
Grand Canyon Helicopter Tours by Papilloin
Grand Canyon Helicopter Tours by Maverick
Awesomest Things to do in Las Vegas Every Day!

Get Your Free Las Vegas Events Calendar!
Best of Vegas