Grand Canyon South Rim Tours From Las Vegas
Taking one of the stellar Grand Canyon South Rim Tours is a perfect way to see and experience one of the world's Seven Natural Wonders. These excursions are ideal for all types of people from singles to families to couples and groups. You can experience the Grand Canyon in a variety of ways that range from a comfortable touring coach to a small group Sprinter to flying in an airplane. Once at the park, you visit the most important lookouts like Mather and Yavapai Point as well as the Grand Canyon Village. If that's not enough you have several add-on options like an IMAX movie, a Hummer ride through the canyon and you can soar high above the Colorado River during an interesting helicopter flight. No matter what you want to see at the Grand Canyon, these tours will have you gazing out over the marvelous landscape that is truly one-of-a-kind in the world.
Grand Canyon Connoisseur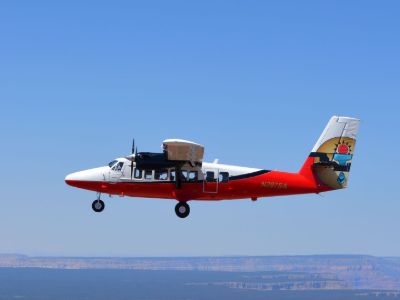 The Grand Canyon Connoisseur Tour is a perfect way to visit one of the world's Seven Natural Wonders where you can view some of the most incredible natural landscapes. Your 9.5-hour Grand Canyon South Rim Tour begins with complimentary hotel pick-up service where you will be driven to the Boulder City Airport. From here you will board a customized sightseeing airplane and meet your pilot who will relay interesting facts of the places you will fly over. Once in the sky, you will soar above such magical places as the Hoover Dam, Lake Mead and the Mojave Desert before your eyes pop with the first sight of the Grand Canyon. After you land, you will be taken to the National Geographic Visitor Center where you will learn more about this special place and watch an IMAX movie entitled "Grand Canyon: the Hidden Secrets." When you finish with the movie, you board a comfortable coach again and drive along the South Rim where you will have breathtaking views of the canyon that plummets one mile deep and at points along the way is more than eleven miles wide. You will have plenty of time to explore, hike and take in the sights like Mather Point, Yavapai Point and Bright Angel Lodge as well as indulge in a free box lunch. Your exciting day at Grand Canyon concludes with a flight back to Boulder City Airport where you will then be transported back to your Las Vegas hotel.
Plan Vegas Stay
What's Hot
Disclaimer: I receive a small commission from the links on this page.
Plan Vegas Stay
What's Hot