Grand Canyon South Rim Tours From Las Vegas 2023-2024
Taking one of the stellar Grand Canyon South Rim Tours in 2023-2024 is a perfect way to see and experience one of the world's Seven Natural Wonders. These excursions are ideal for all types of people from singles to families to couples and groups. You can experience the Grand Canyon in a variety of ways that range from a comfortable touring coach to a small group Sprinter to flying in an airplane. Once at the park, you visit the most important lookouts like Mather and Yavapai Point as well as the Grand Canyon Village. If that's not enough you have several add-on options like an IMAX movie, a Hummer ride through the canyon and you can soar high above the Colorado River during an interesting helicopter flight. No matter what you want to see at the Grand Canyon, these tours will have you gazing out over the marvelous landscape that is truly one-of-a-kind in the world.
Day Tour to Three Great Landscapes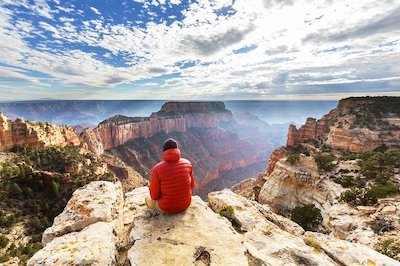 When you need to see three of the greatest landscapes on the planet that mixes beauty, nature's brilliance, and the power of water, then you should try the Day Tour to Three Great Landscapes from Las Vegas. Your 17-hour sightseeing adventure begins with when you meet your tour guide at a predetermined location along the Strip. You then are transported by a comfortable vehicle and taken to your first destination. Along the way your expert guide gives insight on the coming day of sightseeing fun. The first stop is at Hurricane for breakfast or a simple coffee break. From here you drive directly to Horseshoe Bend in Glen Canyon National Recreation Area where you have stunning views from a 1,000 feet above the Colorado River that has carved out Horseshoe Bend while you are hiking a short ¾-mile trail. Now you travel to the lands of the Navajo in Arizona to Antelope Canyon. Here you follow your Navajo guide to take plenty of photographs of this gorgeous sculptured sandstone landscape filled with slot canyons and ancient petroglyphs. From here you travel to the South Rim of Grand Canyon National Park while enjoying a box lunch during your travel period. Once at the South Rim you visit a variety of viewing points such as Lipan Point, Bright Angel, Yavapai Point or Moran Point. There is also time to visit the gift shop for some unique souvenirs. The last stop on your way back to Sin City is at Seligman along historic Route 66 after which your tour concludes at your original point of departure in Las Vegas.
Get Your Free Las Vegas Events Calendar!
Grand Canyon Helicopter Tours by Papilloin
Grand Canyon Helicopter Tours by Maverick
Awesomest Things to do in Las Vegas Every Day!

Get Your Free Las Vegas Events Calendar!
Best of Vegas