The Magic of Jen Kramer Las Vegas Show Review
The Magic of Jen Kramer Las Vegas show playing at Westgate Resort & Casino is for everyone who loves the mystic appeal of magic you will be amazed with her fascinating illusions, sleight-of-hand tricks, and unbelievable likeable personality.
She brings a ton of energy and great tricks to the stage that has been pleasing audiences in Sin City for more than five years.
When the show begins Jen Kramer's bubbly attitude and positive outlook is apparent. Her smile brightens the room and she is quick to start with an amazing sleight-of-hand trick with playing cards that leaves the crowd in awe. Her performance gets more intense with each smile that crosses her face while a red rose is magically suspended into the air before your eyes.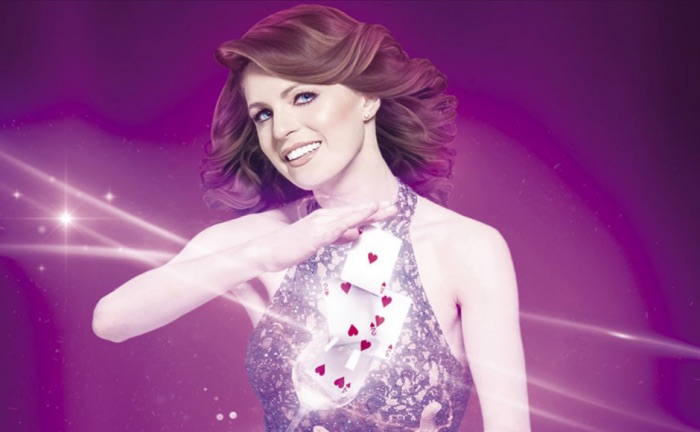 Show Highlights
She continues with her show with a superb trick that turns her sunglasses a different color as her hand passes over them. From here she takes a rubric cube and turns her back on the crowd and starts to move the cube for the audience to see. Incredibly in just a few moments without her ever looking the colorful sides on the rubric cube wide up all aligned in perfect order and then magically disappears into the thin air.
Jen Kramer's Las Vegas show continues with even more amazing sleight-of-hand tricks including a signature trick that turns a wad of one dollar bills into a surplus of clean crisp one-hundred dollar bills fit for spending. She is also known for a superb illusion which happens with a tube of lipstick and a signed one-hundred dollar bill which suddenly appears inside the lip stick tube.
Other inspirational magic she brings to the stage is creating a larger-than-life social media page which surprises audience members when their social media pages suddenly appear. She can pour a glass of wine from a bottle and glass that are levitating above the stage and she is quick to be a mind reader to the astonishment of the audience members brave enough to go on stage.
Jen Kramer is a master at what she does. She has unbelievable magical powers with cards, illusions, and her sparkling personality is just what the doctor ordered for an evening of superb and interesting magic that will bewilder your mind in a positive way.
Biography
Jen Kramer first became enthralled with magic when she was ten years after she received a beginner's book on card tricks named The Royal Road to Card Magic. The gift from her uncle Steve changed her life from that day forward. After studying the book she attended the Tannen's Magic Camp when she was 11 years old and continued with the camp for a couple of years. When she turned 12 years old Jen Kramer joined the Society of Young Magicians in Manhattan where she was mentored by Albert Lasher.
Jen Kramer started to perform for the public at bar and bat mitzvahs while she was a teenager. She would attend Yale University where she graduated with a degree in theater. During her days at Yale University she interned for two summers in Las Vegas for Nathan Burton where she was able to further hone her magical skills. While at university she created and founded the Yale Magic Society.
Her career has been chock-full of awards including the Female Magician of Year by the International Magic Society and named an honoree 40 under 40 by Vegas Inc. She is also a current member of the advisory board for Magicians Without Borders. Jen Kramer is very active within the magic community with memberships with the Society of American Magicians, the Academy of Magical Arts, the International Brotherhood of Magicians, and last but not least the world-famous Magic Castle in Hollywood.
Over her career she has appeared on Teller & Penn: Fool Us, Masters of Illusion, and the Today Show on NBC.
Jen Kramer Las Vegas show tickets
The Magic of Jen Kramer is performing at the Westgate Cabaret within the Westgate Resort and Casino. The venue is perfect for a magic show with great sight views from all seating areas. The family-friendly show is open to all people four years of age and older. Performances run Friday, Saturday, Sunday at 5:00 P.M. Jen Kramer Las Vegas show tickets are available for purchase as general admission and VIP front orchestra seats.
Get Your Free Las Vegas Events Calendar!
Best of Vegas