Las Vegas Bus Tours
Taking Las Vegas bus tours is a fantastic way to explore the city, learn about its past and present, as well as learn a few tricks that only insiders would know - how to avoid the lines in night clubs or where to get the best steak. There are night and day sightseeing tours, and even specific tours telling you all about the Vegas mob, and entertaining tours with the hottest Vegas impersonators! Here are the best available options - you decide which tour is more fun for you!
What's Hot
Grand Canyon Bus Tours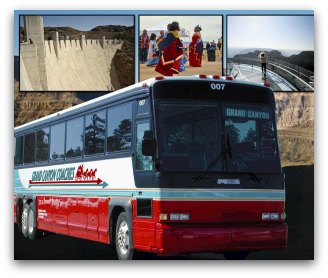 All Las Vegas Bus Tours To Grand Canyon
Duration: Various
It's a shame to come to Las Vegas and not visit the Grand Canyon! (Unless you've visited it before). It's only a few hours drive from the city, and there are plenty of Las Vegas bus tours that go to the Grand Canyon.
They are perfect for the introduction to the canyon, and are quite affordable, compared to some other options of getting to the Grand Canyon. Buses go to the South Rim and the West Rim.
Hop On Hop Off Doubledecker Bus
Book Hop On Hop Off Doubledecker Bus Tour
From $36.90; Duration: Varies
Hop-on hop-off Las Vegas bus tours offer you the opportunity to explore the city at your own pace, as you find convenient. The idea is that you board any of the busses running the same route from 10 am to 6 pm, every 30 minutes, and hop off at any other stop. They have a total of 13 bus stops where you can get on or off the bus, located at various hotels, restaurants and other points of interest.
They are using real London doubledecker buses, with the open top decker offering the most amazing views! Although in summer months it can get a little hot there. The best part is that a 48 hours pass is only a few dollars more expensive than the 24 hours pass.
What's Hot
Do you have any questions or Comments?