Las Vegas Dining Coupons
Las Vegas restaurant deals & dining coupons at great restaurants are easy to find, if you know where to look!
It's not a secret that food in Vegas is pretty expensive. But I know how to save hundreds of dollars on restaurants and get a royal service, too.
Below I've listed my favorite ways to get coupons for best restaurants in Las Vegas with up to 50% off! These restaurant deals are different, with their own advantages which I list right here - choose the program that suits you most!
Restaurant.com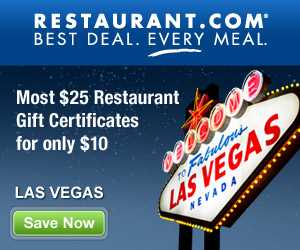 Restaurant.com
is a great place for printable Las Vegas restaurant deals for the best restaurants in the city!
Here is how it works. There are around 70 restaurants in Las Vegas that participate in this program. They offer various coupons, or gift certificates, on the amount from $10.00 to $100.00 that you can purchase with huge discounts. For example, a gift certificate worth $25 will cost you only $10 dollars, which will save you $15.
Then you simply print this coupon, and take it to the restaurant of your choice when you are ready to dine there! You can print the coupons right away, or at any time you want.
My favorite part about this program is that you can select among 70 restaurants, and read detailed reviews, and even a menu before you purchase your coupons! This way you are not limited to any special menu choice that is the case with some other Las Vegas restaurant coupons. It's simply a smart way to dine, and great savings at any participating restaurant.
Get Your Free Las Vegas Events Calendar!
Best of Vegas