Top Las Vegas Hiking Tours 2023
Taking a Las Vegas hiking tour in 2023 is a superb thing to do in Las Vegas for visitors that want to get away from the crowds and hike through some of the most interesting landscapes in the world. There are day hike excursions which feature beautiful scenery and ancient Indian petroglyphs at places like the Valley of Fire, Bowl of Fire at Lake Mead as well as the Red Rock Canyon Conservation Area. Visitors can also try one of the many stellar road trips that start in Las Vegas that has them hiking in national parks from Zion to Bryce Canyon to Arches to the Grand Canyon and you can even travel to the geothermal wonders of Yellowstone. Whether you are looking to camp, hike or just indulge in unique natural landscapes, there is a perfect Las Vegas hiking tour for you to try.
7-Day National Parks Tour: Zion, Bryce Canyon, Monument Valley and Grand Canyon South Rim Tour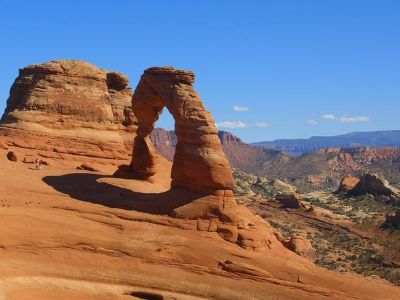 A splendid Las Vegas hiking tour that offers a stellar way to see numerous national parks of the Southwest is the 7-Day National Parks Tour: Zion, Bryce Canyon, Monument Valley and the Grand Canyon South Rim Tour. There are two options for this Las Vegas hiking tour which are camping under the stars or sleeping in a hotel. The tour also boasts numerous add-on adventures at each park you visit for an additional charge. Day one of your adventure begins when you meet your guide at Ellis Island Casino and Brewery where you will then be transported to your first stop at Zion National Park. You will have the afternoon to explore the park by hiking one of the many trails such as Angels Landing or you can stroll through the park viewing sights like the Emerald Pools and Weeping Rock. Day two you continue your journey to Bryce Canyon National Park where you will have time to hike one of the slot canyons, view the colorful sculpted hoodoos or go to the visitor's center. Days three and four have you traveling to Arches and Canyonlands National Park near Moab, Utah. At Arches National Park you can discover one of the 2,000 natural arches that dot the landscape such as Delicate Arch. Canyonlands National Park is composed of two units with distinct landscapes that offer breathtaking views as well as a unique environment loaded with natural rock formations. On day five you travel to Monument Valley where hundreds of iconic western movies where filmed and you will take a 4x4 jeep tour of the valley with a Navajo guide. Day six has you moving onward through the colorful Painted Desert to the South Rim of Grand Canyon National Park. There is an add-on option in the morning that includes a trip to Antelope Canyon and the famous Horseshoe Bend of the Colorado River before traveling. Once at the Grand Canyon there will be plenty of opportunities for hiking the Bright Angel Trail, Mather Point or visiting the historic El Tovar Hotel and the visitor's center. Your Las Vegas hiking tour concludes on day seven as you travel on historic Route 66 back to Las Vegas.
Get Your Free Las Vegas Events Calendar!
Best of Vegas