Top Las Vegas Hiking Tours
Taking a Las Vegas hiking tour is a superb thing to do in Las Vegas for visitors that want to get away from the crowds and hike through some of the most interesting landscapes in the world. There are day hike excursions which feature beautiful scenery and ancient Indian petroglyphs at places like the Valley of Fire, Bowl of Fire at Lake Mead as well as the Red Rock Canyon Conservation Area. Visitors can also try one of the many stellar road trips that start in Las Vegas that has them hiking in national parks from Zion to Bryce Canyon to Arches to the Grand Canyon and you can even travel to the geothermal wonders of Yellowstone. Whether you are looking to camp, hike or just indulge in unique natural landscapes, there is a perfect Las Vegas hiking tour for you to try.
Southwest National Parks Camping and Hiking Tour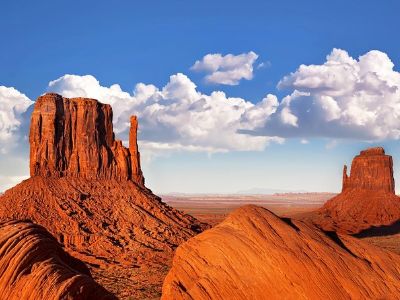 If you are thinking about a Las Vegas hiking tour that features a road trip to the most iconic national parks of the Southwest, then you should try the Southwest National Parks Camping and Hiking Tour from Las Vegas. Your 11-day hiking extravaganza begins when you meet your qualified guides at a designated hotel on the Strip and travel down historic Route 66 until you reach Grand Canyon National Park where you will set-up camp before heading to the visitor's center. Day two is spent at the park where you can hike one of the many trials like Bright Angel, Mather Point or just stroll along the rim. You travel on day three to Lake Powell where you will go on two hikes with a Navajo guide that includes Antelope and Rattlesnake Canyon which are both loaded with slot canyons as well as ancient petroglyphs. The afternoon is spent swimming or participating in watersport activities on Lake Powell. Day four is packed with interesting items which involves driving to Monument Valley where you will take a 4x4 jeep tour of the valley with a Navajo guide before spending the night in an authentic Navajo Hogan home. On day five the fun keeps going when you travel to Moab, Utah and spend the next three days at Arches and Canyonlands National Park. Day six you have a choice of tours (extra charge) or you can go on a guided group hike through Arches National Park. On the seventh day you travel to Canyonlands National Park for a hike through an unrealistic landscape as well as a hike at Dead Horse Point State Park. Day eight you will travel on Route 12 through the Grand Staircase-Escalante National Monument before you reach Bryce Canyon National Park where you will take a sunset hike through the colorful hoodoos. Traveling again on day nine until you reach Zion National Park where you will have time to hike one of the trails like Angels Landing or take the shuttle to places like Weeping Rock. On day ten you depart for Las Vegas where you will spend the night cleaning up in the Entertainment Capital of the World. Your Las Vegas hiking tour concludes the morning of the eleventh day when you check out of the designated Las Vegas hotel.
Plan Vegas Stay
What's Hot