Best Las Vegas Karaoke Bars in 2022-2023
Las Vegas karaoke bars are fun and when you are visiting Sin City you will be pleased with the wide variety of places where you can belt out your favorite song. There are plenty of options for everyone that either want to sing in public or just with their friends. Private rooms that are ideal for a group of friends can be found at all the bars below. If you like to be in the forefront of everyone in the bar then you should try Dino's, E-String Poker Bar or Champagne's and the Aloha Kitchen & Bar has several superb locations as well as a family atmosphere. No matter what language you speak, most of the karaoke bars feature lyrics in numerous languages and most boast a delectable menu of goodies to munch on while you sing and party. Here are top Las Vegas karaoke bars in 2022-2023!
KAMU Ultra Karaoke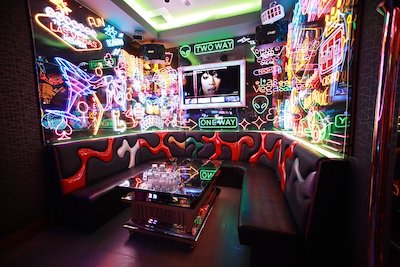 When you want to sing all of your favorite songs with family, friends, or work associates, then the best bar for karaoke in Las Vegas for you to visit is KAMU Ultra Karaoke. Located within the Grand Canal Shoppes at the Venetian Resort, KAMU is the ultimate karaoke experience along the Strip and in Sin City. There are 40 private suites waiting for you that are all equipped with latest state-of-the-art technology which allows you to stream music from your own personal devices or choose from the extensive music catalogue that features everything from classic Broadway hits to classic rock to hip-hop to thousands of artists from around the world. KAMU Ultra Karaoke is open 24-hours a day and their technology permits the room to be transformed into a tremendous e-gaming experience along with all the fun that comes during an hour of singing, drinking, and laughing with your buddies.
Get Your Free Las Vegas Events Calendar!