Best Las Vegas Karaoke Bars in 2023
Las Vegas karaoke bars are fun and when you are visiting Sin City you will be pleased with the wide variety of places where you can belt out your favorite song. There are plenty of options for everyone that either want to sing in public or just with their friends. Private rooms that are ideal for a group of friends can be found at all the bars below. If you like to be in the forefront of everyone in the bar then you should try Dino's, E-String Poker Bar or Champagne's and the Aloha Kitchen & Bar has several superb locations as well as a family atmosphere. No matter what language you speak, most of the karaoke bars feature lyrics in numerous languages and most boast a delectable menu of goodies to munch on while you sing and party. Here are top Las Vegas karaoke bars in 2023!
KAMU Ultra Karaoke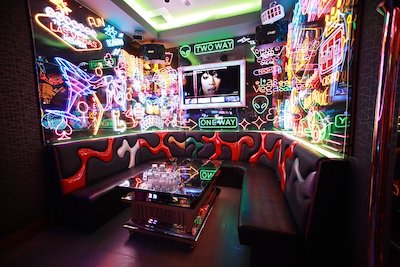 When you want to sing all of your favorite songs with family, friends, or work associates, then the best bar for karaoke in Las Vegas for you to visit is KAMU Ultra Karaoke. Located within the Grand Canal Shoppes at the Venetian Resort, KAMU is the ultimate karaoke experience along the Strip and in Sin City. There are 40 private suites waiting for you that are all equipped with latest state-of-the-art technology which allows you to stream music from your own personal devices or choose from the extensive music catalogue that features everything from classic Broadway hits to classic rock to hip-hop to thousands of artists from around the world. KAMU Ultra Karaoke is open 24-hours a day and their technology permits the room to be transformed into a tremendous e-gaming experience along with all the fun that comes during an hour of singing, drinking, and laughing with your buddies.
Cat's Meow Las Vegas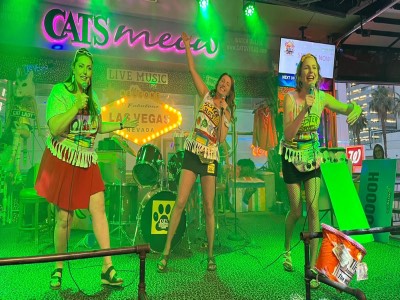 When you want to belt out your favorite song and feel like the mega-star you are at a Las Vegas karaoke bar, then you need to try the Cat's Meow Las Vegas. Located along Fremont Street, the Cat's Meow Las Vegas is truly a unique place to have fun singing and hanging out with your friends. The atmosphere is lively with in-house DJs and a superb emcee that helps keep the party going between inhibited people ready to make their voices known to the public. The single stage features other remarkable special effects too like videos, intense imagery, and all the words people need to know while enjoying singing their favorite songs from the 1950s to classic rock to hip-hop to the top 40 hits and don't forget about the many celebrities that have popped in for an amazing time like Miley Cyrus, Seal, N'Sync, and the Smashing Pumpkins. The place offers plenty of drink specials and their happy hour is super fun.
Assa Karaoke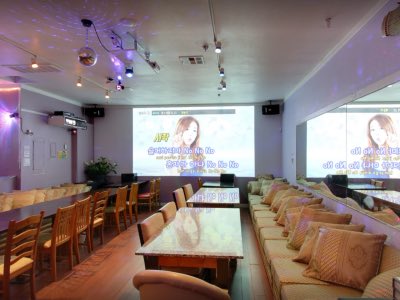 If you are interested in having a good time which combines singing karaoke with tasty Korean cuisine at a Las Vegas karaoke bar, then a great idea for you is to try Assa Karaoke. Located along East Sahara Avenue, the Assa Karaoke features a little bit of everything for everyone from Western-style karaoke with an open stage to private rooms with state-of-the-art technology for you to enjoy with your closest friends. The atmosphere is perfect with a gorgeous Korean themed décor with music selections in English, Korean, Japanese, and Filipino. There is plenty of good Korean cuisine to help when you are hungry and you will be surprised by the wide assortment of flavored Soju available to help you get into the mood of singing. What really sets this place apart is its sound system and technology in the private rooms and the Western-style stage where numerous people wait to sing their favorite song in front of the willing crowd.
Don't Tell Mama Piano Bar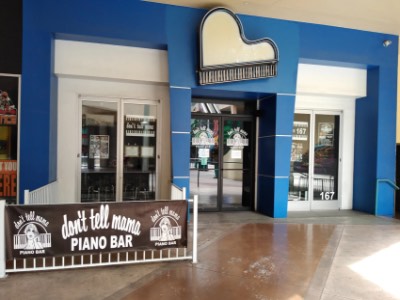 When you are visiting Sin City and want to enjoy a delightful night out singing your favorite classic piano songs, then you need to visit the Don't Tell Mama Piano Bar. Located along Fremont Street within Noenopolis, this Las Vegas karaoke bar puts a twist on things to help you spend an enjoyable evening singing your favorite songs. Sure the concept is a little different with singing bartenders and a pianist that knows all the right notes, but you need to know the lyrics or use your smart phone to help you out. There are no large screens with big letters helping you out with the lyrics but you have a house packed with people that will carry your melody to the end with you. Every night is open mic at this New York style piano bar that brings an energetic atmosphere to life with a crooning crowd ready to join in on the singing.
Karaoke Q Studio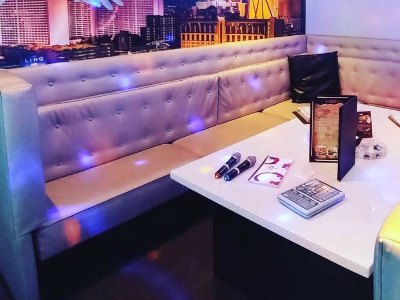 Address: 3400 S Jones Blvd, Ste 11
One of the best spots for Las Vegas karaoke that combines good food, an extensive playlist and private rooms is Karaoke Q Studio. Located on South Jones Boulevard in China town, Karaoke Q Studio has an upbeat younger atmosphere with a decor that features plush couches and plenty of video screens as well as multimedia effects. The karaoke bar has numerous private rooms that are perfect for groups of people from three to 25 guests. Each room has a different feel with plenty of laser lights and disco balls to make you feel like the real singing star. The playlist includes old and new songs as well as everything in between. While you are indulging in some great cocktails, you can dine on a variety of Asian dishes which are expertly prepared. Happy hour is the best time to go with discounts on room rates as well as a plethora of drink specials.
Get Your Free Las Vegas Events Calendar!
Grand Canyon Helicopter Tours by Papilloin
Grand Canyon Helicopter Tours by Maverick
Awesomest Things to do in Las Vegas Every Day!

Aloha Kitchen & Bar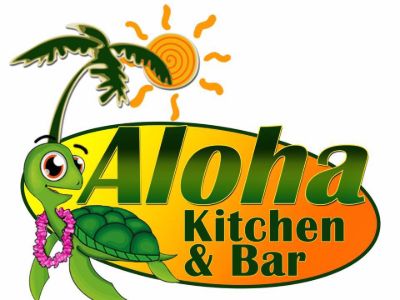 Address: 2605 S Decatur Blvd # 110,
The Aloha Kitchen & Bar is a perfect place for Las Vegas karaoke for people of all ages who want to have some fun singing along with the friends. There are several locations throughout Sin City and the closest to the Strip is located on South Decatur Boulevard just off of West Sahara Avenue. You will be thrilled with the playlist and the upbeat family atmosphere you will find at the Aloha Kitchen & Bar. The interior has a modern industrial look with a little bit of the Hawaiian Islands thrown in for fun. Karaoke is available at each location and you can sing for free with a two drink minimum which will save some money. There are several quality video screens to assist you in impressing your friends with your voice. The menu at the establishment is ideal too with Polynesian, Asian and American cuisine that is a great way to compliment your karaoke skills.
J Karaoke Bar
Address: 3899 Spring Mountain rd.
If you are seeking to find the best Las Vegas karaoke then you should stop by J Karaoke Bar and belt out a few of your favorite songs. Located along Spring Mountain Road, J Karaoke Bar has an upbeat atmosphere with a sleek industrial interior that is ideal for partying and singing. At J Karaoke Bar you can find stellar karaoke each night from 6:00 p.m. until the wee morning hours of 5:00 a.m. Once inside you will find numerous video screens to help you sing your favorite tune from your table. If you want a little more privacy you can rent one of the private karaoke rooms that can accommodate from five to 25 guests and are furnished with multiple video screens, comfy couches and tables. A perfect night of karaoke always includes fantastic food as well as drink specials and you will find a superb Asian-American menu full of delicious dishes. Happy hour is a must with flavored Soju, beer buckets and there is bottle service available. G
GoGo Karaoke Room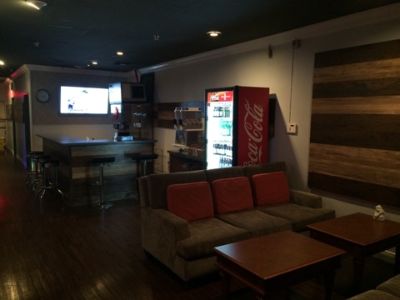 Address: 4550 S. Maryland Pkway Suite #18-19
In every city karaoke is a little different and experiencing Las Vegas karaoke at the GoGo Karaoke Room is a superb idea. Located along South Maryland Parkway, GoGo Karaoke has a lively atmosphere with a push industrial interior that is usually packed with party goers. The establishment features several private rooms for karaoke that can hold groups of people from four to more than 25 guests. The interior of the karaoke rooms is quite different with plush couches and tables for comfort while you view big screens spelling out your next song to sing. The playlist is extensive and the bar boasts more than 10,000 titles for you to choose from while you hold the microphone in your hand. When you get hungry, there is a great food menu with Asian as well as American cuisine and you can indulge in some fantastic Korean Soju when you get thirsty.
Dino's Lounge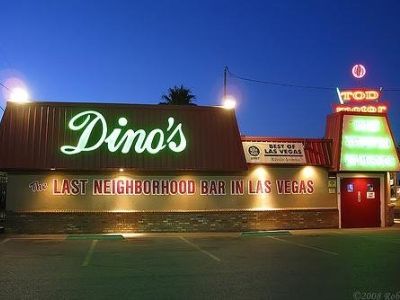 Address:
Dino's Lounge is a premier place for people looking for an exciting evening of Las Vegas karaoke. Located along South Las Vegas Boulevard, Dino's Lounge has been around for more than 50 years and features a true dive bar atmosphere of fun as well as cheap drinks. Once inside you will notice nothing special with the decor and a lack of lighting but everyone will be having a good time. Known as "The Last Neighborhood Bar in Las Vegas" the place is hopping with fantastic karaoke when singing parties are hosted by numerous DJs that keep the movement of the microphone moving from patron to patron. There are plenty of good drink specials during throughout the night as well as a happy hour that will please everyone. An added bonus at this dive bar is the electronic gaming machines, pool tables and slot machines you can play while listening to the best karaoke in Sin City.
Champagnes Cafe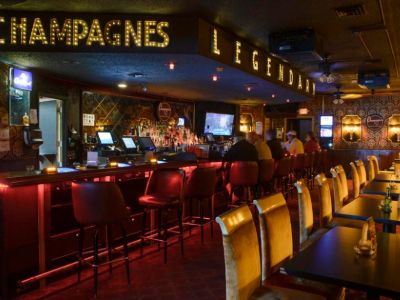 Address: 3557 S Maryland Pkwy
Las Vegas karaoke bar is an experience all to its own and a perfect place to enjoy an evening of singing with your friend is Champagne's. Located along South Maryland Parkway, Champagne's recently went through a transformation while participating on Spike TV's Bar Rescue. The interior of the establishment is cozy with a retro decor that features the original velvet wallpaper, arched booths and newer comfortable gold colored seating options. The bar has been a main staple in Las Vegas for years and is considered one of the best dive bars you can visit while in Sin City. They offer karaoke on numerous nights that is highlighted by DJs playing everything from classic hits to EDM. The bar has an old school feel that is excellent for relaxing in an unpretentious atmosphere loaded with lots of people singing their favorite songs from an extensive playlist. Reasonable drink prices are a plus and happy hour will knock your socks off.
Ganzy Karaoke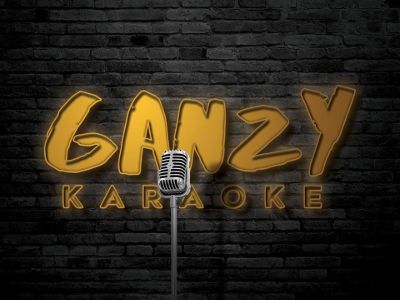 Address: 7729 S Rainbow blvd # 7
If you are searching for a great place to enjoy karaoke in Las Vegas, then you should try Ganzy Karaoke bar. Located along South Rainbow Boulevard, Ganzy Karaoke has a high tech feeling with an interior that boasts nice comfortable booths and benches. While you are at Ganzy Karaoke, you will be thrilled with the playlist of songs that range from classic hits to KPop to contemporary music that everyone loves. There are several rooms that you can rent whether you are a small or large group. The multimedia effects are superb with plenty of disco balls and laser lights shining off the walls and tables. Happy hour is particularly good here and you will find plenty of drink specials. Another bonus is the bar stays open until 5:00 a.m. which is ideal for late night people looking for entertainment and a fun time.
Ninja Karaoke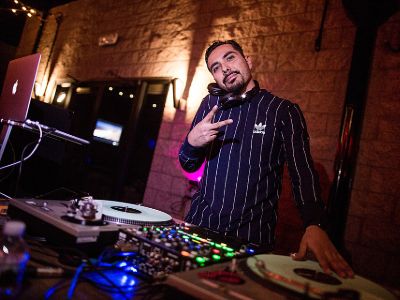 Address: 1009 s. Main Street
Ninja Karaoke is one of the hottest places to visit for all types of people who are interested in the uniqueness of Las Vegas karaoke. Located along South Main Street in the Las Vegas Arts District, Ninja Karaoke brings a ton of energy to karaoke from a great song list to drink specials at the bar. Once inside Ninja Karaoke you will be surprised at the atmosphere which changes in every karaoke room that is on premise. The establishment has nine different karaoke rooms that can be rented by groups of friends from five to twenty guests. The rooms have a different decor that ranges from chic, industrial and everything in between. The 6,000 square foot facility dedicates 2,000 square to the bar area, lounge space and the karaoke rooms. The karaoke rooms are fabulous with a variety of themes and they can even be rented by families with children for the ultimate family experience. There is also a stylish outdoor patio which is hit for people looking for great party atmosphere that is perfect for mingling while dancing to the music several DJs will spin throughout the night.
Get Your Free Las Vegas Events Calendar!
Best of Vegas