Las Vegas New Year's Eve Events 2021-2022
Las Vegas New Year's Eve is the most exciting two-day event in the world! Venture out on the Strip to experience the most lavish NYE events as well as parties, shows and concerts performed by world-class celebrities. Remember too, many properties are running NYE specials that include accommodations, exclusive NYE show tickets and parties. Whether you choose to attend a celebrity concert, attend a party at the Stratosphere, or watch the fireworks, you will be creating a lasting memory.
Bruno Mars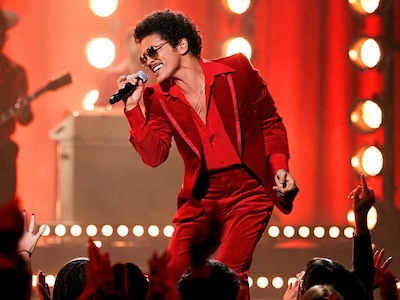 Location: Park MGM
Dates: December 30, 31
When you got the Liquor Store Blues and start Talking to the Moon on New Year's Eve in Las Vegas, then you need to make plans with Young Girls and go watch the fabulous Bruno Mars. Performing at Dolby Live within the Park MGM, Mars brings his eclectic style of musical Treasure to the stage for an unforgettable night of music and fun. You will be pleased to hear such iconic hits as Locked Out of Heaven, Versace on the Floor, and your face will light up with joy when he plays Just the Way You Are. His performances are packed with energy like an exploding Grenade that propels you to Wake Up in the Sky next to a horrifying Gorilla. Mars is truly 24k Magic that is always Too Good to Say Goodbye and The Lazy Song is masterful in a quirky energetic way that Leaves the Door Open for more fascinating music. So Count On Me to tell you the truth that this is one concert I will be Calling All of My Lovelies on New Year's Eve to have some fun.
Get Your Free Las Vegas Events Calendar!