Best Las Vegas paintball Places
Try these best Las Vegas paintball places When you want to try one of the more challenging activities that involve accuracy and strateg. These paintball facilities are unique and offer many types of playing fields that are changed out regularly to enhance your experience. Families can enjoy these activities by choosing a low impact paintball game and for people looking for more of a challenge you can shoot your opponents with an Airsoft rifle. For people looking to the ultimate experience in real life fighting there is even an option to combine shooting your opponents with a modified 9mm Glock and when you run out of ammo you can fight hand to hand. No matter which playing field you choose paintball is a great way to build team work and is a great choice for bachelor or bachelorette parties.
Combat Zone paintball
Address: 13011 South Las Vegas Boulevard
When you want the real challenge of head-to-head combat in a realistic setting then the best Las Vegas paintball range for is the Combat Zone. This outdoor course is ideal for real life combat simulation where you can hide behind trees and rocks. Most other paintball courses only give you the option of hiding behind an inflatable object but at the Combat Zone you are out in the full thrust of the natural world. You can choose from entering a battle with standard impact paintballs or medium impact paintballs which is ideal for beginners. Children and families can get in on the fun too by choosing to play the Splatmaster which is a low impact paintball that does not leave marks on your body-only paint where you get shot. Soon to come at the Combat Zone is the Wasteland Interactive Experience where you will actually do battle with Zombies in an apocalyptic landscape that will remind you of a Mad Max and Walking Dead movie combined.
Get Your Free Las Vegas Events Calendar!
Las Vegas Premier paintball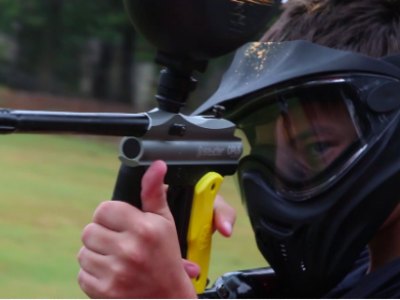 Address: 1400 N. Rampart Blvd
When you are ready to experience one of the most challenging activities in Las Vegas, then you should spend the day at Las Vegas Premier paintball. This place has all the fun and excitement that a group of people or a family is looking to experience. Once inside you have a variety of rental packages to choose from or you can bring your own equipment. The paintball course has plenty of places that provide cover for you as you shoot at your opponents and there are a variety of ways to keep score from an electronic marker to a tippman marker. Families with children will be delighted with the JT SplatMaster game which is a low impact paintball game. Unlike traditional paintballs, the impact of the paintball during the JT SplatMaster game is felt but does not leave a mark or bruise and you will know your opponent got hit by the exploding paint. Another ideal game at this Las Vegas paintball facility is Airsoft which has a dedicated course that will challenge the best of shooters and make you develop a good team strategy. Airsoft packages include plenty of safety equipment as well as BBs for you to shoot your opponents into submission.