Mad Apple Las Vegas Show Review
The Mad Apple Las Vegas by Cirque du Soleil offers you a chance to experience the City that Never Sleeps in a stunning performance that features everything from acrobats to dancers to comedians to incredible music that highlights the uniqueness of New York City. Mad Apple Las Vegas may not be your typical Cirque du Soleil production but there are plenty of elements that show up from other Cirque du Soleil productions including some of the performers.
As advertised, the Mad Apple actually starts about 30-minutes early as popular pre-show acts and people gather on the stage bar to enjoy a libation or two before the fun gets started. The main host for the show is comedian Harrison Greenbaum, who keeps the production upbeat and going. The show features six distinct acts or segments accompanied by other comedians like Brad Williams and the fabulous freestyle-rap comedian Chris Turner, who can throw down some funny stuff from Vladimir Putin to Samuel L. Jackson to a dwarf in a pub.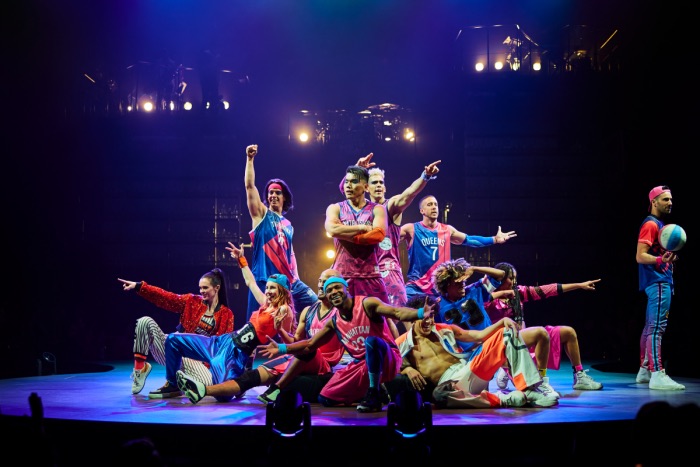 Other segments of Mad Apple Las Vegas combine artistry with acrobatic moves like the renowned duo of Sarah Knauer and Stephen Brine and other crowd pleasers like the TT Boys who do an interesting Ethiopian foot-flipping routine. There is also Valentin Chetverkin, the master of balancing acts as he effortlessly planks on the top of the Chrysler Building. Another stellar performance is when Danila Bim, known as Hair-ialist, glides through the air by her hair to the hit song Born This Way by Lady Gaga. There is also a modified wheel of Death similar to what was used in Ka and the Mad Apple Acro Dunkers fly around on a trampoline in a Harlem Globetrotter fashion with old-school ABA-red, white, and blue basketballs.
The production's choreography is superb with replicas of the skyline of New York City and there are yellow cabs that cross the stage continuously throughout the performance. Another interesting stage prop is a large disco globe that will have you thinking of the glory days at Studio 54 and there is a huge Lady Liberty that towers over the whole production on stage.
The Mad Apple Las Vegas has plenty of music and dancing too. The live orchestra keeps the production moving with all of your classic New York City songs from New York New York to Empire State of Mind to other hits from artists growing up in New York City.
Overall, the production Mad Apple Las Vegas is not the $100 million show like many other Cirque du Soleil productions but there is enough entertainment during the 85-minute show to keep you satisfied and makes this a must see Las Vegas show.
Mad Apple Las Vegas Venue
New York-New York Theater is a 1,200 seat venue over a three-tiered area. The stage layout is somewhat different with a long ramp-style jettisoning out into the first few rows of the venue. Seating is comfortable with good sightlines but you will need to be selective on where to sit. Front sections on the side will offer you great views of that portion of the stage and production. The best seats are located in Sections 102 and 103 which are up close and near the center of the stage. For people who like to watch all the action, seating in the middle and upper sections are your best options.
Mad Apple Las Vegas Cast Members
The cast members for Mad Apple Las Vegas include plenty of performers from other stellar Cirque du Soleil shows. The producer and director is Simon Painter, who previously worked on the various Illusionists series of shows. The soundtrack is provided by music director Xharlie Black, the great-grandson of Nat King Cole, and includes trumpet player Isaac Tubb, Tracyan Martin on the keytar, JF Blais on saxophone, Bruce Briggz on drums, and Daryl Duncan on keyboards.
The three hilarious comedians that keep the production upbeat are Harrison Greenbaum, Brad Williams, and Chris Turner. Top performers include hair-ailist Danila Bim of Zumanity fame; hand-balancer Valentin Chetverkin; the TT Boys of Tamrat Ayalew and Tomas Alemu, and Sarah Knauer and Stephen Brine-formerly of Absinthe. The acrobatic Acro Dunkers include Levente Pal, Raymond Butler, and Balint Huszar. Bret Navas performs the Wheel of Death; acrobats include Denise Torres De Souza and Olavo Rocha Muniz. The dancers include Joel Fridman-Rojas, Makayla Crawford, Marni McGrath, Kristal Yvette Daniels, Tyrese Parker, and Lizzie McConachie. Other acrobatic performers include Kai Hou, Lucas Gabriel Morales Bravo, and Veronika Goroshkova. Singers include Tee Jay Peoples, Jada Nikole, Candice Boyd, and Bijan Isaiah.
Mad Apple Las Vegas Tickets
Mad Apple Las Vegas is performing at the New York New York Theater within the New York New York Hotel and Casino. The 85-minute show runs Friday thru Tuesday with performance at 7:00 p.m. and 9:30 p.m. You are advised to arrive 30-minutes early for a pre-show performance. Tickets range in price from $74.55 to $130.55 (excluding taxes and fees). Tickets may be purchased for patrons 16 years of age with an accompanying guardian.
Get Your Free Las Vegas Events Calendar!
Las Vegas Gifts - Art, Merch And more!
Grand Canyon Helicopter Tours by Papilloin
Grand Canyon Helicopter Tours by Maverick
Awesomest Things to do in Las Vegas Every Day!