Murray The Magician Las Vegas Show Review
Murray the Magician Las Vegas show is one of the best family-friendly shows that brings incredible illusions and intense magic tricks to the stage is . His trademark illusions have astonished audiences in Las Vegas and he continues to hone his spectacular magic tricks on a daily basis. He is no stranger to making items appear and disappear and his trademark vibrant blonde hair makes him standout on the stage like no other magician before.
Dubbed the Dennis the Menace of Magic, Murray has been seen all over Las Vegas in shows like the Pawn Stars, Celebracadabra, Reno 911!, Celebrity Blind Date, and who can forget his stunning performance during the semifinals of America's Got Talent. Well, Murray the Magician has taken his show to new heights with an imagination that is second-to-none in the magic business. He floats effortlessly on the stage presenting one illusion after another combined with comedy and magic tricks that leaves the audience with their mouths open.
Murray the Magician Las Vegas show Highlights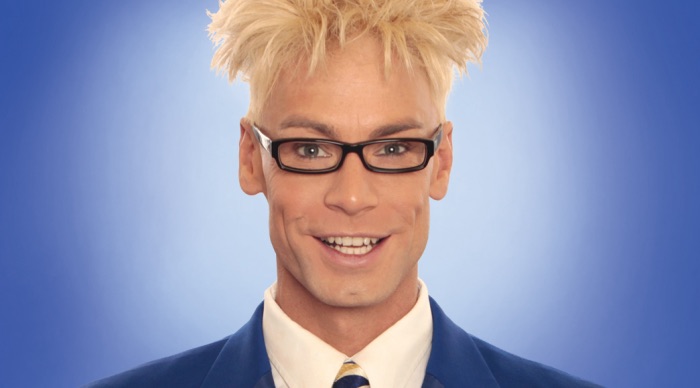 You can expect to see a few of his signature illusions like making a 1918 Steam Train Locomotive vanish before your eyes that leaves you scratching your head about how he completed this fabulous illusion. The show brings the audience into play with other illusions like turning a gorgeous showgirl into a 450-pound tiger in the middle of the audience and you absolutely won't believe your eyes when a Ferrari appears on stage out of the thin air. But that's not all you can expect from Murray the Magician Las Vegas show who has a knack for mixing comical mishaps into incredible illusions that blow your freaking mind.
Other fabulous magic tricks he has up his sleeve is a unique magic act that offers a stunning manipulation of numerous Compact Discs which will bring an amazing smile to the audience. He can also produce a live bird out of a frying pan and if you blink you won't see the card enter the beer bottle or understand how a champagne bottle vanishes from his hands. He also incorporates sleight-of-hand magic tricks when he uses Houdini's handcuffs and makes a watch and ring disappear to the amazement of the crowd.
Murray the Magician Las Vegas show is a fun filled show that brings smiles to everyone in audience and a little bewilderment to everyone's mind. If you haven't seen him yet, then you need to take some time while you are in Sin City to watch his fabulous stage show of amazing illusions.
About Murray the Magician
Murray the Magician was born Murray Sawchuck in Burnaby, British Columbia. His father was a talented musician and Murray started to learn how to play the saxophone, keyboards, and accordion at an early age. When he turned seven years old his life changed forever when he received a Siegfried and Roy magic kit from his aunt and uncle. As a child he idolized great entertainers like Danny Kaye, Johnny Carson, Dean Martin, Phyllis Diller, and Lucille Ball.
At age 11 he performed in his first paid gig at a birthday party where he combined magic, dancing, and music playing. When he was a teenager he worked five to six parties a week for almost six years honing his fabulous magic tricks.
After he graduated college with a degree in Broadcast Communications and Journalism he went to study under Marvyn and Carol Roy who were known as Mr. Electric. From here Murray the Magician went on to tour Europe with shows in Brussels, Paris, and Monaco before returning to Orlando for an engagement. He later toured South Asia, Canada, and eventually moved to Las Vegas.
During his career he has won more than 32 awards including being named the Magic Champion of the Pacific Rim Professional Magic Challenge and was named World Champion of magic.
Murray the Magician Las Vegas Tickets
Murray the Magician is performing at the Laugh Factory within the Tropicana Las Vegas- A Doubletree by Hilton. The intimate setting of the theater is perfect for audiences to view all of his amazing illusions and magic tricks. His 60-minute show runs Sunday thru Wednesday at 5:00 P.M. with additional performances on Thursday and Saturday at 7:00 P.M. His family-friendly show is open to everyone 5 years of age or older. Murray the Magician Las Vegas Tickets are available from general admission to VIP tables and booths to the Golden Circle seats right in front of the stage.
Get Your Free Las Vegas Events Calendar!
Best of Vegas