Paris Hotel Las Vegas Review

The Paris Hotel Las Vegas is one of the more unique hotels on the Strip.

Prices from:
$60
Paris Las Vegas Resort fee :
$41.95
Number of rooms:
2,16
Casino:
Yes
Entertainment:
Yes. There are "Jersey Boys" that is featured in Le Theatre des Arts. "Anthony Cools-The Uncensored Hypnotist" amazes audiences at the Anthony Cools Experience.
Nightlife:
Yes. There is a Chateau Nightclub and The Terrace. Bars include: Napoleon's Piano Lounge, Gustav's Casino Bar, Le Cabaret Lounge and Le Central Lobby Bar.
Restaurants:
Yes. The dining options include: Gordon Ramsay Steak, Café Belle Madeleine, Eiffel Tower Restaurant, Hexx Kitchen & Bar, Mon Ami Gabi, Le Village Buffet, du Parc, Le Café Île St. Louis, JJ's Boulangerie, La Creperie, Yong Kang Street.
Attractions:
Yes. The Eiffel Tower.
Pools:
Yes. There is 1 pool and 2 spa tubs.
Pool parties:
Yes
Spa:
Yes. There is a Spa by Mandara.
Shopping:
Yes. Paris Las Vegas offers numerous shops throughout the Boulevard.
Weddings:
Yes. There is a Paris Chapel.
Once you enter the complex you are transported to the elegance of French culture. The French architecture is easily spotted within the Paris Hotel Las Vegas where the lobby is a smaller version of the Palace of Versailles; walkways are lined with cobblestone, a half scale replica of the Eiffel Tower stands 46 stories tall and there is even an Arc de Triomphe.
The rooms are standard size with French décor and the suites are fashioned after the best of French luxury. The casino will remind you of Monte Carlo with the Eiffel Tower standing guard above. The octagon pool is surrounded by lush gardens and the Paris Spa by Mandara will rejuvenate your spirit.
The Paris Hotel Las Vegas offers a great selection of restaurants including acclaimed Chef Gordon Ramsay's Steak and Le Village Buffet is like visiting a French market. The long running musical Jersey Boys highlights the exciting entertainment.
The shopping on Le Boulevard features spectacular retailers like Swarovski and smokers can indulge at the David Boutique. The highlight of the complex is the Eiffel Tower. Glass elevators will take guests above the Strip, where they will find a 360 degree panoramic view of Las Vegas on the observation deck. At the end of the day patrons can dance the night away at Chateau and the Rooftop that sit conveniently under the tower.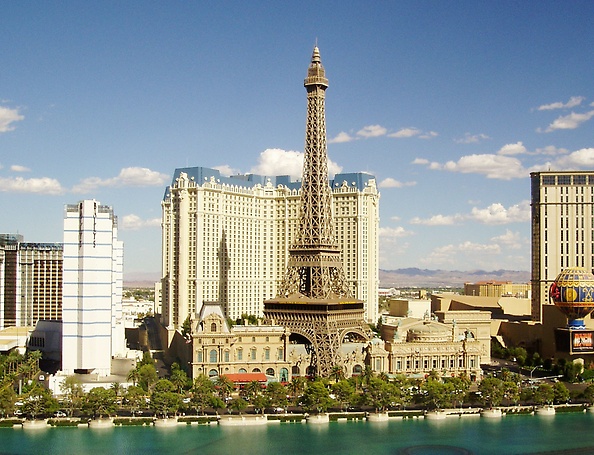 Rooms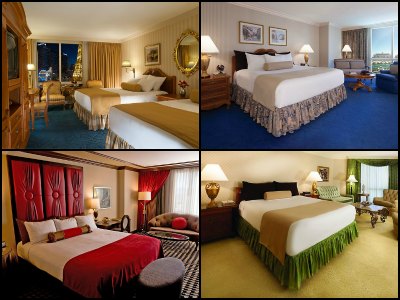 The Paris Hotel Las Vegas has almost 3,000 rooms and suites that have a French themed décor. There are two types of standard rooms at the Paris Hotel which are the Classic and Red Rooms.
The Red Rooms were all remodeled during 2009 and sport a more modern French décor. Each of these rooms has 390 square feet of comfort that offer a king or two queen size beds.
The room includes such amenities as a work desk, small table with chairs, refrigerator and a bathroom that has a tub/shower combination with a vanity. These two types of rooms also are available with a variety of views from the Strip to the Eiffel Tower. These rooms are available in smoking or nonsmoking options as well as for people traveling with pets.
Entertainment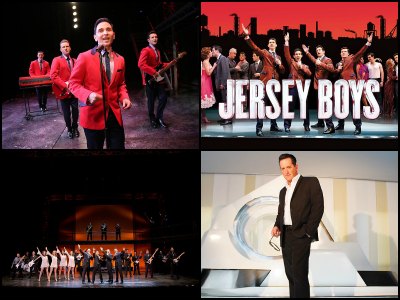 Anthony Cools - The Uncensored Hypnotist
Sex Tips For Straight women from a gay man - Comedy
Jeff Civillico - Comedy in Action
Eiffel Tower Viewing deck
Napoleon's Lounge

Nightlife - clubs & bars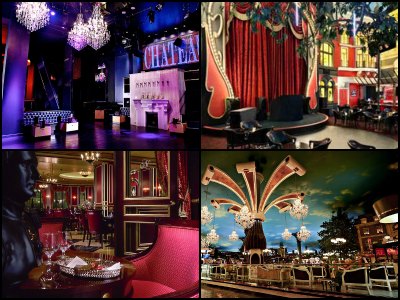 Paris Hotel Las Vegas has all of the nightlife that you would expect with European charm. There are seven primary bar, lounges and nightclubs located within the complex that include Le Central for the perfect martini; Le Cabaret boasts a garden style area that features DJ's and live music; there are dueling pianos, premium cigars and champagne at Napoleon's Lounge; Le Bar du Sport is the ideal place for a beer while watching the big game and Gustav's boasts plenty of signature drinks under one of the legs of the Eiffel Tower.
For those guests wanting a unique nightclub experience there is the Chateau with an elegant décor and the outdoor Rooftop Nightclub lets guest dance under the stars as well as the Eiffel Tower.
Casino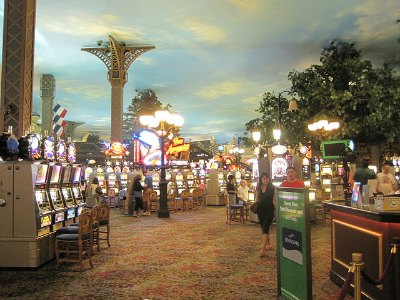 The casino at the Paris Hotel Las Vegas is an 85,000 square feet area with European décor that is accented by the lower legs of the Eiffel Tower. The casino has 100 table games that include favorites like roulette to blackjack to craps to baccarat.
There are plenty of poker tables offering games like Three Card Stud and Texas Hold'Em. Plus there is the Salon de Tables that boasts high limit games. There are over 2,000 of the newest slot and video poker machines for enjoyment. The race and sports book area offers comfortable seating for 356 guests with numerous personal betting stations and televisions for guests.
Photo by
Mark Richardson
Buffet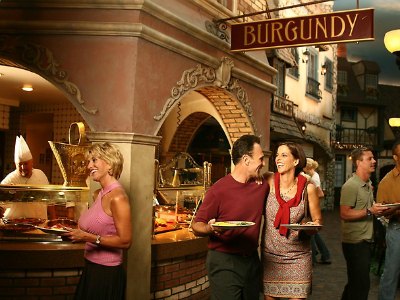 The Paris Hotel Las Vegas has one of the most innovative buffets in Las Vegas. Le Village Buffet is fashioned after five regions within France and includes live cooking stations with cuisine cooked to order. Guests will be pleased with the new French twists placed on all of your favorite American buffet classics.
Le Village Buffet is beautifully decorated with accents of Europe everywhere. Patrons will be satisfied whether they want crepes for breakfast, an incredible salad bar at lunch or the perfectly prepared prime rib at dinner. The assortment of French cheeses and the fabulous Vanilla Bean Crème Brulee are must eats. Le Village Buffet also offers a French styled brunch buffet on the weekends.
Restaurants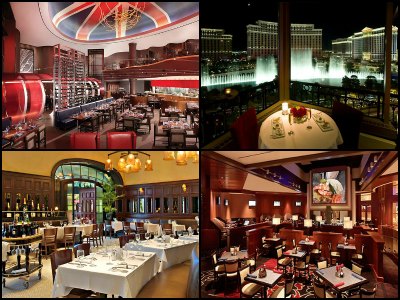 The dining at Paris Hotel Las Vegas brings many flavors for different budgets to the table. The Café Belle Madeleine serves bistro style sandwiches, pastries as well as a variety of coffees, and guests can find delicious crepe dishes at La Creperie.
There are many choices on the casual dining side including Le Village Buffet when your group needs a large selection of cuisine; the Burger Brasserie inserts a French twist on sports bar favorites; the HEXX Kitchen and Bar serves up American favorites 24 hours a day; JJ's Boulangerie offers pizza, sandwiches and fresh salads; indulge in cuisine from Asia at the Yong Kang Street Dumpling and Noodle House; Le Café Ile St. Louis boasts the tastes of a French sidewalk café and the Mon Ami Gabi has traditional steak frites.
For guests looking for upscale dining there are French classics prepared by Chef J. Joho at the Eiffel Tower Restaurant; the perfect steak awaits patrons at Gordon Ramsay Steak and Chef Steve Martorano prepares his innovative Italian cuisine at Martorano's.
Pools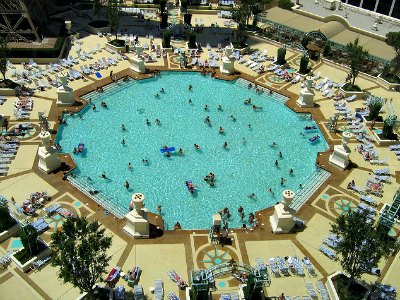 The Soleil Pool at the Paris Hotel Las Vegas is one of the most interesting pool areas in Las Vegas. This two acre paradise is situated under a towering replica of the famed Eiffel Tower and will remind guests of a finely manicured garden in Paris.
There is plentiful space around the octagonal pool for patrons to enjoy. The Soleil Pool area also has cabanas that boast an incredible VIP experience poolside. Guests can indulge in poolside cocktails and cuisine from the adjacent Café du Parc while playing in the pool or in one of the two Jacuzzis.
Photo By
Mark McElroy
Eiffel Tower Experience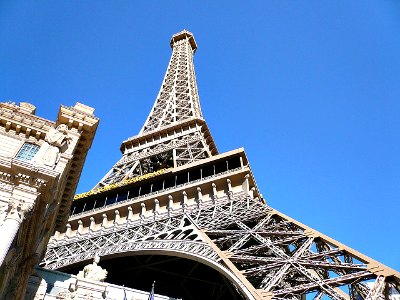 There is a must-see attraction located at the Paris Hotel Las Vegas which is the replica of the iconic Eiffel Tower. The Eiffel Tower Experience can only be described as fascinating. The tower has been recreated to a half scale replica of the original structure that stands majestically over Paris.
Glass elevators transport guests 46 stories in the sky for a 360 degree panoramic view of the Strip from the observation deck. Patrons can enjoy a wonderful romantic French cuisine dinner on the 11th floor at the Eiffel Tower Restaurant and couples can even have their wedding ceremony performed on the observation deck.
Photo By
Michael Gray
Hexx Chocolate Tasting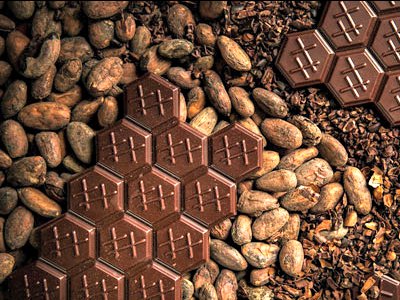 Another fascinating attraction at the Paris Hotel in Las Vegas is The HEXX Chocolate and Confexxion. It is an ideal stop for the person that is looking to cure their sweet tooth. Guests are invited to watch while chocolate experts mix and match wonderful cacao beans to create the ultimate chocolate tasting experience.
Patrons can taste everything from single origin chocolate to specialty ice cream sandwiches. There is also plenty of chocolate that guests can take home with them to create their own chocolate tasting party in their home.
Weddings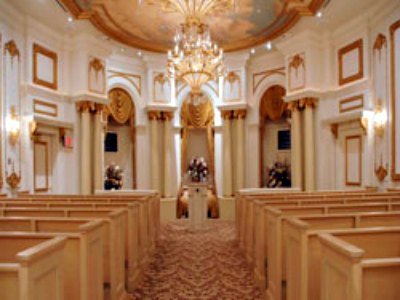 The Paris Hotel Las Vegas has three unique locations on the complex for weddings. The Chapelle du Paradis has a traditional cathedral decor with accommodations for 90 guests; the Chapelle du Jardin has a modern décor with seating for 30 patrons and the Eiffel Tower Observation Deck will take couples as well as 12 guests 460 feet above the Strip for a never ending view.
The Paris Hotel has several packages as well as expert wedding planners to help make your wedding day something to remember forever.
Spa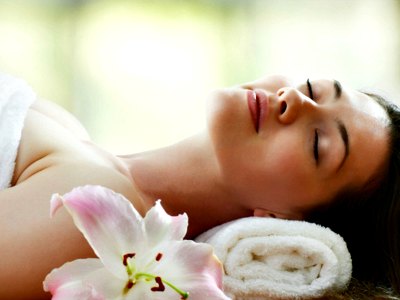 The Paris Spa by Mandara is a tranquil space located on the second floor of the Paris Hotel Las Vegas. The interior is peaceful with flowers, light wall colors and a contemporary decor that incorporates a South Pacific feel with European style.
The Paris Spa by Mandara offers separate facilities for both sexes that include specialty items like heated whirlpools, Eucalyptus steam rooms and cold plunge pools. There are six private treatment rooms that offer plenty of unique treatment packages like the Thai Herbal Poultice Massage or the luxurious Elemis Exotic Coconut Rub and Milk Ritual Body Wrap.
Shopping
The Paris Hotel Las Vegas boasts a very unique shopping area that will remind you of walking down a quaint street in Europe.
Le Boulevard has a décor of a bustling street in Paris along with cobblestone streets that are packed with unique retailers.
Plan Vegas Stay
Strip Hotels

Shows

Fun Activities

Tours

Grand Canyon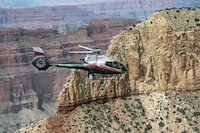 Do you have any questions or Comments?