Potted Potter Las Vegas Show Review
Potted Potter Las Vegas show is one of the best hilariously funny magically enchanting performances for you to see.
This comedy parody is packed with excitement, plenty of laughs, and of course lots of Harry Potter. The show brings everything about Harry Potter to life in a brilliant performance by created by two-time Olivier Award nominated actors Daniel Clarkson and Jefferson Turner. You will be thoroughly pleased with an evening of fire-breathing dragons, quidditch games, and above the magical appeal of Harry Potter.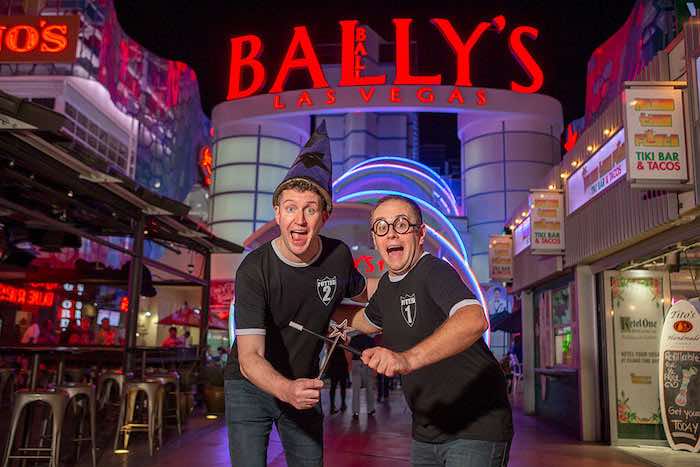 Potted Potter Las Vegas Show Review
The Potted Potter first started in the London's West End in 2005 and has been playing around the world over the past few years. Everyone who has seen the show has been writing rave reviews for this splendidly funny performance. The show condenses all seven of Harry Potters books into a classic stage performance complete with Hogwart magic. Just imagine two grown men playing quidditch before taking on classic bad guys like Lord Voldemort and Sirius Black from all seven of Harry Potter's books and movies.
Potted Potter Las Vegas show Highlights
The Potted Potter Las Vegas show highlights the creativity of Clarkson and Turner who have been honing the show for more than 14 years. Now the show 70-minute condenses the excitement from all seven books in this perfectly funny stage show. During the show there are plenty of quips, jokes, and action that bring to light the mysterious lives of Harry Potter and his sidekicks like Hermione Granger. Audiences everywhere have been busting their guts laughing even if they had no idea of the difference between Horcrux and Hufflepuff.
The show also highlights superb choreography with props, costumes, and wacky wizarding that highlights the imagination of the two creators in such a way that brings Harry Potter to life. There are scenes throughout the show from other parodies the two men have created like Potted Sherlock, Potted Panto, and Potted Pirates. These shows were the ultimate inspiration for Potted Potter and were first performed on the streets of London before pleasantly surprised bystanders.
So if you are interested in an evening of wickedly hilarious pundits from one of the most highly acclaimed book and movie series ever created then you need to take the family to watch the antics of Potted Potter live in Las Vegas.
Potted Potter Las Vegas show Creators
After Daniel Clarkson graduated from Bretton Hall in 2000 he entered into his current profession of writing and performing witty comedy. Before his days with Potted Potter Las Vegas show he helped create several other witty shows for television including where The Heart Is, Big Brother's Little Brother, Emmerdale, and Coronation Street. He has also appeared or written for the big screen with The Usual Children and The Guilty Hunter. Other shows he has been involved with in the theater include Art, Accidental Death of an Anarchist, A Crimson Man, and The Little Shop of Horrors. His latest creation is called King Kong at the Vaults which is just as funny as everything else Daniel Clarkson has created.
Jefferson Turner first met Daniel Clarkson in 2005. Since that time the two have worked together on several projects including all of the Potted Potter series, Big Brother's Little Brother, and Richard and Judy. On his own he has acted in several theater productions like It's Your Choice, It's Your Future, Goldilocks, and Upper Class Motors. On television he has been seen on numerous BBC programs including The Slammer, the Blue Peter series, and the in-house presenter on The Office. In 2017 he was fortunate enough to work and train with Second City when they came to London.
Tickets
The wickedly funny Potted Potter is performing at the Magic Attic within Horseshoe Las Vegas. Formerly known as the Windows Theater the theater offers perfect sight views from the 300 seats within the 3,645 square foot intimate showroom. The 70-minute show performs twice daily on selected dates. The family-friendly show is open to all guests six years of age or older. Potted Potter Las Vegas show Tickets are available in three price ranges from orchestra to mezzanine seating.
Get Your Free Las Vegas Events Calendar!
Best of Vegas