Raiding the Rock Vault Las Vegas Show Review
Raiding the Rock Vault Las Vegas is not your typical cover band playing classic favorites from 1960s-1990s and is a must see show for people interested in listening to numerous big name musicians from groups such as Heart, Bon Jovi, Bad Company, REO Speed Wagon and more.
The show begins with a rowdy attitude as the rotating musicians take the stage to a multi-media display that includes plenty of lights, video screens and pyrotechnics. When the band begins to start playing your ears will be filled with memories of the past as lead guitars, vocals, keyboards and drummers blend with each other in a harmonious way.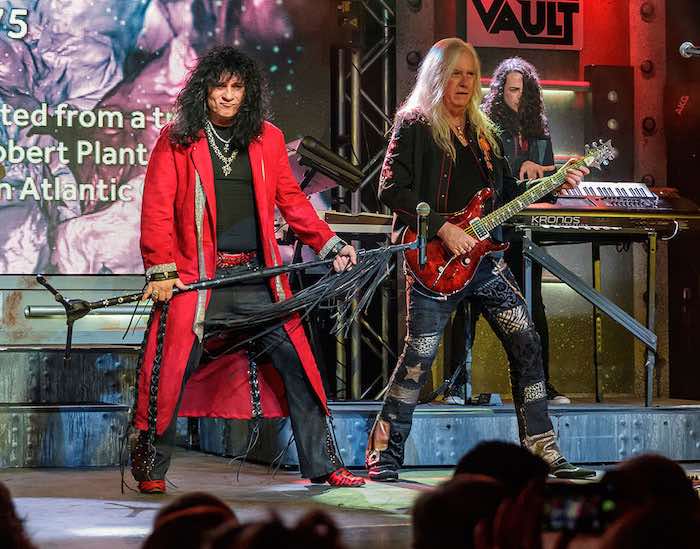 Raiding the Rock Vault Las Vegas is superb for music aficionados of classic anthems from bands such as Led Zeppelin, Heart, the Rolling Stones, Bon Jovi and Guns-n-Roses. The set list changes each night depending on the expertise of the musicians but every night is loaded with music, fun and excellent musicians that have honed their skills with numerous top notch bands over the years. The musicians will play songs such as Livin' On a Prayer, Stairway to Heaven, Sweet Home Alabama, Dust in the Wind, Walk This Way, All Right Now and Baba O'Reilly by the Who. Other classics songs are belted out by the female vocalists include songs from Heart, Pat Benatar and Fleetwood Mac. Don't be surprised to hear songs from bands such as Deep Purple, Journey, Queen, Whitesnake, Foreigner, Van Halen, the Doors and Jimi Hendrix.
The evening is perfect for everyone interested in listening to stellar music of the past and you might feel like singing along which is encouraged by the musicians on stage. Overall, Raiding the Rock Vault Las Vegas is ideally choreographed with band members changing out throughout the performance to give the audience an authentic sound, look and appeal. The nightly set list is impressive and the show is a must see for music lovers of all ages including teenagers.
Cast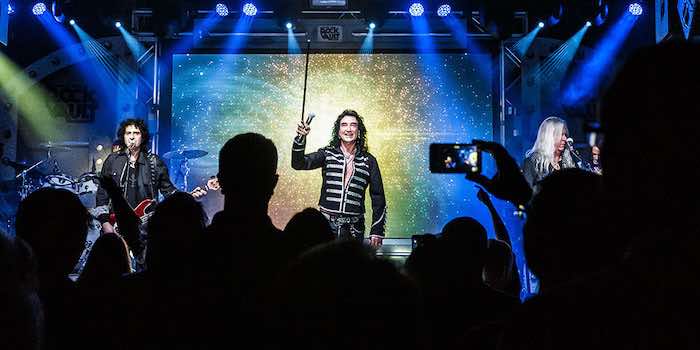 The cast of Raiding the Rock Vault Las Vegas show is packed with 25 former musicians from big name rock-n-roll bands that rotate throughout the year. Guests can expect to see and hear a variety of musicians that have played for musical groups that range from Meatloaf to Guns-n-Roses to Heart to Bon Jovi. Standout performers include guitarists Doug Aldrich, Tracii Guns, Howard Leese, Z Maddox, Jason Boyleston, Christian Brady, Rowan Robertson and Dave Amato. Bass guitarists include Phil Soussan, Hugh McDonald, Andrew Freeman and Mark Boals. Rotating on the drums are Blass Elias, Jay Schellen and Matt Starr. Keyboards are played by Michael T. Ross and Paul Trudeau. Lead vocals include Robin McAuley, Paul Shortino, John Bisaha and Todd Hearns. Female lead vocalists have a rotating lineup of Megan Ruger, Sarah Hester Ross, Cian Coey and Lily Arce.
Tickets
Raiding the Rock Vault Las Vegas is performing at Duomo at Rio. The 90-minute show runs Saturday through Wednesday starting at 8:00 P.M. Ticket holders must be 5 years of age or older. Tickets range from general admission standing and reserved seating to preferred seating to VIP tickets within the first two rows of the stage. Rock Star VIP packages include priority seating, a souvenir program as well as a meet and greet after the performance.
Get Your Free Las Vegas Events Calendar!
Best of Vegas