Things To Do At Red Rock Canyon Las Vegas
Red Rock Canyon, located near Las Vegas, is one of the most famous parks in the area, easily accessible for a quick and fun day trip. Located only a few minutes' drive from Las Vegas, its one of the city's best kept secrets. Red Rock Canyon tours from Las Vegas are perfect for you if you are visiting the city and grow tired of all the neon lights and casinos and just need a short break. It's is a small beautiful park located 20 miles (32 km) west from the city. In good weather, you can easily see it from the Strip! It's amazing that such gorgeous natural place exists so close Vegas - the most artificial place on Earth! The canyon is located very close, the tours are quite affordable, and you can learn something new and cool from the know-it-all tour guides. If you prefer to go there yourself, Red Rock Canyon's address is 1000 Scenic Loop Drive. Las Vegas, NV 89161.
Plan Vacation
Strip Hotels

Shows

Fun Activities

Tours

Grand Canyon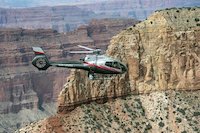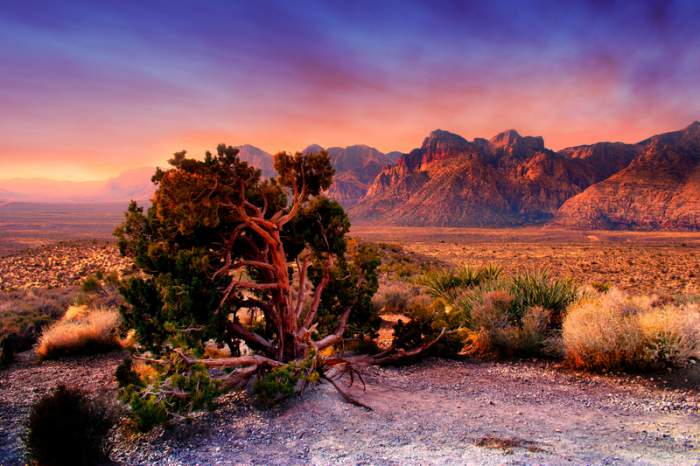 Top tours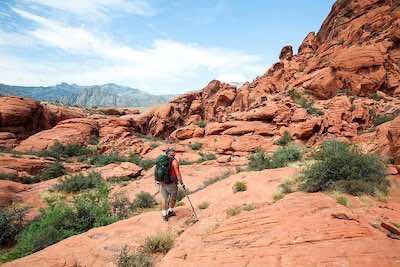 Red Rock Canyon tours
There are many popular Red Rock Canyon tours from Las Vegas. You will be transported to the Red Rock Canyon by either a minivan, a Pink Jeep or a Hummer, and will visit all the sites mentioned above with a tour guide who will tell you everything about the park's history. The main difference between the tours is the price and the mode of transportation! If simple sightseeing is not enough for you, you might want to try something else. Here are a few great Red Rock Canyon tours: hiking, horseback riding and doors-off helicopter flight over the canyon!
Virtual Tour
The canyon derives its name from the bright red sandstone formations that contain large amounts of iron oxide. You can admire rocks of a deep crimson color contrasting with other very white rock formations. There are many observation areas, many hiking trails and plenty of photo opportunities in the park!
In summer, temperature at the Red Rock Canyon can easily reach 105 F (41 C) - be sure to take with you sun block, hats, plenty of water, and wear something light-colored.
Besides the natural beauty of the canyon, locals enjoy hiking, camping, rock climbing, camping and horseback riding. For tourists not familiar with the area many different affordable Red Rock Canyon tours from Las Vegas are available. However, if you want to rent a car and drive there yourself, the entrance fee to the canyon is only $7 per car if you want to drive through the 13 miles (21 km) long scenic loop drive. The entrance is free if you park your car at the entrance and walk into the area to hike or bike.
We invite you to take some rest from the Strip and explore the Mojave Desert's greatest attraction - with virtual Red Rock Canyon Las Vegas tour.
Visitors Center
The new Visitors Center, Red Rock Canyon Interpretive Association, offers plenty of information to tourists during Red Rock Canyon tours from Las Vegas. The Center is divided into "four elements" - Earth, Water, Fire and Air, each offering tons of information on the history, geology, flora and fauna of the park.
Joshua Trees are common in the park: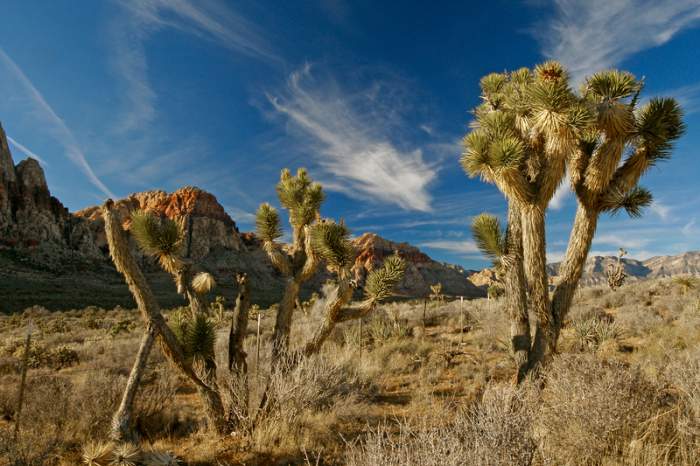 At the Center you will find indoor and outdoor exhibits that will introduce you to the canyon. Here you can further plan your trip to the canyon and obtain information on which trails are easy, moderate or more difficult for hiking. From a panoramic window, you can admire the most beautiful views of the Calico Hills.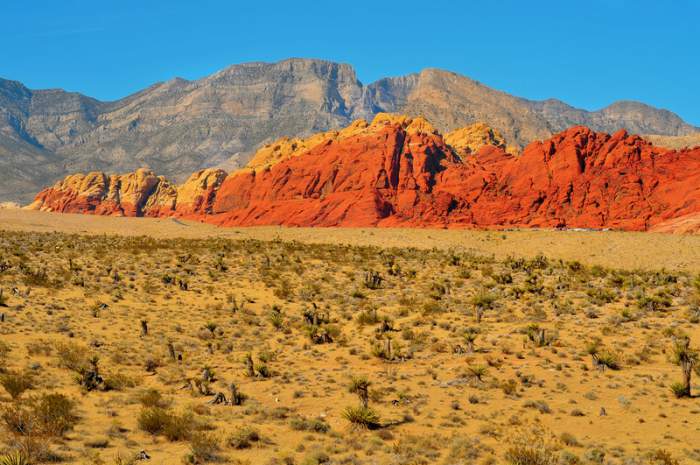 You will learn about the many species of animals living in the canyon, some of which are unique to this canyon. The canyon is home to some 200 species of mammals! You can also find there the Desert Tortoise habitat and see tortoises in their natural setting.
Scenic Loop Drive
The Scenic Loop Drive is a one-way 13 miles (21 km) long circuit that goes through the canyon where you can drive to enjoy the park on your own.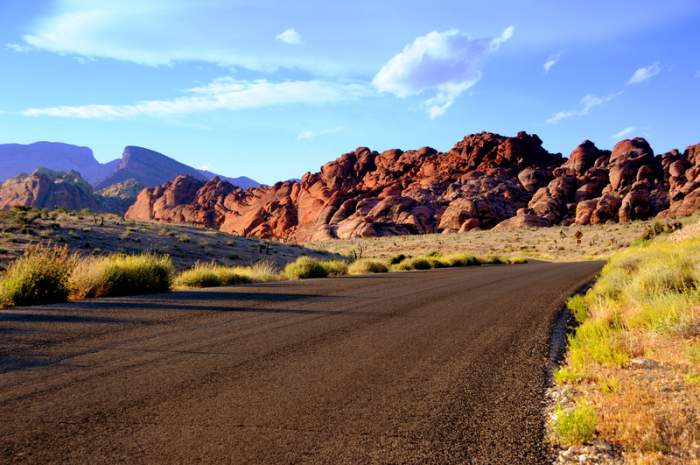 Along the loop, there are many overlooks and sightseeing opportunities - you can find multiple hiking trails if you want to explore the rocks closer. Calico Hills, that are among top attractions in the park, can also be seen from the loop.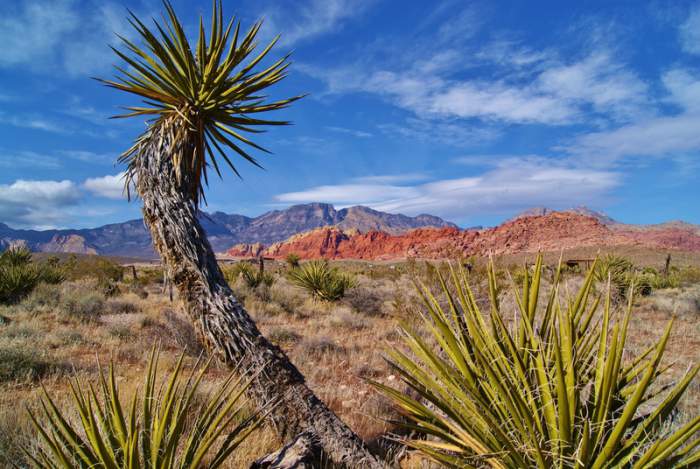 At Willow Springs, a small green oasis in the heart of the desert, you can stop and relax. This is the place where you can find rock art - the remains of the Native Indians that used to live in the area.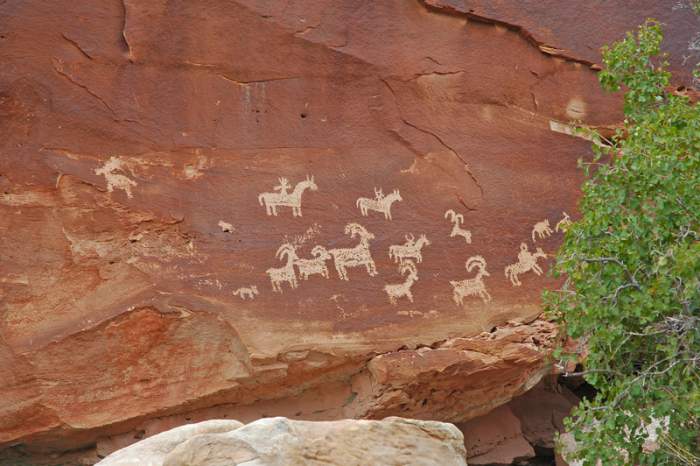 Spring Mountain Ranch State Park
Admission: $6 per vehicle, not including tours and Super Summer Theater
Spring Mountain Ranch State Park is located on the territory of the Red Rock Canyon, and it's a park within a park. The ranch used to belong to several people, including an eccentric millionaire Howard Hughes and a German actress Vera Krupp.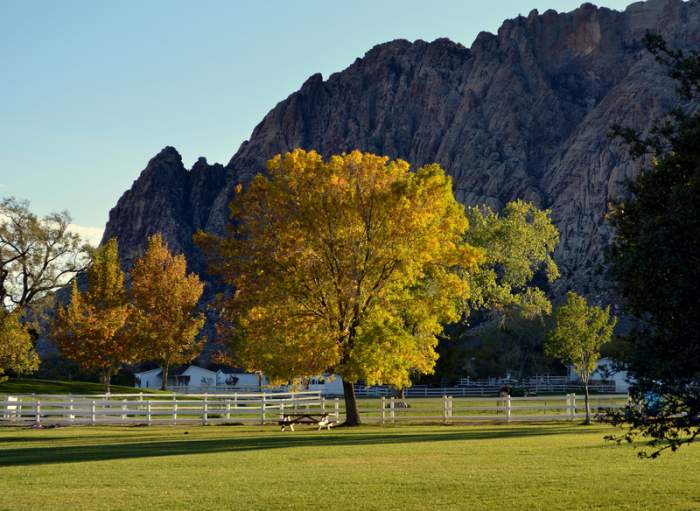 The ranch offers multiple attractions of its own - picnic area, historical tours of the house, cemetery, blacksmith's shop, costumed history stories, Super Summer Theater shows, Red Rock Canyon tours from Las Vegas through hiking trails, Overlook Trail. Once of the main attractions of the Spring Mountain Ranch is a beautiful Lake Harriet.
Spring Mountain Ranch is located in the desert at the base of the scenic Red Rock Canyon. It's one of those natural places where you can relax, hike, have barbecue and just connect with nature. The ranch used to belong to millionaire Howard Hughes, and many historic buildings are still preserved. You can either take a tour or see the buildings by yourself. Another attraction of the ranch is its picturesque Lake Harriet. In summer, you can catch one of Super Summer Theater shows under the open sky.
Bonnie Springs/Old Nevada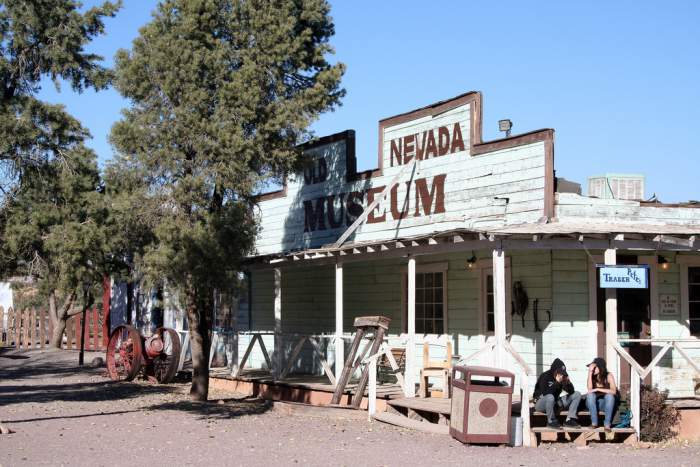 Address: 16395 Bonnie Springs Road, Las Vegas, NV
A visit to Bonnie Springs, or Old Nevada - one of two ranches located inside Red Rock Canyon, will take you and your kids back in time to the Wild West. It will remind of cowboys, saloons and gun fights we've seen in Western films. Las vegas day trips to Bonnie Springs will show you the best attractions - the "old feel" historical buildings, a petting zoo, horseback riding and a cowboy melodrama with bank robbery, chase and hanging of the robber - fun for kids. Horseback riding is available only for adults and kids age 6 and older.
Admission: $5 on weekdays, $7 on weekends.
Horseback riding at Bonnie Springs Ranch inside Red Rock Canyon Las Vegas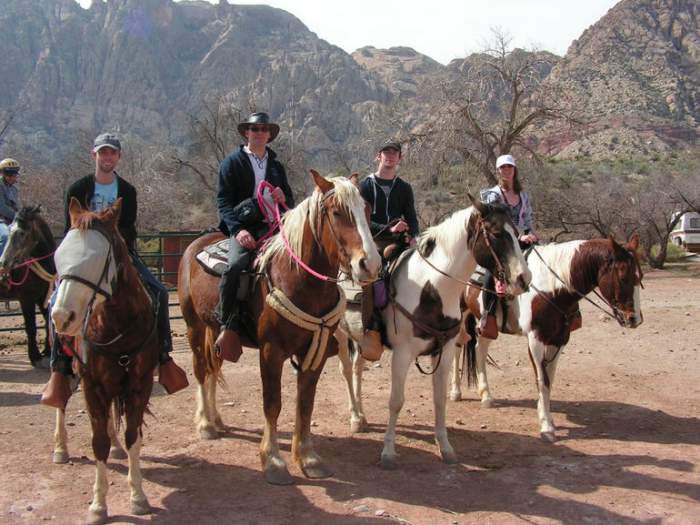 Photo by Miss Shari
Get Your Free Las Vegas Events Calendar!
Best of Vegas