Drag Brunch at Senor Frog's Las Vegas Review
Drag Brunch at Senor Frog's Las Vegas is ideal thing to do if you are interested in a great brunch along with a fantastically funny as well as entertaining time. The show which is packed with innovative acts is sure to cure your hangover on any weekend day with an open bar or bottomless glass of mimosa.
The Drag Brunch begins with a superb buffet brunch that offers up numerous live cooking stations, salads, breakfast choices from eggs benedict to omelettes and you can enjoy a variety of pastries. Toss in an open bar or unlimited mimosas and you are ready for the show with a stomach that is smiling.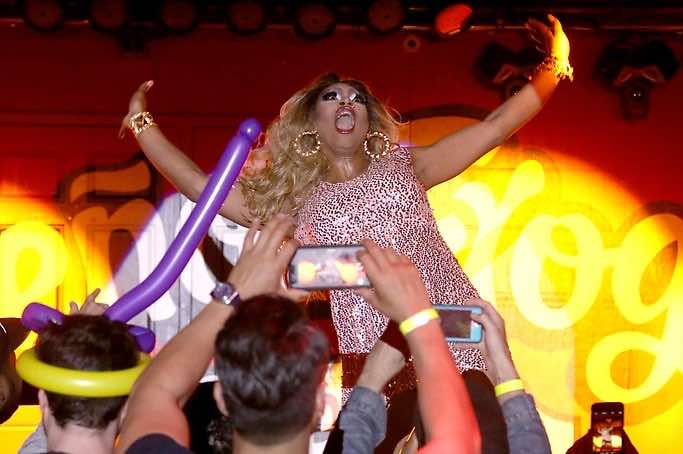 The Drag Brunch at Senor Frog's Las Vegas is loaded with beautiful drag queens that have unbelievable stage presence. Their costumes are gorgeous with sequins, boas, gloves and of course high heels.
During the show you will be treated to comedy, dancing, singing and if you are lucky enough you will be asked to go up on stage. Guests like the interaction of the performers with the crowd that can be somewhat risqué as the performers peruse the audience for their next victim.
The drag queens present a true girly gig that is packed with fun and loaded with karaoke style singing from the entertainers. As the show progresses the jokes get a little cruder and the music a little bit louder but the gorgeous queens are ready to make sure that everyone is smiling, even the guy who looks like he does not want to be here.
Overall, the brunch is tasty and the show will transport you back to a time of glitter on the Strip. Don't think that this show is only for the LGBT community because you will be pleasantly surprised with the quality of the drag queens as well as the entertainment that is served up alongside the food.
Best Seats
Drag Brunch at Senor Frog's Las Vegas is located at Treasure Island. Seating choices range from general admission to VIP reserved seating. Each of the two areas offers good sight lines to watch the show from a table. Guests have found that performers during the show pay attention to both general admission and VIP areas. The best general admission tables can be had if you show up early.
Drag Brunch at Senor Frog's Las Vegas Cast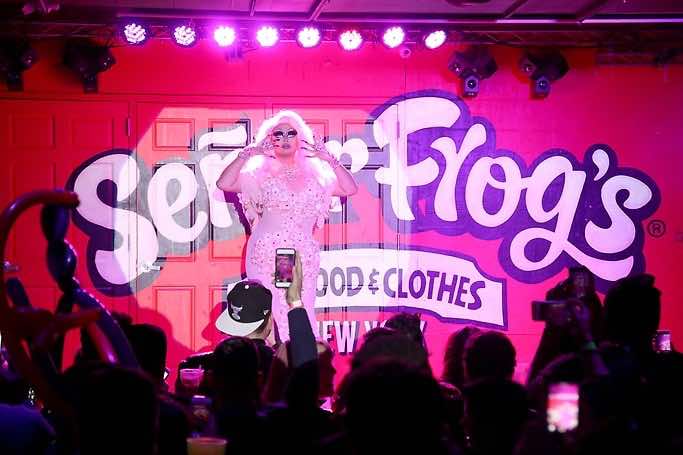 The cast that performs during Drag Brunch is associated with legendary drag show known as RuPaul's Drag Race and rivals anything produced by Frank Marino. The cast is composed of starlets such as India Ferrah, Yara Sofia, Shangela and Coco Montrese. The show is emceed by Roxy Brooks-Lords.
Drag Brunch at Senor Frog's Las Vegas Tickets
The Drag Brunch is performing at Senor Frog's located within Treasure Island Resort and Casino. The 2-hour show runs Friday at 2:30 P.M. as well as Saturday through Sunday beginning at 11:30 A.M and 2:00 P.M. Tickets are restricted to guests 21 years of age or older. General admission tickets include a buffet brunch and unlimited mimosa. VIP Drag Brunch at Senor Frog's Las Vegas tickets include reserved seating, buffet brunch, complimentary full open bar and a photo op with the cast after the show.
Get Your Free Las Vegas Events Calendar!
Best of Vegas