Shin Lim Las Vegas show review
Shin Lim Las Vegas show playing at the Mirage is for you if you think all legendary illusionists need a ton of props on stage to help them convince the audience. Now, we know you probably saw him on America's Got Talent and when he took home the trophy during the Champions contest he became a household name.
Shin Lim relies on superb sleight-of-hand tricks and by manipulating playing cards which will magically appear or disappear during his stellar performance. Before winning America's Got Talent he was featured twice on the Penn and Teller Fool Us program where he absolutely crushed it with his ever so clever card tricks.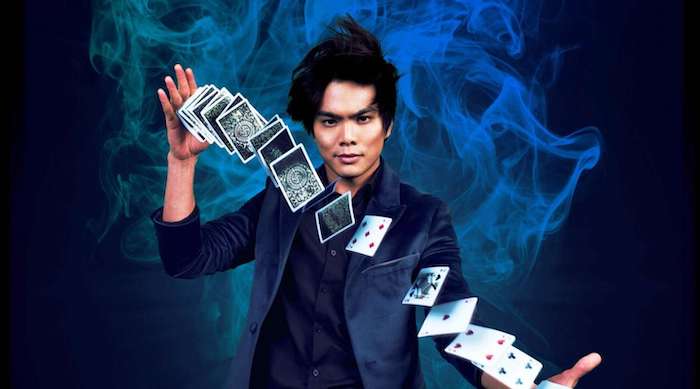 During Shin Lim Las Vegas show you will be amazed at what he actually can do with his hands. He is open about telling the audience that he is not really a magician and definitely not a wizard. He likes to tell people that he has no reason to trick people or the laws of physics during his show. He instead relies on the numerous years of training and exploring his highly choreographed tricks which have been leaving audiences with their mouth open in a state of awe.
He first learned his trade from his brother who once showed him a simple sleight-of-hand card trick he saw on YouTube. Well, Shin Lim has taken everything he could find on YouTube and turned them into a classic mind-boggling show that brings out the true precision, grace and dexterity of this young man. He has worked hard on his style of tricks from the beginning. He has gathered many awards for his wall including being the World Teen Close-Up Magic Champion in 2010, the Adult Card Magic I.B.M. in 2011, and he won the Federation International de Society Magic World Championship for Close-up Card Magic in 2015.
After winning this prestigious award he was asked to perform at the House of Magic in Macau, China as well as perform for the victims of the November 2015 Paris Attacks. He was encouraged by his finance, assistant and now wife Casey Thomas, to try out for America's Got Talent. Well we know how that went and we know that now is your chance to see this incredible sleight-of-hand artist in Las Vegas. Now he is headlining his own show in Sin City and life does not get any better than this for a magician.
About Shin Lim
Shin Lim was born in Vancouver, Canada at a time when his father was studying for his post graduate degree. The family moved back to Singapore when he was two years old where is ethnically connected to the Han Chinese. At an early age he learned how to play the piano. When he turned 11 years old, the family moved to Acton, Massachusetts in the United States. He would graduate from high school in Acton before enrolling at the School of Music at Lee University in Tennessee. His interest in magic began when he was nine years old. After being diagnosed with Carpal Tunnel Syndrome when he was twenty years old, he quit playing piano and concentrated on his sleight-of-hand tricks. After winning several magic awards and appearing on Penn and Teller Fool Us, he had a career threatening injury when he severed two of his thumb tendons. Determined to move forward, Shin Lim worked feverishly in rehab and after six months found himself back on the magical stage.
Shin Lim Las Vegas Tickets
Shin Lim brings his wonderful performance to the Terry Fator Theatre within the Mirage. His 90-minute show is packed with interesting sleight-of-hand tricks that will blow your mind. The family-friendly show is open to all guests five years of age or older. The amphitheater-style venue is excellent for watching his spectacular hand movements from any of the 1,250 seats in the house and is complimented by excellent multimedia effects and sound system. There are three price ranges for Shin Lim Las Vegas' reserved seating tickets as well as a VIP option that includes a meet and greet with Shin Lim.
Get Your Free Las Vegas Events Calendar!
Best of Vegas