Soul of Motown Las Vegas Review
Soul of Motown Las Vegas show is a spectacular production that brings all of your favorite Motown artists from the past back to life. Fans of Motown whether from its early days of Doo-Wop or its later days of converging artists from Detroit to Philadelphia are simply delighted with the high-energy appeal of Soul of Motown. Performing at the Westgate Cabaret this Las Vegas show is one of best to see when you visit Sin City.
The 90-minute Soul of Motown Las Vegas show is pure pleasure to the eyes and ears with five proven vocalists taking the stage and covering numerous classic Motown hits from Aretha Franklin to Smokey Robinson to Marvin Gaye and don't forget about the iconic tones from groups like The Temptations and The Platters provided us.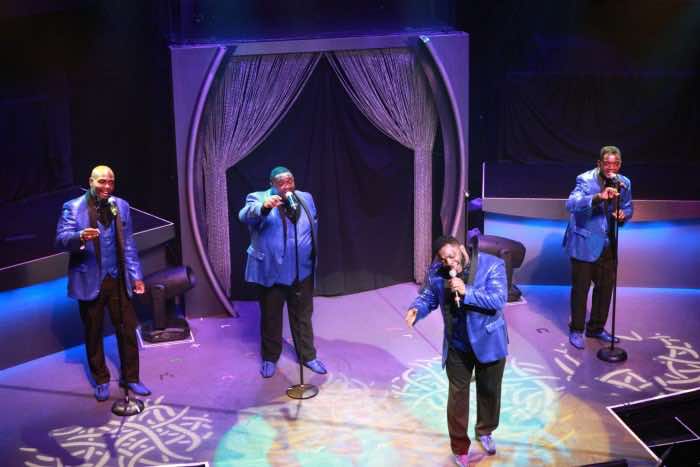 The Soul of Motown Las Vegas show is expertly choreographed with all four members on stage dancing in perfect timing and their voices are ideal for each and every song they sing. The costumes and stage setting is the perfect combination of glitz with velvet suits with sequences and the large photos of the iconic Motown artists of yesteryear add a special reverence to remember these outstanding artists in your mind.
You can expect to hear classic Motown hits like RESPECT from Aretha Franklin, Superstition by Stevie Wonder, My Girl from The Temptations, and the acapella splendor of Under the Boardwalk by The Drifters. The show does not miss a beat throughout with a high energy aspect that has the crowd singing along on most, if not, all the songs they perform.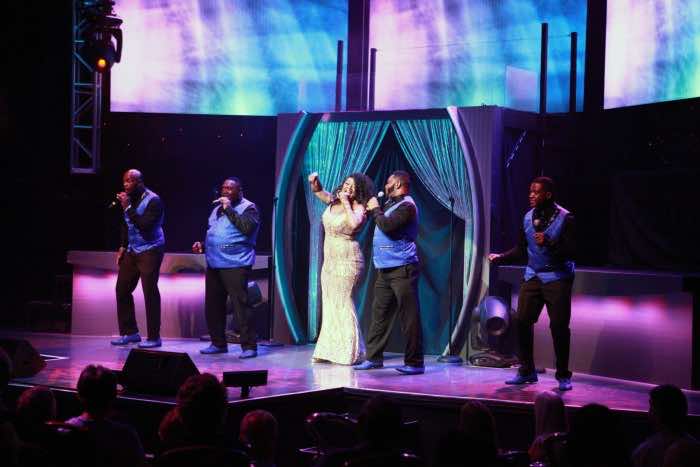 Other songs you can expect to hear during Soul of Motown Las Vegas show are legendary covers such as I Heard It Through the Grapevine by Marvin Gaye, Just My Imagination from The Temptations, I Second That Emotion by The Miracles, and an outstanding version of Stand By Me originally written by Ben E. King.
The performers in Soul of Motown sway, dip, and move in unison as they dance effortlessly on the stage from one Motown hit to another Motown hit. The music throughout the show has the crowd singing along and dancing in their seats as the memories of years gone past of musical glory is laid out on the stage by the performers.
Soul of Motown Las Vegas show might even surprise you at times and pop in a few new tunes from artists like Bruno Mars and Whitney Houston who are just beloved as the songs performed from the Jackson 5, Barry White, and Diana Ross and The Supremes. The mixture of music from Motown artists is amazing and will surely bring a smile to your face when you hear your favorite on from the past.
In the end, the Soul of Motown Las Vegas show is not filled with special effects, glamorous lighting, or a big production budget but that's not what Motown was all about. Motown was about the music making you feel good about life, your situation, and above all about making you feel like dancing and singing with all of your friends. That is what Soul of Motown brings to the stage every night.
Soul of Motown Las Vegas Venue
The Soul of Motown is playing within the Westgate Cabaret which has a capacity of 400 seats. Seating for the production is by table in a variety of price ranges. The best seats in the house are VIP table seats located in the first five rows. Tables vary in size and can accommodate groups of two to six people. Rows VVIPA and VVIPB are closest to the stage and offer great sightlines. Terrace tables are located further back and occupy the final four rows of the lower tier but still offer great sightlines of the performers. Terrace table seats vary in size and can accommodate two to six people. Row G in the Terrace tables is located directly in front of the bar. Balcony table seating is on the second level with the mixing station. Balcony tables offer good sightlines and can accommodate three to four people.
Soul of Motown Las Vegas Cast
The cast of Soul of Motown consists of four people. Male vocalists and dancers include Brandon Godfrey, Mo Crosby, and CJ Williams. Sean Stewart Godfrey is the female vocalist and dancer for the production.
Soul of Motown Las Vegas Tickets
The Soul of Motown Las Vegas show is performing at Westgate Cabaret within the Westgate Las Vegas Resort and Casino. The 90-minute production runs Friday thru Sunday beginning at 7:30p.m. Tickets range in price from $34.99 for balcony table seats to $44.99 for terrace table seats, and $64.99 for VIP table seats (taxes and fees excluded). Tickets may be purchased for guests five years of age or older.
Get Your Free Las Vegas Events Calendar!
Best of Vegas