Tape Face Las Vegas Show Review
The wildly popular Tape Face Las Vegas Show playing at Harrah's is one of the more unique and entertaining shows to hit the Strip in decades. Here is my review.
Created by New Zealander Sam Wills in 2008, the show is an extraordinary performance that is highly recommended for guests that want to be included in the show. That's right- included in the show. One of the more interesting aspects of the show is audience participation which is huge and a crowd pleaser-whether you are a chosen one or not.
When Tape Face Las Vegas Show first appears on stage you might think that this guy is just a plain wacko straight out of some psychiatric ward. Your attitude will change immediately when he starts to perform his quirky acts that rely on his skills as a mime. During the performance Sam Wills is masterful in making people laugh by combining simple magic tricks and illusions with superb choreography of music as well as multimedia effects.
Although the actor never says a word, the audience knows that he is up to something devious but a fun devious. As Sam Wills prowls the stage juggling, performing sleight of hand tricks and sometimes dancing, the audience is enthralled with his effortless movements as a mime. He is accompanied by his assistant Phyllis who is in charge of many things from picking guests from the audience to preparing the next prop to being eye candy on stage.
The Tape Face Las Vegas Show incorporates features from Mills favorite characters that include Buster Keaton, Charlie Chaplin, Tim Burton and the cartoon character Wile E. Coyote. These characters are brought to life through his funny stage antics that brings the audience into full contact with Tape Face. Every night numerous people from the crowd are corralled on stage to help fill the theater with laughter after each stunt. Sam Wills will blow your mind with his childhood like fantasies that are well thought out and executed to perfection. After watching this extraordinary artist, you won't think about his crazy looks and you can even get a photograph with Sam Wills before you exit the theater.
Tape Face Las Vegas Seating Chart
The is performing within the 200 seat House of Tape Theater. The theater has been recently constructed with two distinct areas of seating which are General Admission and VIP General Admission. Doors open for ticket holders at 6:30 P.M. and we recommend that you get in line around 6:00 P.M. for the best seats. If you have children, the best seats for Tape Face in Las Vegas are located in the first row bar height seats in the back of theatre. For guests that want to be included in one of the audience participation portions of the show, then take an aisle seat thru the fourth seat. This is where most people are selected to appear on stage or in the show. Seats are close together and not staggered very well, so be prepared for close company while viewing the show.
Tape Face Las Vegas Cast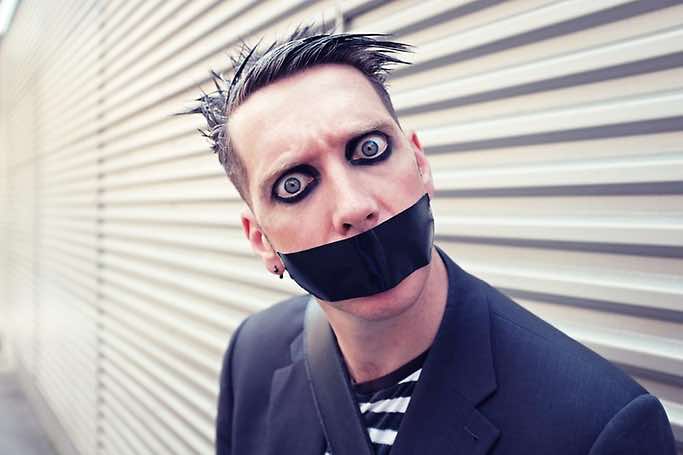 The show was created in 2008 by Sam Wills who is a former street busker and circus performer originally from New Zealand. Wills became popular during the 11th season of America's Got Talent when he was a finalist. From 2016-17, Wills toured the world from London to Las Vegas while performing as Tape Face. In 2018 he began performing his new show at the World Buskers Festival in Christchurch, New Zealand and has subsequently been signed to a three year residency contract to perform at Harrah's Las Vegas.
Tape Face Las Vegas Tickets
Tape Face is performing at the House of Tape Theater within Harrah's Las Vegas. The 90-minute performance runs Tuesday through Sunday and starts at 7:00 P.M. There are no age restrictions. General admission tickets are available. VIP general admission tickets include a meet and greet before each performance at 6:00 P.M.
Get Your Free Las Vegas Events Calendar!
Best of Vegas