Best Las Vegas Hotels Off Strip
Who said Las Vegas hotels off Strip aren't as fun?! Whether you are looking for a quiet time away from the Strip, or just passing by Las Vegas, most of these hotels cater to all your needs.
Other than being generally cheaper, many of off Strip hotels offer something you can not find on the Strip - golfing, hiking, biking, horse riding opportunities, or great outdoor swimming pools.
---
Best Las Vegas Hotels Off Strip - Palms Resort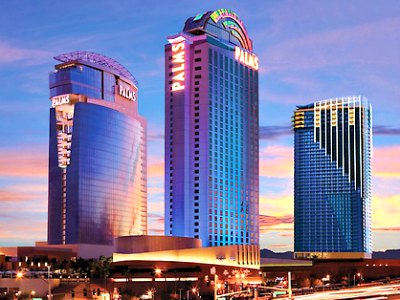 4321 West Flamingo Road, Las Vegas, NV 89103
Review: When it comes to live music, nightlife, pool parties and entertainment off Strip, Palms can only compare to Hard Rock Hotel (our next review). There is always something fun going on at all their four concert venues, however they host the best concerts at the Pearl Concert Theater.
Palms Hotel is also famous for great nightclubs and pool parties. Fortunately, their hottest nightclubs Moon and Rain as well as Ghostbar and the famous Palms Pool participate in the V Card program that can save you hundreds of dollars.
In fact, Palms Hotel is so hot that we recommend it as the prime choice to host a bachelor party!
Best Las Vegas Hotels Off Strip - Hard Rock Hotel and Casino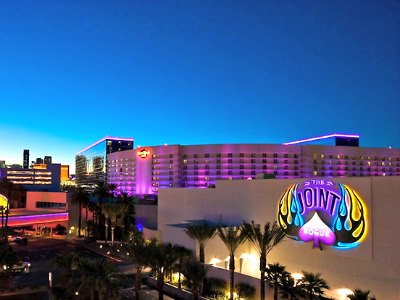 4455 Paradise Road, Las Vegas, NV 89109
Review: Hard Rock, is among the most "musical" Las Vegas hotels off Strip - much like Palms. However, hosting top rock, jazz and blues concerts in town isn't enough for them - they go as far as featuring musical memorabilia all over the place! From bustier belonging to Madonna to guitars to leather jackets - you can find something in every corner. Hard Rock is another great choice if you are wondering where to stay during Vegas bachelor party!
As if that's not enough to keep music fans occupied, they have one of the hottest nightclubs in Vegas - Vanity, included in the V Card.
Hard Rock Hotel also lures visitors with hot pool parties at their pools Nirvana (former Hard Rock Beach Club) and Rehab - also part of the V Card deal.
Best Las Vegas Hotels Off Strip - The Orleans Hotel & Casino

4500 W Tropicana Ave, Las Vegas, NV 89103
Review: The Orleans Hotel is among the best family-friendly Las Vegas hotels off Strip. With 1885 rooms, it's actually a large resort that has it all - top entertainment, excellent restaurants, pool and spa.
Although Orleans Hotel is located quite close to the Strip, you might never want to leave it! It offers so many things to do - there is a movie theater, bowling alley, 2 excellent venues that regularly host live music concerts and even occasionally sports events: Orleans Arena and Showroom. As for dining choices - The Orleans has 14 restaurants!
Kids would have a lot of fun there too - Orleans Hotel offers an arcade with video games, and a play zone for little kids.
Best Las Vegas Hotels Off Strip - Rio All-Suite Hotel & Casino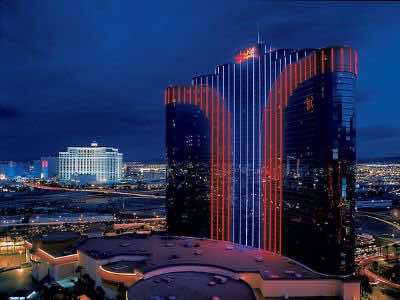 3700 West Flamingo Rd., Las Vegas, NV 89103
Review: Rio hotel is one of the hottest Las Vegas hotels off Strip - the atmosphere of party, beautifully appointed suites, and a few of the hottest shows in Vegas!
Entertainment in Rio includes: Rat Pack is Back - a tribute group performing at the Crown theater, a magic show by Penn and Teller, a steamy all-male revue Chippendales and an absolutely free dancing show (that is a few shows per night) called Show in the Sky. Plus, they often host various live music bands.
If that's not enough to convince you to stay at Rio, they have a hot swimming pool (entrance fee included in the V Card with a European area, and even pool side massages!
Las Vegas Hotels Off Strip - Sam's Town Hotel and Gambling Hall

5111 Boulder Highway, Las Vegas, NV 89122
$28 - $117 *
Review: The Sam's Town is a modern hotel located in the northwest Las Vegas, 6 miles from the Strip and downtown. Rightfully named "town" the hotel offers everything so you don't even need to leave the hotel. But for those who do, they have regular shuttle services to the Strip and downtown, as well as to the airport.
What makes the Sam's Town Hotel so special and great value is its secluded location and the availability of multiple amenities: swimming pool, Mystic Falls Indoor Park (great for families), a great casino with smoking and non-smoking rooms, bowling center, movie theater, show room that regularly hosts top-notch entertainment. The hotel is also surrounded by a golf field!
The Sam's Town has 15 dining options! You can find there anything from buffet to sandwiches to ice cream and deli!
Las Vegas Hotels Off Strip - Palace Station Hotel and Casino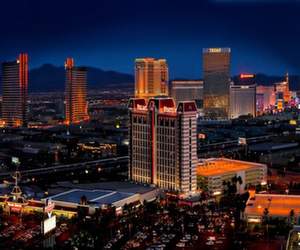 2411 W Sahara, Las Vegas, NV 89102
$21 - $134
Review: The main feature of the Palace Station Hotel and Casino is that it looks like a 19th century train station. Other than that, the hotel provides a great value for your money. Beware, however, that other than the room rates, they also charge resort fee for using their facilities, so be sure you use them if you opt for this hotel.
There are two types of rooms - Courtyad rooms and Tower rooms, which are more expensive.
Located 1 mile north from the Strip, the Palace Station provides a shuttle service to the Strip and the airport like most Las Vegas hotels off strip.
There are two swimming pools on site, casino, and a beautiful garden sundeck. There are plenty of activities nearby - anything from horse riding to helicopter tours to golf.
Palace Station has great entertainment that includes live music and comedy. Their resident comedian is hilarious Loui Anderson - big baby boomer.
For dining, there are multiple choices: Cabo offering Mexican menu, Feast Buffet serving world dishes for any taste, Food Express serving Chinese fishes, and more.
Please share this page with your friends!
Hottest Deals In Vegas
Explore The City
Do you have any questions or Comments?