Aussie Heat Las Vegas Show Review
Aussie Heat Las Vegas show playing at the Pegasus Showroom, Alexis Park All Suite Resort first appeared on Australia's Got Talent and is one of the hottest male revues in Vegas.
This 75-minute event is filled with exciting dancing and lots of male skin. Playing at the Mosaic Theater, Aussie Heat heat everything on the stage each night. The eight man dance troupe front and center continues to please the audience with their dance moves one performance after another.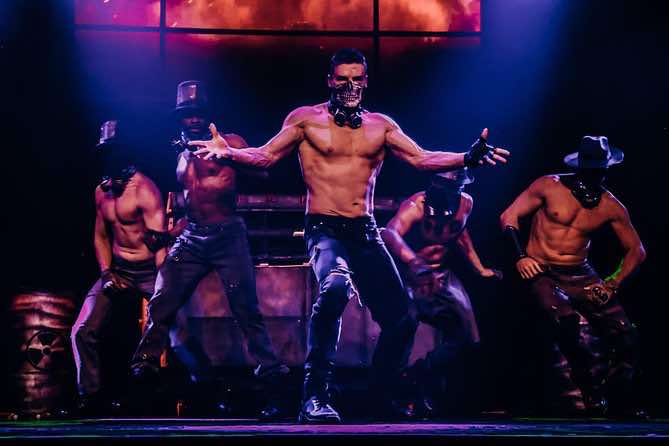 Aussie Heat Las Vegas show has super high energy and the crowd is in awe of the male physiques on stage. Each of the male performers is a trained and world class dancer. Routines include four or five male dancers who move aesthetically across the stage to several different genres of music. The guys will pound the floor with their urban-style dancing that includes hip hop, break and street. Their thrusting moves leaves little to the imagination with their junk corralled by their skin tight thongs. Costumes range from military to cowboy to business man to policemen before dropping everything for the audience to enjoy their six pack abs and choreographed dance moves.
Unlike some all-male revues in Las Vegas, Aussie Heat is open to all sexes and neither will be neglected by the hunky male dancers. Each song brings a couple of new audience members to the stage where the chiseled male dancers rub and thrust their bodies closer to the guest. Audience members scream wildly as patrons are dragged on the stage and mash bodies with the amazing Aussie Heat.
The Mosaic Theater has an intimate feel and is the ideal venue for Aussie Heat. Seating provides great sight views of the action on stage. The small audience is perfect for the dancers to pick out their next unsuspecting participant to jump on stage and twerk with the handsome men.
Aussie Heat Las Vegas show is the ideal male revue for bachelorette parties that are looking to spice things up a bit for the bride. The Heat are available for lap dances and the interaction with the audience on stage during the revue is encouraged to be as naughty or nice as you want to be.
Aussie Heat Las Vegas Tickets
The show is performing within Pegasus Showroom, Alexis Park All Suite Resort. The venue is great for such an interactive show with the audience. This adult show is open to all sexes and patrons must be 18 years of age or older. Aussie Heat Las Vegas show runs Friday through Sunday at 9:00 P.M. Aussie Heat Tickets are on sale now and range from general admission to an upfront seat as well as a VIP meet and greet.
Get Your Free Las Vegas Events Calendar!
Las Vegas Gifts - Art, Merch And more!
Grand Canyon Helicopter Tours by Papilloin
Grand Canyon Helicopter Tours by Maverick
Awesomest Things to do in Las Vegas Every Day!