Las Vegas Male Revue Shows
Las Vegas male revue shows are a perfect choice for the good girls gone bad - where else can you see that many six packs an tight buttocks at once? And, unlike your significant other (or most of them!) they don't mind dancing and stripping for you or even wear a sexy outfit of your dreams! Perfect gift for a birthday girl or a bachelorette saying byebye to her single life!
Magic Mike Live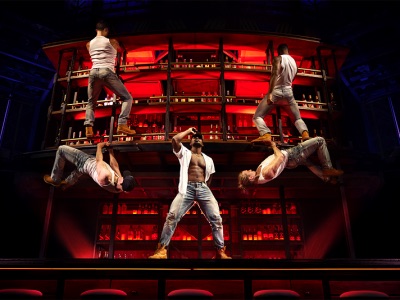 Venue: Magic Mike Theater, Hard Rock Hotel
Date & Time: Starts in April 2017! Wednesday-Sunday at 7:30 pm and 10:00 pm
Age restrictions: 18+
Ladies and gentlemen, get you dollar bills ready because Magic Mike Live is ready to blow your mind!ß Performing at the Hard Rock, Magic Mike Live recreates the magic on stage that was brought to life by Channing Tatum. This show is fabulous with 13 jaw dropping male specimens pleasing all of your senses while their gyrating hips and bodies take you into a mesmerized state of mind. Magic Mike Live brings everything to life on a 360 degree stage that is fashioned after the original Club Domina which was featured in the two Magic Mike movies. You will be thoroughly satisfied with the intricate choreography of the dances and strip routines that these gorgeous male performers bring to the stage. So, when you are ready for that ultimate Las Vegas male revue experience then you need to see Magic Mike Live and let them take the stress of the day away.
Chippendales Las Vegas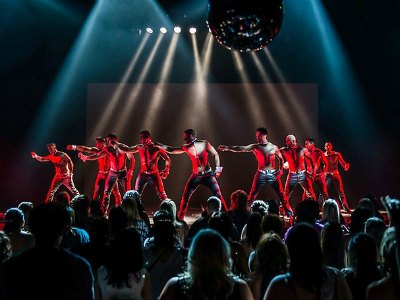 Venue: Chippendales Theatre - Rio Hotel
Date & Time: Every night at 8:00 pm, also on Friday and Saturday at 10:30 pm
Age restrictions:18+
Review: What can we say about Chippendales...Gorgeous tan muscular bodies, extremely sexy scream-inducing hip-thrusting male dancers - nearly every girls's dream! The guys interact with the audience a lot - so if you don't want to be dragged to the stage - try to book seats far away! They all look like they are having a lot of fun putting on a show for us. And if you are lucky, you can even take a "piece" of the show home - the guys rip off their shirts and throw them into the crowd of happily screaming ladies. It's truly among the hottest Las Vegas adult shows for a bachelorette party!
What's Hot
Plan Vacation
Strip Hotels

Shows

Fun Activities

Tours

Nightlife

Black Magic Live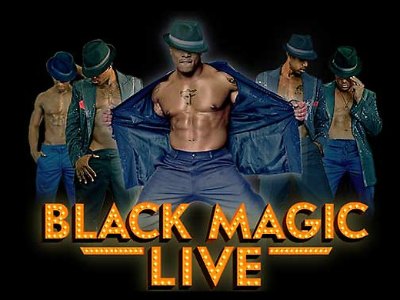 Location: Embassy Nightclub
Show Times: Thursday-Sunday at 9:00 pm
Age limit: 21+
When Vivica A. Fox brings a male revue show to Las Vegas you know that it will be packed with hot guys that can lay down plenty of wood on the stage and that is exactly what Black Magic Live delivers. Performing at the Embassy Nightclub this 75-minute performance is not for the weak of heart and ladies you should definitely leave your man at home. The first all African-American adult show to grace the stage in Las Vegas will take you to another level of excitement as these hunky men gyrate their hips and expose their six-pack abs while they bring down the house with their sculpted bodies as well as dance steps. Now is your turn to view one of the best new adult shows to hit Sin City, so don't forget to bring your money because you won't want to miss any of the action.
Thunder from Down Under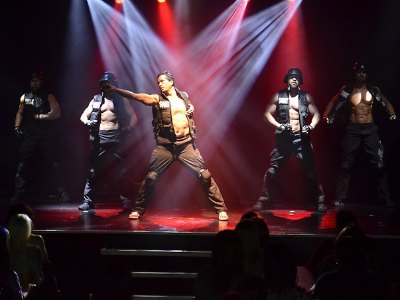 Venue: Thunder From Down Under Theatre - Excalibur Hotel & Casino
Date & Time: Every night at 9:00 pm, On Friday and Saturday also at 11 pm
Age restrictions:18+
Review: Ladies, do yourselves a favor and do not drag your boyfriends/husbands to Thunder from Down Under - along with Chippendales, they are the hottest Las Vegas adult shows! The show is best enjoyed with girlfriends - let your significant others go see Fantasy or x-Burlesque while you are having a girls night out! Between Thunder and Chippendales we don't know which one is hotter/steamier - the dancers are incredibly fit and charming in both shows! While the guys strip "only" to their underwear, no frontal nudity, it's definitely not a show for timid girls - you may be easily dragged on the stage for some special attention.
Men Of Sapphire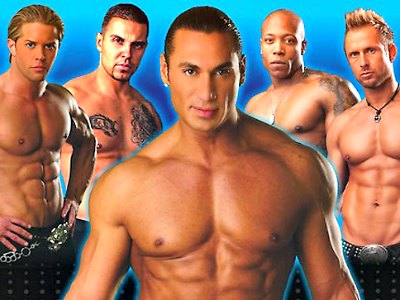 Venue: Sapphire Gentleman's Club
Date & Time: Thursdays, Fridays and Saturdays at 10:00 or 9:00 pm
A treat coming straight from our most secret fantasies - Men Of Sapphire are not foreign to sexy costumes - firemen, sailors, police officers, and anything you can imagine! This is not your regular Las Vegas male revue show - it's pretty much a real strip show for the big girls - with private lapdances, if you wish. Makes a perfect girls getaway or an awesome Bachelorette party in Vegas!
What's Hot
Plan Vacation
Strip Hotels

Shows

Fun Activities

Tours

Nightlife

Do you have any questions or Comments?