BurlesQ Las Vegas Show Review
With the incredibly sexy BurlesQ Las Vegas show playing at Alexis Park you can experience a little bit of the flair that you of the Roaring 1920s.
The show is packed with gorgeous women that can dance, sing, and of course reveal some skin. The show is not topless but you can expect to see plenty of pasties and feathers during this 75-minute adult's only show. The production is ideal for a couple's night out and might even help start the engines for a longer night of love.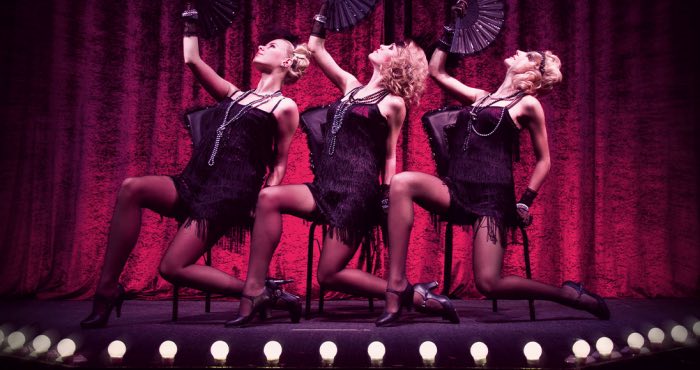 BurlesQ Las Vegas Show Review
Playing at the Pegasus Showroom, BurlesQ is brought to you by veteran Vegas producers Pete Housely and Clinton Billups. They have teamed up with director Carrie Byers of Folies Bergere who is just the right person to bring all of the lovely ladies to the production.
During the BurlesQ Las Vegas show, there is plenty of choreography that highlights the beautiful and sultry bodies of the female performers with plenty of costume changes that showcase the attitude of the Roaring 1920s. You can expect lots of feathers which help hide the important parts of the body and the matching pasties leave many in the audience with enough to light their imaginations.
While BurlesQ mixes provocative costumes with stunning dancing, the production also has a funny side as well. The show features comedian, Sean E. Cooper aka "Coop". Cooper starred in the Sin City blockbuster named Fantasy for 18 years and he can definitely take you to a place of laughter throughout the show that has your stomach hurting and your eyes crying with joy.
The women of BurlesQ Las Vegas show are gorgeous, whether they are covered with feathers or just a little lingerie. They light up the stage with their sultry moves and vocals which brings the crowd to a frenzy of lust during the production. The women: Maxine Gun Kelly, JuJu Bea, Tricky Tatiana, Stella Sterling, La Luna, and Mickey Blue Eyes are no strangers to the world of burlesque and have been working burlesque for many years. They mix a little sexy attitude in every part of the production that helps the show move from being just another burlesque show in Las Vegas to one of the best burlesque shows in Las Vegas.
Another interesting part of BurlesQ Las Vegas show is a stellar ventriloquist named April Brucker. The bombshell of a blonde is helped out during the show by her puppet named Donald J. Tramp. She takes her part of the show to limits with jokes about, well you know who and throws in a bit of Stormy Daniels backlash too. Brucker is truly professional and the crowd is delighted with her witty commentary as the jokes just keep coming from the little puppet she holds in her arms.
By the end of BurlesQ Las Vegas show, you will be pleased with all the contributing players that have made a perfect night of dancing, singing, and joking for you to enjoy when you are visiting Sin City.
Venue
BurlesQ Las Vegas show is performing at the intimate 150-seat Pegasus Showroom. The venue is perfect for viewing the show with table seating, booths, and individual general admission seats. The best seats in the house are VIP tables right in front of the stage that can accommodate two to four people.
Side tables in the front row accommodate five guests and offer good sightlines from the side of the stage. The second row of tables and third row of booths offer good sightlines of the stage with seating capacity at tables or booths for two to six guests. Individual general admission seats are located on each side of venue and offer value for those who are on a budget.
BurlesQ Las Vegas show Cast
BurlesQ is brought to you by Pete Housely and Clinton Billups, who have been in the entertainment business in Las Vegas for decades working with clients and setting up showroom productions with cast.
The production is directed by Carrie Byers who performed in Folies Bergere for many years. Byers is also the owner of Showgirl Productions.
Sean E. Cooper plays the emcee and brings a punch line to BurlesQ Las Vegas show. He was featured in the long running Vegas production Fantasy, which played in Las Vegas for more than 15 years.
  April Brucker is the ventriloquist in BurlesQ along with her puppet Donald J. Tramp. Brucker has performed on television show like Entertainment Tonight, The Today Show, Videos After Dark, and Inside Edition.
The women of BurlesQ include La Luna, Maxine Gun Kelly, Tricky Tatiana, JuJu Bea, Stella Sterling, and Mickey Blue Eyes.    
BurlesQ Las Vegas Tickets
BurlesQ is playing at the Pegasus Showroom within Alexis Park All Suite Resort. The production runs Thursday thru Sunday beginning at 9:30p.m. Tickets start at general admission at $57.95, table seats at $67.95, and VIP front row seats at $77.95 (taxes and fees excluded). BurlesQ Las Vegas ticket may be purchased for guests 21 years or older.
Get Your Free Las Vegas Events Calendar!
Las Vegas Gifts - Art, Merch And more!
Grand Canyon Helicopter Tours by Papilloin
Grand Canyon Helicopter Tours by Maverick
Awesomest Things to do in Las Vegas Every Day!