Caesars Palace Hotel Las Vegas Review

Caesars Palace hotel Las Vegas is for those who dream of being in the ancient times of Roman grandeur!
There is still one place on this planet where you can find the opulence that Roman Emperors enjoyed. Caesars Palace Hotel Las Vegas has exquisitely displayed this ancient dream since 1966 from its architecture and decor, while consistently performing upgrades. With 130,000 square feet of gambling space, five separate towers, seven pools, excellent culinary delights, distinct shopping and multiple entertainment venues; Caesars Palace can make you feel like a Roman Emperor. Scroll below to see the Caesar Palace map.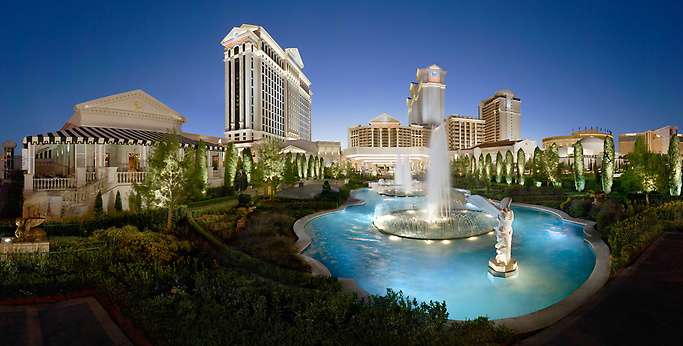 Shows & Events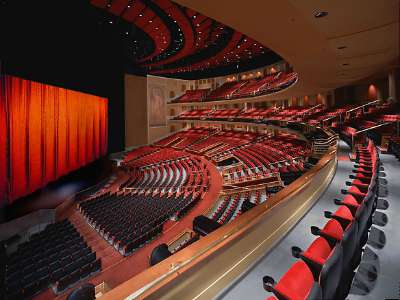 Caesars Palace Hotel Las Vegas offers permanent entertainment - Absinthe, as well as long-time engagements of famous singers who come to perform for a few weeks to a few months per year.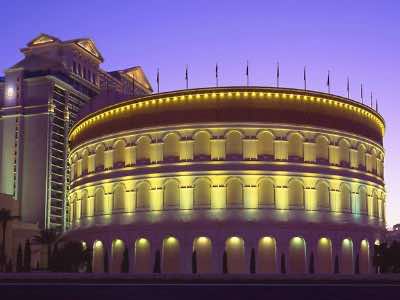 The Colosseum
The Colosseum is famous for it's top-notch entertainment. Located a short distance away from the main hotel complex the Colosseum hosts some of the world's top performers from Elton John to Celine Dion. The Colosseum offers incredible viewing and listening opportunities based on its design of an ancient amphitheater.
Rooms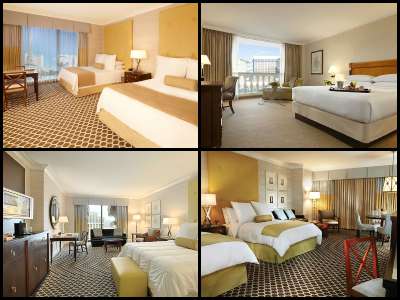 Caesars Palace hotel Las Vegas offers a wide range of rooms, suites and villas to accommodate every person's budget.
Currently, Caesars these towers: Augustus, Roman, Palace, Octavius, Forum and a tower that houses Nobu Hotel (former Centurion Tower). See the map for the location of Caesars Palace towers.
Each portion of Caesars Palace Hotel Las Vegas offers a unique experience for everyone from a person staying in the less extravagant Roman Tower to the more elegant Palace and Forum Towers which offer bigger rooms as well as upgrades to décor and amenities created during a 2006 facelift.
The newer towers of Augustus (2005) and Octavius (2012) are the most opulent in style with great amenities available. The best part though is the view of the Strip from these two towers which might include a bird's eye view of the Bellagio Fountains.
With five unique towers with almost 4,000 rooms available Caesars Palace can accommodate any budget traveler with a level of service associated with your room price and tower location. With so many options available you can match your expectations with your budget for a truly easy vacation in Sin City.
Nobu Hotel at Caesars Palace Hotel Las Vegas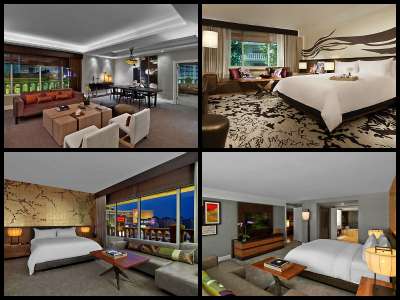 Located in a separate tower in the magnificent Caesars Palace Hotel Las Vegas complex, the Nobu Hotel will transport you to a faraway Asian land that is filled with peace and tranquility.
This splendid 181 room boutique hotel has recently received the highest awards for design, service, room décor and location. The Nobu is totally different than Caesars Palace and patrons will be awash in the unique elegance that the Far East has to offer. When you are staying at the Nobu you will enjoy the many perks of Caesars Palace Hotel Las Vegas but also have the opportunity to relish in the opulence of VIP service (personalized concierge), exquisite amenities, and in-room dining prepared by the staff at Nobu Restaurant.
Guest can choose from posh deluxe king and queen sized rooms to the Sake Suite to the extravagant Nobu villa that offers a rooftop villa with all the amenities a person requests. Each room at Nobu also offers a specific level of additional amenities from private pool entry to reserved seating at Nobu Restaurant to private transportation from the airport.
Clubs and bars
The nightlife at Caesars Palace Hotel Las Vegas is spectacular with eight prominent areas for drinking, dancing, listening to lounge music and unwinding after a tough day at the pool or before and after a time of gambling or shopping.
Some of the more interesting partying spots at Caesars Palace include Numb Bar and Frozen Cocktails is a unique walk-up bar that serves delicious frozen alcohol and non-alcohol treats; The Seahorse Lounge boasts a 1,700 gallon aquarium and an extremely relaxing atmosphere; The FIZZ is an option if you are looking for the premiere champagne lounge in Las Vegas; The VISTA Cocktail Lounge has a spectacular view of the Strip and neon lights of the area; The Spanish Steps offers a unique outdoor Roman market setting and great people watching opportunities and lastly you can kick-up the evening heat at Omnia which is the premiere nightclub at Caesars Palace Hotel Las Vegas which sports all kind of LED and music candy for you to experience.
Casino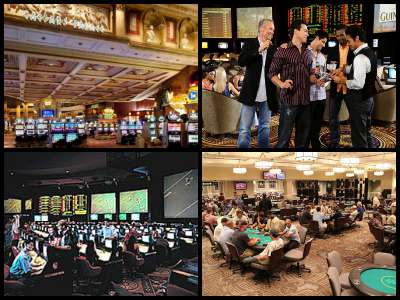 The casino at Caesars Palace Hotel Las Vegas is enormous and offers plenty of action in the 120,000 plus square foot area. Enjoy over 10 different table games, private high-stake gambling rooms, lots of video poker and slot machine too. The 250 seat race and sports book area is one of the largest in Las Vegas and offers over 120 televisions as well as its own lounge area.
Caesars Palace pools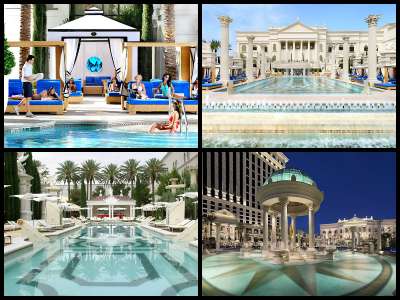 Caesars Palace Hotel Las Vegas offers eight different stunning pool features in an area known as the Garden of the Gods. The pools at the Garden of the Gods, named appropriately "Temple, Neptune, Apollo, Jupiter, Fortuna, Bacchus and Venus" offer excellent example of ancient Roman architecture and decoration that leaves you feeling like the Roman Emperor.
Each pool offers a different experience from specialty drinks to cabanas to playing blackjack to a topless pool for adults only. Patrons will never forget their experience at the Garden of the Gods that this little slice of oasis deals out. The pools can be used for free by the guests of Caesars Palace, and for a fee by the guests of other Caesars Entertainment properties.
Caesars Palace buffet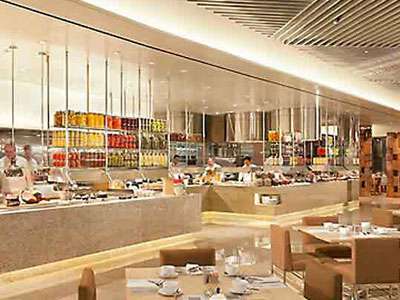 Caesars Palace Hotel Las Vegas offers the remarkable buffet that is prepared and presented at the Bacchanal Buffet. This is not your average buffet but a food extravaganza that includes specialty dishes prepared by 15 different chefs with just as many different influences of cooking a person can imagine.
Voted the best buffet in Las Vegas for many years since opening in 2012, the Bacchanal is renowned for its fresh ingredients, innovative cuisine and their timeless preparation of classic buffet like prime rib and king crab legs. Cuisine from fresh sushi to mini Wagyu sliders to Japanese curry to fried chicken and waffles are on the menu along with hundreds of different options.
Caesars Palace restaurants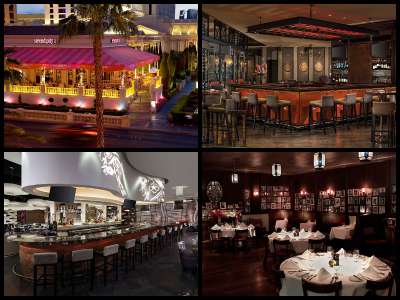 Caesars Palace hotel Las Vegas has tremendous culinary variance in the form of casual themed and upscale restaurants that offer once-in-a-lifetime dining opportunities as well as an economic food court; patrons can find anything to match their pallets desire while at Caesars Palace.
Casual upscale dining can be found at the Café Americano which is open 24-hours a day; the renowned French pastry chef Francoise Payard brings his culinary experience to life at Payard Patisserie & Bistro which features morning and afternoon delights; the Serendipity 3 boasts an old-fashion ice cream shop that also offers yummy sandwiches along with their whimsical desserts of indulgence; the Beijing Noodle No. 9 offers exquisite northern Chinese cuisine with a Shanghai twist; the Searsucker, open nightly, brings Brian Malarkey's comfort food creations to life; the old-fashion English style pub at Gordon Ramsey will satisfy your urge for fish and chips.
Caesars Palace Hotel Las Vegas stable of fine dining restaurants starts with the acclaimed Restaurant Guy Savoy, who prepares delicious and innovative French cuisine that a person would only find in Paris; the Mesa Grill is celebrity chef Bobby Flay's only Las Vegas establishment and sports an eclectic southwestern menu with lunch, dinner and brunch specialties; the legendary Rao's features Italian cuisine in the finest fashion in an exact replica of the twelve table masterpiece in New York; the Old Homestead, open for dinner only, is exactly what you seek in a genuine steakhouse and the world acclaimed Nobu Restaurant is the only establishment in America offering exclusive Teppan tables for your Asian dining pleasures.
Shopping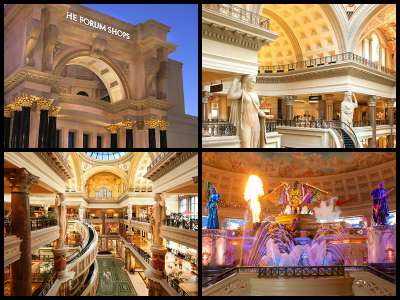 Caesars Palace Hotel Las Vegas has become a premier destination for shopping in Las Vegas with the famous Forum and Appian Way shops which bring the latest fashion, innovative devices and other specialty retailers to life.
The Forum has over 160 stores and several well-known restaurants. The offerings range from Versace to Gucci to The Palm to the Cheesecake Factory all waiting for you in an architectural surrounding that takes you back 2,000 years to the Roman Forum.
Appian Way has remarkable shops featured along a section of hallway within Caesars Palace Hotel Las Vegas and a shopper can find anything from antiques to gifts to jewelry to cigars. The vaulted doorways to the shops and the life size replica of Michelangelo's statue of David are other highlights of the shopping corridor.
Caesars Palace spa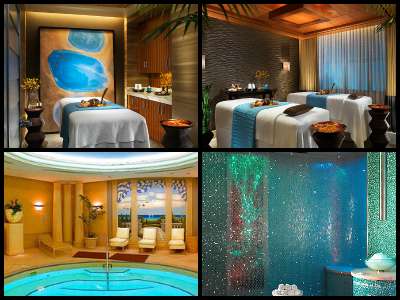 The award winning Qua Baths and Spa located at Caesars Palace Hotel Las Vegas is a masterpiece and gem waiting to be found by your tired body and spirits.
The 50,000 square foot area boasts 51 different treatments to help cure your soul from what it ails. There are several different areas which include Roman baths, Vichy showers, a Swarovski crystal art room, an arctic ice room (yes, it snows in the Sin City), private massage rooms and an exclusive tea room with a knowledgeable tea sommelier.
Caesars Palace weddings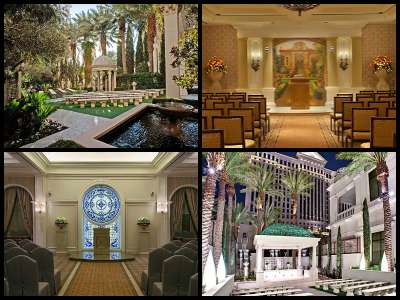 Weddings are available at Caesars Palace Hotel Las Vegas in five separate venues that range in seating from 35 to 184 people. Each chapel area has its own distinct Italian style with amazing décor and ambiance.
There are also many different prepared packages for a bride and groom to choose from depending on their budget or a couple can plan their own unique wedding with their expectations met by a customer friendly planning staff.
Caesars Palace Map
Get Your Free Las Vegas Events Calendar!
Best of Vegas