Carrot Top Las Vegas Show Review
Carrot Top Las Vegas show playing at Luxor continues his legacy of being one of the best comedians to grace the stage and is an all-time favorite for many visitors. His unique brand of comedy that ranges in tone and content will have you rolling on the ground in laughter. Your stomach will be filled with pains of laughter after listening to Carrot Top.
Scott "Carrot Top" Thompson starts his evening with simple props to help lure the audience into his crazy funny maze of jokes. He utilizes new props for every funny joke that pops from his mind. With his signature bright orange hair and tie-dyed shirt, Carrot Top lets no culture and classes of the human race escape his brilliant ability to find something we all can laugh about. He sets no boundaries and his provocative attitude attacks himself at times as the butt of the joke.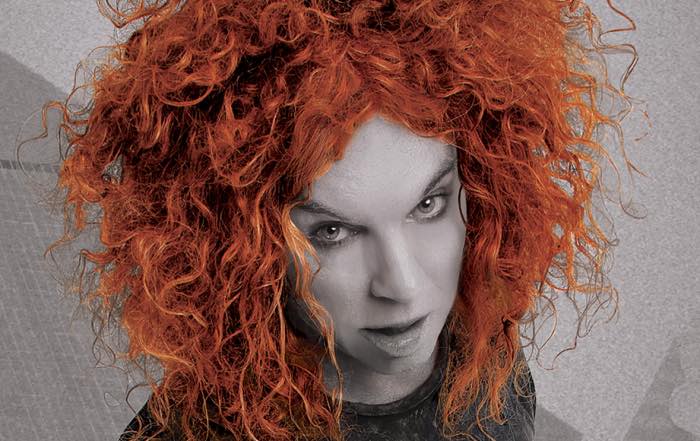 During Carrot Top's Las Vegas show he is always accompanied by his various props that can be offensive at times to some people. Make sure you are comfortable with seeing anything from dildos to a mallet to perhaps an empty toilet paper tube. Carrot Top intertwines many ideas into his routine and the mixture of standup comedy is perfect. His innovative approach to comedy has helped him stay at the top of the award list of Las Vegas entertainers.
Much of his stage show is centered on making fun of things in the world that seem wrong about society. Carrot Top can layout a series of jokes about rednecks to celebrities to music without missing a beat with his punch lines. He is not shy or timid when delivering his brand of creative comedy.
Carrot Top will always say that his performance is not just for the audience but to keep himself entertained too. One moment Carrot Top can be holding a rubber chicken while delivering his punch line to handing out shots of Crown Royal. Yes that's right. He is known for taking a break through the show and pouring shots of what he calls his "medicine." This show is not intended for those that are looking for a family show. Carrot Top is quick to point out why he dislikes many of the aspects of the PC world and has no problem throwing down his laughter filled punch line. This show also contains a fair amount of vulgarity and foul language but Carrot Top has a way of delivering the goods that energizes the audience with gut ripping laughter.
If you have never seen Carrot Top's Las Vegas show, then this is your time to laugh the night away while you are visiting Sin City. He will not disappoint you with his ever changing performance that seems to change nightly with his many trunks of props.
About Carrot Top
Scott Thompson aka Carrot Top first became hooked on standup comedy while he was attending school at Florida Atlantic University in the mid-1980s. Within just a few months of seeing his first standup comedian, Carrot Top took to the stage on an open mic night. On one of his next open mic night appearances he started to utilize props in his unusual shade of comedy. Carrot Top's career flourished after he brought his brand of funny to The Tonight Show in 1992. In total he had 31 appearances on The Tonight Show including the last episode of The Tonight Show with Jay Leno. He has been featured on television programs from Glee to Chelsea Lately to Late Night with Conan O'Brien during his career. His first deal in Las Vegas was with the MGM Grand where he performed 16 weeks a year.
Carrot Top Las Vegas Show Tickets
Carrot Top performs his award winning comedy show at the Atrium Theater within the Luxor Hotel. Shows are scheduled at 8:00 P.M. on Monday and Wednesday through Sunday. Patrons must be 16 years of age or older and accompanied by an adult to attend. Cell phone use is prohibited and no photographs may be taken during the performance. Carrot Top's Las Vegas show Tickets are on sale with a choice of standard view seating and seating in the best viewing area.
Get Your Free Las Vegas Events Calendar!
Best of Vegas