Chippendales Las Vegas Show Review
Chippendales Las Vegas show playing at Rio for the ladies is the hottest male revue where all your dreams will come true. The show is loaded with 12 chiseled hunks who know how to sway their hips, groove to the beat, and please the ladies in the crowd with their perfect abs that standout nightly.
Chippendales Las Vegas show is a treat for anyone that walks into the venue to watch. The men bring a potent energy to the stage that translates to fun and excitement throughout the performance. When they first hit the stage there is plenty of clothing which is seductively removed as they work through their dance moves that are highlighted by superb physiques that each man possesses.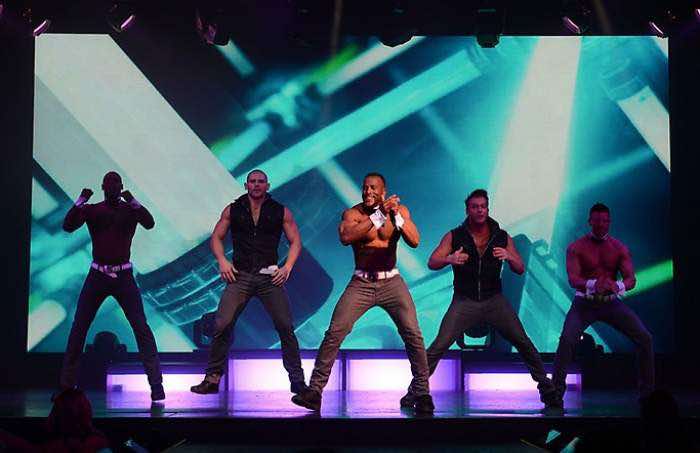 There is plenty of audience participation with women grabbed from the audience and brought up on stage to engage in a sensuous moment with a hunk of a man. The men have no problem with lap dances, up close and personal shots, and you won't believe the sexy ways these men move their bodies throughout their time on stage as they look for their next lucky female.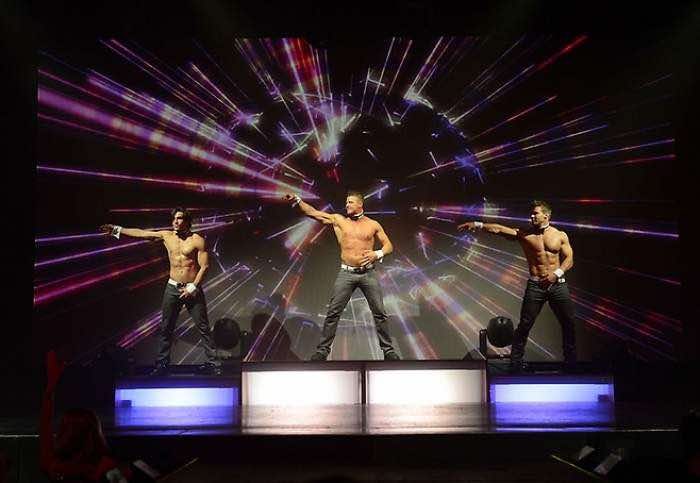 But there is more than just dancing, thrusting hips, and steel abs during the show. There are a couple of numbers that the guys sing which bring the house down with their sultry voices accompanied by their coca-butter-based bodies that scream sensuality.
The choreography of the Chippendales Las Vegas show is perfect and the signature costume of a bow tie, wrist cuffs, and jeans is worn well by all the chiseled men on stage. But there are other various costumes the men wear which showcase their fantastic bodies that are just waiting to please their screaming audience with one pelvic thrust after another. Multimedia effects enhance the performance as they display their goodies along a specially made stage that includes walkways into the audience as well as numerous places for the dreamy men to dance.
The music during the show includes everything like hip hop, contemporary pop, rock-n-roll, and country. No matter what type of music you like to hear their will be a scintillating dance routine that has the men grinding their hips with a heightened energy while wearing only a skimpy leaf to hind their manhood.
Billed as the "Ultimate Girls Night Out" Chippendales Las Vegas show brings all the energy, sexuality, and super handsome men on stage for a glorious night of steel abs, perfectly muscled bodies, and gorgeous men all in a must see adult entertainment. An added treat for show goers is meeting the chiseled dancers at the Flirt Lounge where they hang out after each performance.
Chippendales Dancers
There are currently 18 male dancers which rotate each night while performing in the Chippendales Las Vegas show. Each man varies in looks but each has abs of steel and a gorgeous physique. There is a dancer to help fulfill all types of female fantasies. The twelve dancers include the MC for the evening Teddy Z., Okewa Garrett hails from Philadelphia, Zack Scirone is a hometown by from Sin City, Ricky Rogers from Pittsburgh, Mozart is from New York City, Chaz Vorrias of Denver, Tyler Froelich from Cincinnati, Jayson Michael of Orlando, Cody Canyon from Canada, Chris Mike of West Haven, Ryan Worley from Danville, Dimitri Blizzeard of Sacramento, Kyle Efthemes from Chesapeake, Ryan Kelsey from Las Vegas, Shiva Paul of New York City, Billy Jeffrey of Lewiston, Matt Marshall from Honolulu, and Jon Howes of Pittsfield.
Chippendales Las Vegas Show Tickets
Chippendales is performing within the Rio all-suite Hotel and Casino. The dual-level venue is superb for viewing these dreamy men and the sound system is state-of-the-art. The 75-minute show is open to all people 18 years of age or older. Performances run nightly at 8:30 P.M. with an additional performance Thursday through Saturday at 10:30 P.M. There are three levels of tickets available from balcony to main floor to front row VIP table seats. All level of Chippendales Las Vegas show tickets includes VIP admission to VooDoo Lounge.
Get Your Free Las Vegas Events Calendar!
Las Vegas Gifts - Art, Merch And more!
Grand Canyon Helicopter Tours by Papilloin
Grand Canyon Helicopter Tours by Maverick
Awesomest Things to do in Las Vegas Every Day!