Crazy Girls Las Vegas Tickets ***CURRENTLY CLOSED ****
Check out all available Vegas shows
One of the sexiest and longest running Las Vegas shows of all time that is simply full of beautiful women ready to be naughty is Crazy Girls. The burlesque style show is the longest running show in America and since its arrival in Sin City the show has brought controversy by way of criticism from city officials to U.S. senators. With that type of opposition, you know the show is filled with delightful derrieres.
Crazy Girls is packed with sensuality from the opening act and packs a provocative punch of sexuality that has beautiful women dancing to some of your favorite music. The performance is laced with $500,000 of lovely costumes that highlight the beauty of each woman whether she is wearing silk panties and lacy lingerie to being topless with a G-string to wearing black leather with spiked heels and don't forget the numerous fantasy outfits like cowgirl chaps, a sexy sailor uniform or a boa flowing beauty in a sequin gown.
The dance routines are superb pushing the envelope on every step taken by the sultry women as they showcase their goodies around the stage. Routines vary from two-stepping to sultry burlesque to innovative dances complete with appropriate props that set the stage on fire when the gorgeous girls perform. Every night and every performance highlights the insanely sexy and athletic figures of each stunning woman that hits the stage. Another great thing about the show is there is plenty of audience participation which puts the lucky people right in the thick of things with one or several of the sexy women.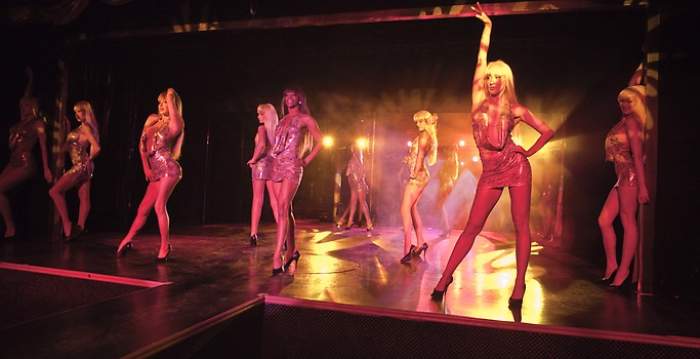 The show is a must see for bachelor or bachelorette parties and is an ideal time for couples that want to spice things up a bit when they visit Sin City. We know you won't forget these sultry women after you watch them perform, so do yourself a favor and take a photograph of with the life-size bronze statue of a beautifully sculpted woman.
Cast Members
The cast members of Crazy Girls include 12 stunning women that are shaped like Venus with beautiful looks to accompany their exquisite bodies. Currently the cast is composed of the following super sexy women: Carrie from Georgia, Dani Elizabeth from New York, Sarah from Australia, Jojo from Alabama, Ginger from Colorado, Bell from Florida, Skyler from Oklahoma, Taylor from Florida, Kelly O from Maine, Jenna from Australia, Lauren from California, and Lizzy from North Carolina.
Crazy Girls Tickets
Crazy Girls Las Vegas is performing at the Sin City Theatre within Planet Hollywood. The venue is perfect for viewing these sexy ladies dance to their hearts delight with great sight lines from all seats. The 75-minute adult Las Vegas show is open to all people 18 years of age or older. Performances run Thursday through Tuesday at 9:30 P.M. General admission tickets are available with first come first seated policy and there are VIP opportunities which offer a dedicated admission line into the theater.
Get Your Free Las Vegas Events Calendar!
Las Vegas Gifts - Art, Merch And more!
Grand Canyon Helicopter Tours by Papilloin
Grand Canyon Helicopter Tours by Maverick
Awesomest Things to do in Las Vegas Every Day!