David Copperfield Las Vegas Show Review & Tickets
David Copperfield's Las Vegas show invites you to spend an evening by entering the amazing world of magic and illusions. He is famous for his many television appearances that have included numerous mystical magic tricks, escape acts as well as intriguing illusions. David Copperfield brings all of his energy, illusions and magic to the David Copperfield Theater located within the MGM Grand Hotel complex. Read on for my David Copperfield Las Vegas show review.
David Copperfield is impressive in his stage show of mystifying acts from walking through a sheet of metal to slicing a woman in half to making his body fit in a small box. His approach to the show is fresh, entertaining and energizing.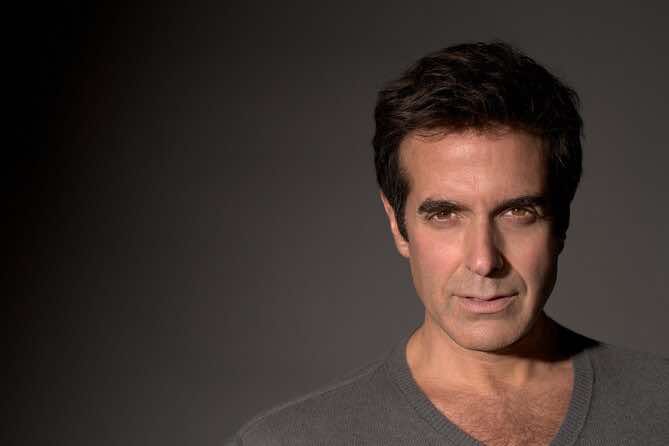 The stage setting at the David Copperfield Theater within the MGM Grand is fabulous. The intimate seating has great sight views for all of his illusions and magic tricks. His interactions with the audience are unique and his illusions are inspiring as Copperfield moves effortlessly from one trick to another. You might be lucky enough to have him play out one of his famous illusions right in front of your seat as he prowls the audience for the perfect participate.
Copperfield's brilliance as a true illusionist and magician are brought to life during the show. There are props and he uses them to his advantage but he does not rely on glitzy show girls, outrageous stage settings or loud music to distract the audience. David Copperfield will challenge the minds and imagination of patrons with his tantalizing show of various tricks.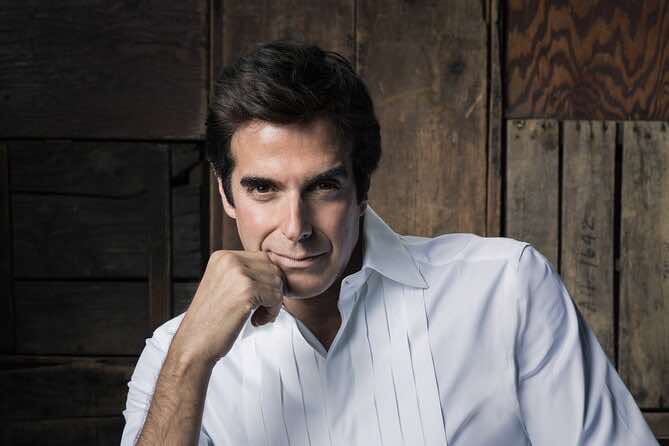 Copperfield is the consummate Las Vegas stage performer who is willing to take his show to the unknown world at times. His illusions will make your mind spin and his magic will have your brain in full gear trying to figure out how he accomplished his feat. Patrons are surprised by his 90 minute show that changes regularly because of his vast experience with illusions in many different settings.
David Copperfield's stage performance will be one of the highlights of your memorable trip to Las Vegas. This is a must see show if you are a person that enjoys a night of pure pleasure with no fancy distractions. When you leave the show your mind will have its own distractions as you try to determine if the illusion was real or fake.
About David Copperfield
David Copperfield has been professionally performing illusions and magic tricks since the age of twelve. He was the youngest person ever to be admitted to Society of American Magicians and even taught a magic course at New York University at the age of sixteen. His achievements include several television shows on ABC, CBS and NBC that have been seen in over forty countries. Copperfield also holds the Guinness Book of World Records for his accumulation of twenty-one Emmy Awards over his illustrious career. He is also included on the Walk of Fame in Hollywood, California.
Tickets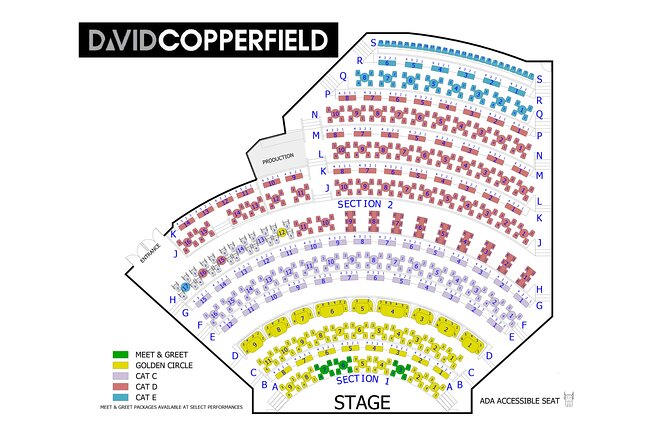 David Copperfield Las Vegas Seating Chart
The Theater is located within the MGM Grand Hotel and features two nightly shows at 7:00 and 9:30 P.M. with an additional Saturday show at 4:00 P.M. David Copperfield's tickets are on sale are available for Reserved seating. Guests must be five years of age or older.
Get Your Free Las Vegas Events Calendar!
Best of Vegas