Farrell Dillon Las Vegas Show Review
Farrell Dillon Las Vegas show playing at the Linq is one of the more entertaining magic shows to hit the Strip for the whole family in recent years.
Dillon brings everything to the stage and his performance is witty, fun, intriguing, and full of pleasurable magic. Performing at the Magic Attic, Farrell Dillon is an ideal family-friendly Las Vegas show for you to go watch.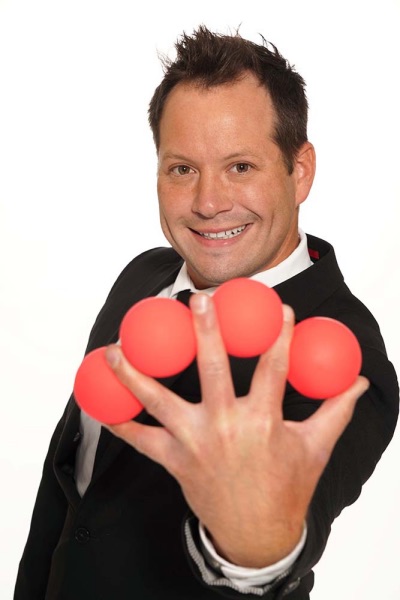 Farrell Dillon is a simple magician with an amazing arsenal of tricks that include sleight-of-hand, illusions, and his commentary is not only funny but appropriate for this production. He is joined on stage by his wife Amanda who is his assistant and he even features Isley the adorable little pug. Dillon's 75-minute show is packed from start to finish with interesting magic leaving audiences with smiles and bewilderment. Farrell Dillon is a great production brought to you by Pompey Entertainment led by veteran Damian Costa.
Farrell Dillon Las Vegas Show Review
During the show Farrell Dillon uses simple props such as balls, balloons, colorful thimbles, and plenty of playing cards. He is quick to act with his magic making things disappear into thin air while the crowd wonders how he accomplished the mystifying trick. He even brings Isley into the action on several occasion which helps the pace of the show slow down at times. Yes, the production is packed from start to finish with numerous magical acts that no one but Dillon understands.
  Dillon also has some trademarked tricks like escaping from a strait jacket while balancing on a see-saw which is atop a ball. His escape is masterful bringing the crowd to its feet after he frees himself from the strait jacket. There is also plenty of audience interaction to go around as he invites numerous members of crowd to join him on stage. Participants get to see up close and personal how Dillon accomplishes his mind blowing disappearing tricks but people still have no idea how his hands can move so fast. In fact, you will still be wondering about one thing disappearing and he will have already started his next sleight-of-hand trick that leaves you even more bewildered.
So, if you liked to watch Farrell Dillon on CW Network's Masters of Illusion, then this magic show in Las Vegas is right up your alley and the family will enjoy the entertainment too.
Farrell Dillon Las Vegas show Venue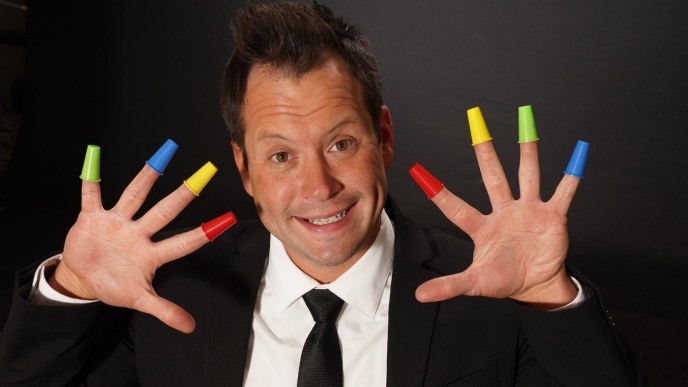 Farrell Dillon is performing at the intimate 300-seat Magic Attic. The venue is constructed especially for magic acts and is ideal with comfortable seats which offer good sightlines of the stage. The best seats for Farrell Dillon are located in the VIP section which is the first row of the middle and side sections of the venue. The next best seats are Premium which occupy the second row in the middle and the side sections. These seats offer value with good sightlines of the stage. General admission seats are in the third row behind the Premium seating and offer more value with decent sightlines of the stage. The last set of seats is General admission rear seats which are the last row of the venue. These seats boast great value but you are farther away from the action.
Farrell Dillon Las Vegas show Cast
Farrell Dillon is originally from Idaho and has honed his magic tricks over the years since graduating from The Chavez School of Magic. Dillon has been nominated for the Best Stage Magician of the Year by the prestigious Hollywood Magic Castle. Over his career he has appeared on all eight seasons of Masters of Illusion showcased on the CW Network. Dillon has appeared on hundreds on hundreds of cruise ships, The Today Show, MTV, and all major networks. Dillon is joined on stage by his Amanda and an adorable looking pug named Isley.   Farrell Dillon is brought to you by Ivory Star Productions in partnership with Pompey Entertainment led by entertainment veteran Damian Costa. 
Tickets
The show is playing at the Magic Attic within Linq Las Vegas. The 75-minute production runs Wednesday thru Monday beginning at 6:00P.m. Tickets start with General Admission Rear seats at $33.74, General Admission seats at $56.54, Premium seats at $68.44, and VIP seats at $74.89 (taxes and fees excluded). There are also VIP packages available that include a meet and greet with a photograph. Farrell Dillon Las Vegas Tickets may be purchased for guests of all ages.
Get Your Free Las Vegas Events Calendar!
Best of Vegas