Hypnosis Unleashed Las Vegas Review
Hypnosis Unleashed with Kevin Lepine Las Vegas is one of the best events to view when you are staying near or visiting Historic Fremont Street.
This 75-minute show highlights the hypnotic powers of Kevin Lepine and his powers over his faithful subjects. Located in The Canyon Club inside the 4 Queens Casino, Hypnosis Unleashed is one incredible performance by the mastermind of hypnosis Kevin Lepine.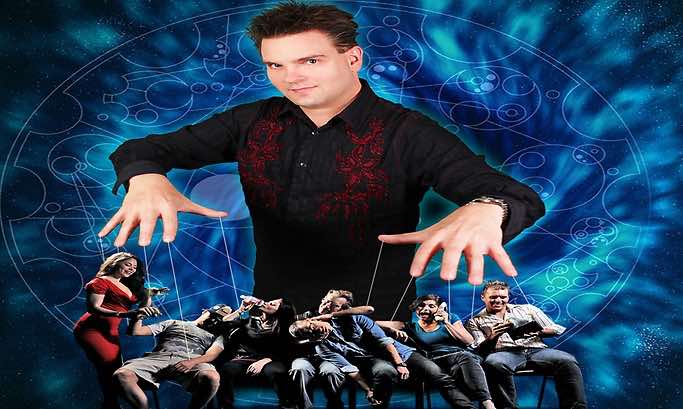 Hypnosis Unleashed starring Kevin Lepine has made its stamp as one of the premier hypnosis comedy acts in Las Vegas. Lepine is known for asking hypnotized audience members to fulfill funny fantasies or episodes throughout the show. Lepine's intention is to never embarrass his participating guests and assures people that none of your inner secrets will be revealed. During the show there is a fair amount of adult language and some of the skits that are performed by the hypnotized guests can be classified as risqué. Even though Hypnosis Unleashed is not as provocative in nature as say Anthony Cools or Marc Savard, Lepine is more adept at making his subjects believe a pile of napkins on the floor are actually $100 bills, than to have his volunteers pretend to be porn stars.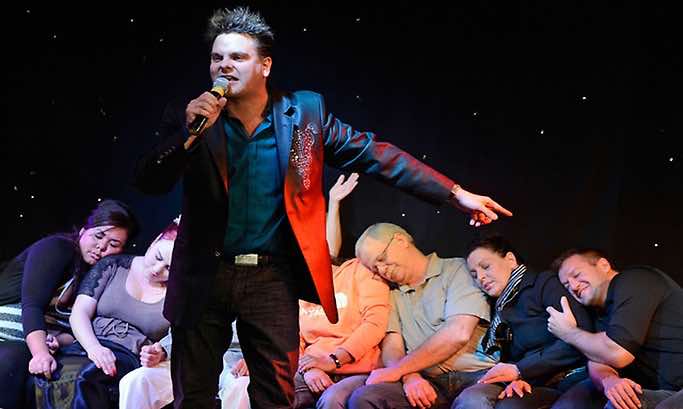 Hypnosis Unleashed Las Vegas show has a different feel every evening when his new subjects take the stage. Lepine's activity on the stage from the beginning helps keep the audience engaged in laughter with his volunteer's hypnotic actions and his timely punchlines. The volunteers from the crowd end up being the real stars of the evening as they follow Lepine's every instruction to a tee. The laughter gets louder from the audience as the hypnotized patron is brought back to a regular state of mind. When each participant understands their actions while hypnotized there might be some astonishment as to their lack of inhibition while in a hypnotic state of mind.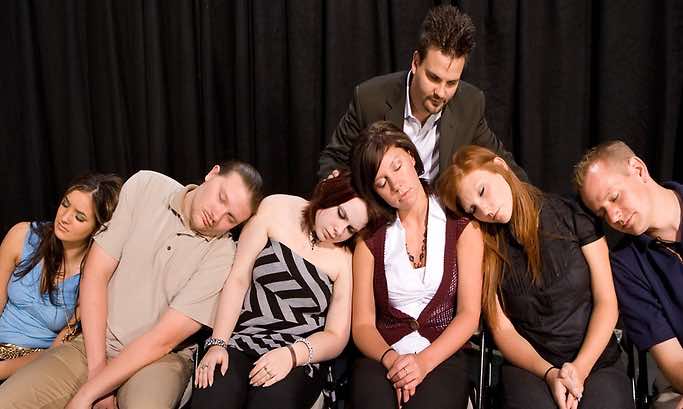 The Apache showroom is an ideal location for this show that leans heavily on audience participation. Seating options allow for a nice sight view whether you are in the VIP area or general admission. Lepine uses stage props sparingly during the show and there is not much for multimedia other than a couple of video screens, but after all this event evolves around his newly hypnotized subjects.
HHypnosis Unleashed Las Vegas show is an entertaining show which features amazing hypnosis which is combined with top notch comedy. This memorable event is a perfect date night and couples event, for those who are looking to have fun while perhaps being hypnotized on stage.
About the Cast
Hypnosis Unleashed starring Kevin Lepine has been voted as part of the Best of Vegas by the Las Vegas Review Journal. Kevin has been interested in hypnosis for decades and has a certificate in hypnotherapy. Since his early days of performing in Michigan and New Orleans, Kevin has entertained audiences on the Jimmy Kimmel show as well as the well-known television show In Your Head. More recently, Kevin was voted Best of Vegas 2013 by the Las Vegas Review Journal.
Tickets
Hypnosis Unleashed is performing in the Apache showroom located within The Canyon Club inside the 4 Queens Casino. The venue is intimate with good sight views for the audience. Guests must be eighteen years of age or older to attend. The show runs on Tuesday-Saturday at 9:00 P.M. Hypnosis Unleashed LAs Vegas tickets are on sale now and range in selection for the general admission to a VIP seat.
Get Your Free Las Vegas Events Calendar!
Las Vegas Gifts - Art, Merch And more!
Grand Canyon Helicopter Tours by Papilloin
Grand Canyon Helicopter Tours by Maverick
Awesomest Things to do in Las Vegas Every Day!