Stratosphere Las Vegas Rides
Stratosphere Las Vegas rides include 3 incredible thrills: X Scream, Big Shot and Insanity; plus the all new highly popular Sky Jump.
Location: Stratosphere Hotel
Observation Tower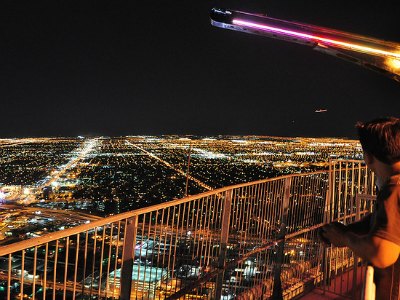 Main attractions at The Stratosphere Tower are: a highly popular rotating restaurant Top of The World called so for a good reason, 3 Stratosphere Las Vegas rides, and a thrilling Sky Jump for adrenaline junkies. The Stratosphere Tower, which also happens to be a popular hotel as well as a popular Vegas attraction, is the one of the tallest observation towers in North America, at par with CN Tower in Toronto and Willis Tower in Chicago. If you take into account the Big Shot ride on top of the tower, it's 1,149 feet (350 meters) tall. If you are not into extreme activities, there is an observation deck from which you can see the most amazing views of Las Vegas. It's not as great for people watching as the tower is too tall for that, but it's a lot of fun to watch planes take off and land at the Mccarran Airport. As Stratosphere is located in the very beginning of the Strip, on one side of the observation deck you will see the entire length of the crazy-beautiful Las Vegas Strip, and on the other side - the low-rise "real" Las Vegas where people actually live! On top of all that, (pun intended), Stratosphere is not only one of the coolest places to visit in Las Vegas, but also a popular spot to make a marriage proposal of even have a wedding!
Big shot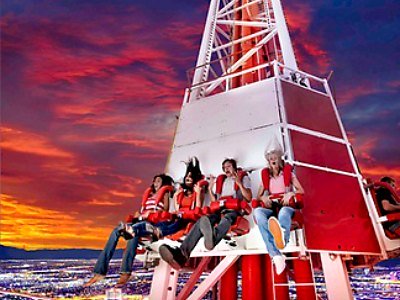 The Observation Tower harbors an exciting Stratosphere Las Vegas ride. Big Shot is the highest if we consider the elevation above the ground level. Imagine being shot 160 feet in the air at the speed 45 miles per hour! Sounds scary, doesn't it? In fact, the ride is so fast that it seems the people are being shot off the top of the construction. And if you are able to stop screaming and look around, you will enjoy a wonderful view of the city. It's really easy when you are at 1,049 feet above Las Vegas, isn't it? After you come back down, before you are able to catch your breath after the first shot, you will be catapulted up again and again. The thrill ride offers you a unique and unforgettable experience. And be sure to check out other rides at the Stratosphere Tower - especially Insanity and X-Scream.
Insanity at Stratosphere Tower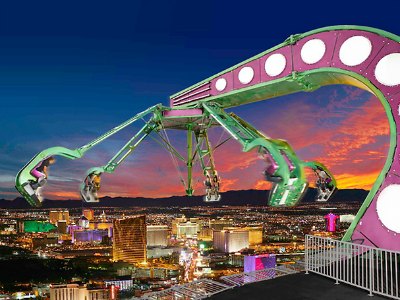 The maximum speed of this exciting Stratosphere Las Vegas ride is 40 miles per hour, but even though it's a bit slower than the Big Shot, it is really scary. 3Gs of pure insanity are waiting for you to experience them! The Insanity is a mechanical arm extending 68 feet over the edge of the Stratosphere tower, spinning people and lifting them up to a 70-degree angle! It has different programmable options, so every time you will take part in an absolutely new ride full of surprises and unexpected turns. A perfect choice for daredevils who love new experiences and challenges.
X-Scream at Stratosphere Tower
X Scream is the third highest thrill ride not just in Vegas, but in the world. If you long for an unforgettable experience, this is the right adventure for you. The roller coaster looks kind of like good old teeter-totters, but there's a difference: first of all, it's more modern; secondly, it's located on top of a tower, and most important - it's a lot more scary. It lets the car go backward and forward along the track. What's the scary part? The track ends 27 feet past the edge of the building. How do you like that? Plus sometimes this Stratosphere Las Vegas ride makes you feel as if you were going to fall down! You aren't easy to scare? Then X-Scream is exactly what you need.
Sky Jump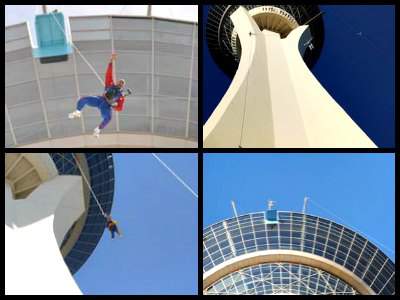 More About Sky Jump Las Vegas
You are perhaps wondering what's the most extreme among all Stratosphere Las Vegas rides? Well, look at the picture on the left - these are people jumping from the roof of the Stratosphere Hotel! SkyJumping is a relatively new attraction. Jumping from the Stratosphere is, hands down, the most extreme and thrilling thing you could do in the Sin City! We haven't done that, but according to testimonials the adrenaline rush can't be compared to anything else - after all, you would be falling down some 108 floors! Please remember that Sky Jump is not included in the discount tickets for Stratosphere Las Vegas rides.
Photo credits: Stephen Hanafin
Get Your Free Las Vegas Events Calendar!
Best of Vegas