Best Las Vegas Roller Coaster Rides
Which Las Vegas roller coaster rides are the most fun ? Good question! Sin City boasts some of the most unique, adventurous theme parks and thrill rides bound to make any thrill-seeker happy.
Here are my reviews of the most exciting roller coasters and theme parks in Vegas, perfect to entertain teens, tweens and adults alike!
Skyjump at The Strat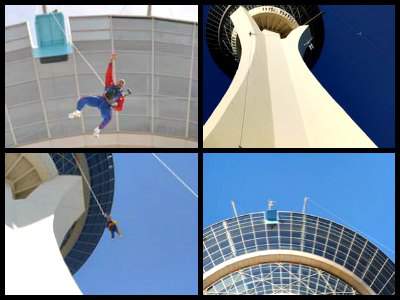 The Skyjump is located at the Stratosphere and is the highest in the world. In true Las Vegas style it is designed for extreme thrills and dare devils. If you feel that diving from the 108th floor of the Tower to the ground below is enough to get your adrenaline going, then this is for you.
The adventure at this thrilling Las Vegas roller coaster ride starts with a safety lesson after which you climb into your jumpsuit and head to the descender platform. The jump is known as a controlled free-fall during which you will travel at 40 miles per hour as you plunge 855 feet downwards. If you are not screaming too much, take some time to admire the panoramic views of the Las Vegas Strip.
Unlike the stomach churning coasters, this ride is fairly smooth and guide wires will keep you on course. The machine slows you down as you approach the ground making your perfect landing look like the expert you are.
Get Your Free Las Vegas Events Calendar!
Grand Canyon Helicopter Tours by Papilloin
Grand Canyon Helicopter Tours by Maverick
Awesomest Things to do in Las Vegas Every Day!

Get Your Free Las Vegas Events Calendar!
Best of Vegas