Best Restaurants In the Las Vegas Arts District
The Arts District in Las Vegas is renowned for its vibrant and eclectic culinary scene, with a plethora of fantastic restaurants that cater to a variety of tastes and preferences. From upscale dining establishments to charming cafes, the Arts District has it all, making it a must-visit destination for foodies visiting Sin City. Whether you're in the mood for authentic Italian cuisine, fresh seafood, or mouth-watering burgers, the Arts District is sure to satisfy your cravings and leave you wanting more.
Letty's de Leticia's Cocina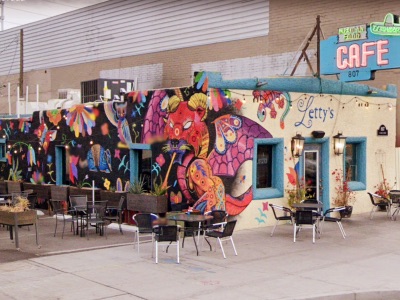 Address: 807 S Main St
When you crave tacos or traditional Mexican food, Letty's de Leticia's Cocina delivers on taste, atmosphere, and authenticity. The restaurant is well-known for its authentic Mexican cuisine and homemade recipes. Chef Leticia Mitchell takes great pride in her Mexican cooking, using only the freshest ingredients available.
Situated on South Main Street, this vibrant restaurant in the Las Vegas Arts District is great for anything from quick bites to casual dining to happy hour. The building is not hard to spot with colorful murals painted on the inside/outside with a small patio in front.
Letty's de Leticia's Cocina offers a warm and welcoming atmosphere, with a friendly and attentive staff that is sure to make you feel right at home. The restaurant's colorful and festive interior decor features traditional Mexican art and artifacts displayed throughout the dining area, adding to the overall dining experience.
With a firm belief in the importance of using natural and unprocessed ingredients, Chef Leticia never uses canned or processed food. Her salsas and guacamole are always made fresh to order, allowing the full flavor of the ingredients to shine through. As a result, the aroma of the kitchen at Letty's de Leticia's Cocina wafts throughout the restaurant, enticing diners with the promise of a truly authentic and delicious meal.
The menu runs the gamut of traditional and non-traditional Mexican-style dishes from specialty burritos to pupusas to taquitos to enchiladas, and the nopalito fries are a crowd pleaser. Chef Leticia also makes delicious street tacos, quesabirria tacos, and tacos dorado as well as a variety of tortas from birria to chilaquiles to ahogado to the table or for quick bites which will knock your socks off with flavor.
Esther's Kitchen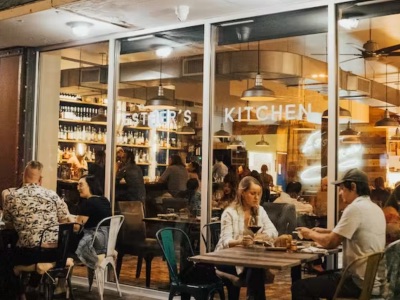 1130 S. Casino Center Blvd., STE 110
Photo by Esther's Kitchen
Las Vegas offers a diverse range of culinary options, but if you're craving authentic Italian cuisine, Esther's Kitchen restaurant led by acclaimed chef James Trees in the Arts District is the is the ultimate destination.
Esther's Kitchen is named after chef James Trees Great-aunt Esther who was a big support for James Trees when he was growing up and learning the craft of cooking.
Esther's Kitchen is known for its exceptional food, with homemade pasta dishes like rigatoni carbonara and butternut squash tortellini, as well as melt-in-your-mouth meatballs that keep patrons coming back for more.
The menu also includes standout dishes like Margherita pizza, Mary's chicken, and delicious veal osso buco. Not to be missed are the freshly baked breads, whose delightful aroma will linger in your memory long after your meal is over.
Nestled on South Casino Center Boulevard, Esther's Kitchen boasts a charming modern exterior with floor-to-ceiling windows and an industrial chic interior. The restaurant's cozy, home-style atmosphere adds a touch of charm, creating a welcoming ambiance that enhances your overall dining experience.
When the weather is pleasant, diners have the option of enjoying their meal outdoors, providing a unique oasis-like experience that transports them away from the hustle and bustle of Sin City.
The Pepper Club by Todd English
Photo by thepepperclub.com
The Pepper Club by Todd English is a stunning upscale dining option located in the Las Vegas Arts District, situated on South Main Street as part of the recently built boutique English Hotel. The restaurant is named after its founder, celebrity chef Todd English, who has received numerous awards throughout his career, including a James Beard Foundation Award for Best Chef in the Northeast.
Todd English has brought his dynamic Asian Ocean Fusion and Sushi Bar to the scene, offering a menu that features contemporary American cuisine with a global twist. The restaurant's decor boasts a sophisticated modern Asian industrial-style, featuring sleek lines and minimalist design elements with large chandeliers, soft lighting, and an impressive sushi bar. The restaurant's ambiance is simply elegant, making it an ideal spot for a special occasion.
The menu is designed to appeal to a range of tastes and preferences, with innovative sushi rolls, robatayaki grill specialties like the Genghis short ribs, and ocean fusion favorites such as the orange miso salmon. Todd English's farm-to-table concept emphasizes the use of fresh, locally-sourced ingredients to create dishes that are as delicious as they are visually stunning.
In addition to its delectable food offerings, The Pepper Club by Todd English also offers an extensive wine list featuring both domestic and international selections, as well as a variety of handcrafted cocktails, beers, and other fancy beverages.
The Pepper Club by Todd English is a must-visit destination for those seeking a high-end dining experience in the Las Vegas Arts District.
Makers & Finders
Address: 1120 S Main St Suite 110
Photo by makerslv.com
Makers & Finders Urban Coffee Bar is a Latin-inspired restaurant located in the heart of the Las Vegas Arts District, and it's the realization of Josh Molina's American Dream. Molina's parents, Omar and Martha Molina, immigrated from Colombia to the United States in search of a better life, and Makers & Finders is a testament to their hard work and perseverance.
Makers & Finders offers delicious food, great drinks, and a welcoming atmosphere that is sure to make you feel right at home. The coffee house's exterior boasts a sleek and modern facade with a charming patio, while the interior features large wall murals, comfortable seating, and plenty of natural light. In addition to serving exceptional coffee, Makers & Finders also offers a full-service bar serving flights of mimosas that are perfect for enjoying with a delicious brunch.
The cuisine at Makers & Finders is equally impressive, featuring Latin-inspired comfort food favorites like the chicken tinga omelet, la paisa arepa, and sweet churro waffle. The menu also includes an assortment of vegan options, empanadas, steak & eggs skillets, salads, and sandwiches. For those with a sweet tooth, the fresh berry French toast is a must-try.
Makers & Finders Coffee House is not only a great spot for breakfast, brunch, and lunch, but it's also the place to be on a First Friday for Salsa Night. Whether you're a seasoned salsa dancer or a novice looking to learn some new moves, Salsa Night at Makers & Finders is the perfect way to let loose and have some fun.
The Great Greek Mediterranean Grill
Address: 801 S Main St Suite 140
Photo by The Great Greek Mediterranean Grill
The Great Greek Mediterranean Grill restaurant in the heart of the Las Vegas Arts District is the place to be when you crave authentic Greek dishes.
Nestled on the bustling South Main Street, this top-notch restaurant is sure to tantalize your taste buds with its exceptional flavors and fresh ingredients
The menu features a range of traditional dishes made with fresh, high-quality ingredients that are sure to tantalize your taste buds.
Some of the standout dishes include the succulent grilled chicken souvlaki, the flavorful gyro plate, and the sweet and flaky baklava. For those who want to sample a variety of flavors, the four dip combo is a popular choice among diners and is perfect for sharing.
Indulge in a mezze plate filled with a delicious assortment of small bites, including dolmades, tirokafteri, and scrumptious spanakopita. Savor the tender Australian lamb souvlaki or enjoy a classic Greek salad. The menu also features a variety of gyros and other small bites. Vegetarians will be pleased with the abundance of options available on the menu, such as classic greek salad and falafel pita.
The chefs are experts in Mediterranean fare, and their passion for it is reflected in the meticulous attention they pay to every detail.
The interior of the Great Greek Mediterranean Grill is a harmonious blend of warm woods, chic industrial elements, and a minimalist ordering counter, creating a cozy yet contemporary atmosphere. The ample seating options cater to both solo diners and larger groups, making it a versatile space for any occasion.
Dig It! Coffee Co.
Address: 1300 S Casino Center Blvd Unit 110
Dig It! Coffee Co. is more than just a place to grab a cup of coffee or a quick bite to eat - it's a small business with a big heart. This Las Vegas restaurant in the Arts District is dedicated to providing employment and job training opportunities for people with disabilities, making a positive impact in the community.
Located along South Casino Center Boulevard, the restaurant is known for employing people with disabilities which gives them a chance to succeed with their lives.
Outside you'll find a sleek modern building but inside your eyes will pop with the whimsically colored checkerboard walls, wall murals, and fantastic chairs that give the place a cool Arts Deco feel.
Their menu is packed with lots of unique coffee drinks from a dirt cup latte to a chai latte to a Og pumpkin latte and let's not forget about their wonderful lemonades and freshly squeezed juices. The food menu is simple with stellar breakfast items like sweet rolls, cakes, breakfast sandwiches, and the cheese boards are perfect for sharing.
The Garden Las Vegas
Address: 1017 S 1st St #180
Photo by thegardenlasvegas.com
For those looking for an LGBTQ-friendly spot to enjoy drinks and small bites in the Las Vegas Arts District, The Garden is the place to be. Located on South 1st Street, this vibrant destination is known for its lively bar scene during the week and incredible Drag Brunch show on the weekends.
The Garden Las Vegas boasts a sleek and modern exterior, with lush gardens in the back that create a tranquil and inviting atmosphere. The interior is equally lively, with plenty of lighting to energize the space and make it feel like a true oasis in the city.
At night, the bar comes to life with rockin' music, drink specials, and quick bites from the kitchen for those who need a little something to nibble on. However, it's the weekend Bottomless Drag Brunch every Saturday and Sunday and Bottomless Mimosa that have everyone raving.
One of the main attractions at The Garden Las Vegas is its lively drag queen show, featuring some of the most talented and beautiful performers in the city. The show is a highlight of the weekend Drag Brunch and Bottomless Mimosa event, and guests can expect to be entertained by incredible performances and fabulous costumes.
The brunch menu at The Garden Las Vegas is simple but thoughtfully crafted, with a range of delicious options that are sure to satisfy. Guests can choose from a variety of tasty dishes, including classic chicken tenders, crispy cauliflower wings, and juicy garden sliders. For those looking for something more adventurous, the menu also offers flavorful tacos and a mouth-watering Impossible Burger that is a hit with both vegetarians and meat-eaters alike.
And with an impressive selection of signature drinks and bottomless mimosas available, the brunch experience at The Garden Las Vegas is truly one-of-a-kind. Whether you're looking to indulge in your favorite comfort foods or try something new and exciting, this LGBTQ-friendly spot is the perfect place to enjoy delicious food, great drinks, and an unforgettable atmosphere.
Dona Maria Tamales
Address: 910 S Las Vegas Blvd
Dona Maria Tamales is a beloved Mexican restaurant and a staple in the Las Vegas Arts District. Founded in 1980 by Alfredo and Elvia Martinez, this family-owned establishment has been serving up authentic Mexican dishes for over three decades and has earned numerous awards and accolades for its delicious cuisine.
Patrons of Dona Maria Tamales keep returning to this authentic Mexican-style restaurant, as they are consistently impressed by the fabulous food on offer, including the signature tamales, which are hand-crafted and come with an array of delectable fillings.
Guests can indulge in a variety of authentic Mexican dishes at Dona Maria Tamales. Their signature tamales are hand-made with various fillings and are a must-try. Other popular items on the menu include enchiladas, costa azul shrimp, chile rellenos, and carne asada tacos, as well as tortilla, albondigas, and menudo soups. The combination plates are generous in size and offer a range of options to satisfy everyone's taste buds. Don't forget to try their special margaritas to complete your meal.
At Dona Maria Tamales, guests are not just customers, they are treated like family. The warm and welcoming atmosphere, along with the friendly staff, makes you feel at home as soon as you walk through the doors. The Martinez family takes pride in their restaurant, and it shows in the way they treat their guests. The personal touch they put into their service makes it a must visit restaurant in the Las Vegas Arts District.
Chicago Joe's Restaurant
Address: 820 S. 4th Street
Situated on South 4th Street, Chicago Joe's Restaurant has been serving up incredible Italian cuisine since 1975, and is one of the best Italian restaurants in the Las Vegas Arts District.
Nestled in a charming brick house that was beautifully restored in the 1970s, this family-owned establishment exudes a unique and intimate atmosphere, perfect for a romantic night out or a sophisticated business dinner. The ambiance is carefully crafted to ensure nothing detracts from the romantic atmosphere.
The attentive servers are friendly and professional, enhancing your dining experience. The menu features classic Italian dishes that are prepared to perfection, leaving you completely satisfied with every bite.
The menu features delectable Italian dishes made from scratch with fresh, quality ingredients and a touch of love. Signature dishes such as the stuffed artichoke, chicken marsala, and chicken angelo are sure to delight your taste buds, while the fresh pasta dishes, like the fettuccine alfredo and lasagna, will transport you straight to Italy.
Vegetarian options are also available, including the popular eggplant or chicken parmigiana, and guests rave about the tender, mouth-watering meatballs. The attentive and friendly servers will make you feel right at home, allowing you to fully savor the superb food and relaxed ambiance without a care in the world.
Get Your Free Las Vegas Events Calendar!
Best of Vegas