The Best Vegetarian Restaurants in Las Vegas
These vegan and vegetarian restaurants in Las Vegas will make any healthy food aficionado craving for more! Although there aren't plenty of healthy options in the Sin City, the ones that do exist are quite good. Whether you prefer raw food, or crave tofu masked as real meat, you can find it all here!
Komol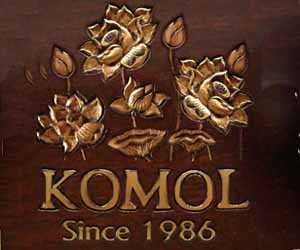 Address: 953 East Sahara Avenue; Tel: 702 731 6542
Prices: $0 - $20
Reviews: Komol is a Thai restaurant, which usually means that most of the dishes on the menu are spicy. They do offer you a choice of spiciness from 1 to 10, like it's customary in all Thai restaurants. I've included Komol into my list of vegetarian restaurants in Las Vegas because Thai cuisine offers plenty of vegetarian options. So if you like Thai, check out some of the best Thai restaurants in Vegas. Komol is located on on Seoul Plaza - that special little place in Vegas where you can have find plenty of Asian restaurants - Japanese, Korean, Thai.
Get Your Free Las Vegas Events Calendar!
Best of Vegas