X Country Las Vegas Show Review
X Country Las Vegas show review: playing at Harrah's Hotel - Daisy Duke short shorts, sexy women, and great country music is what you will experience.
Brought to you by the creators of X Burlesque and X Rocks, this show is packed with super sexy women dancing their hearts away to a variety of country music. X Country is a sultry adult Las Vegas show that highlights the beautiful shape of women that are not afraid to let it all hang out on top.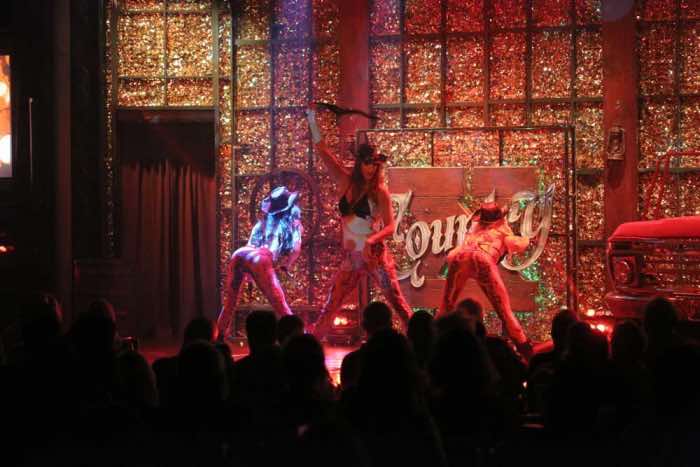 The X Country Las Vegas show features top-notch dancing talent combined with extremely sexy women that know exactly how to get the audience revved up for an evening of scintillating sensuous fun. Throughout the show the audience is full of smiles as the gorgeous women prance on stage in unbelievable costumes that highlight the sultriness of their bodies.
During the show you can expect plenty of sexy women wearing short Daisy Duke-style shorts adorned with cowboy boots, a hat dancing and nothing more. Sure there is something left to the imagination but not much as the ladies groove on the stage to various props like a Ford pick-up truck.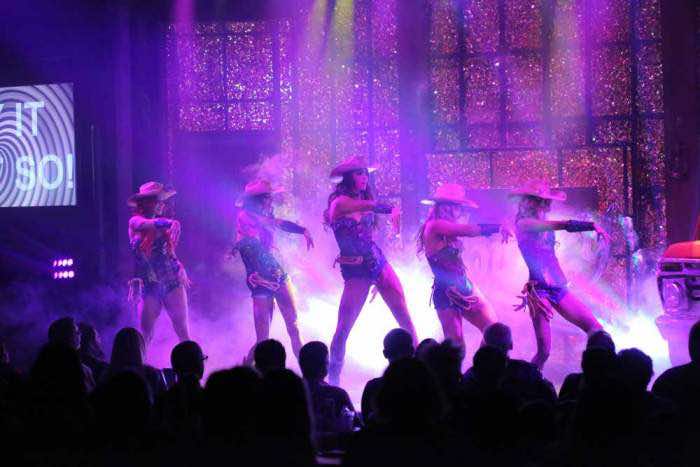 X Country Las Vegas show features a new country music attitude that is not all about feeling guilty about hooking up with beautiful women. There is plenty of beer drinking and hell raising on stage, so to say, when these gorgeous ladies start to disrobe during the performance and the pole dancing segment mixed in with a lap dance is a show stopper of sexiness.
One dance step during the X Country Las Vegas show features a super sexy woman in a bathtub performing to Patsy Cline's Crazy which will make you crazy as you watch the sultry beauty of the lady taking a bubble bath. There are other steps that are risqué too like an acrobatic aerial routine performed to Garth Brooks' The Thunder Rolls and let's not forget about the sultry dance moves that take place during the barrel dance where sexy women fondle and caress the several barrels on stage.
If you thought you two-stepping was a just dancing then you need to see the two-step that lines up all the gorgeous ladies in a row to thump and pump through the dance to hits like Cowboy Troy's Drink, Drank, Drunk and Cruise by the Florida Georgia Line. The most erotic of all performances features a vertical bed and a lady making provocative moves to Little Big Town's Girl Crush that leaves the audience with their mouths wide open.
The choreography of the X Country Las Vegas show is masterful with numerous costume changes throughout the performance to match the music which includes artists like Tim McGraw, Taylor Swift, Hank Williams, and Bonnie Raitt. You can indulge in wondering what the ladies might be wearing under their short skirts as they dance along in their cowboy boots which adds to the sensuality of the show.
X Country Las Vegas show also includes a hee-haw type atmosphere between dances with stand-up comedy and sexy girls popping out of barrels or appearing in a pick-up on stage after the punch lines with goofy lipstick and of course very little clothing.
The performance is not just for bachelor or bachelorette parties and couples can revel in fantasying about different partners while the beautiful women prance around the stage. If you are looking for a superb adult show that keeps people interested with great music, costumes, sexy women, and a little bit of comedy then this is a must see for you in Sin City.
Cast and Creators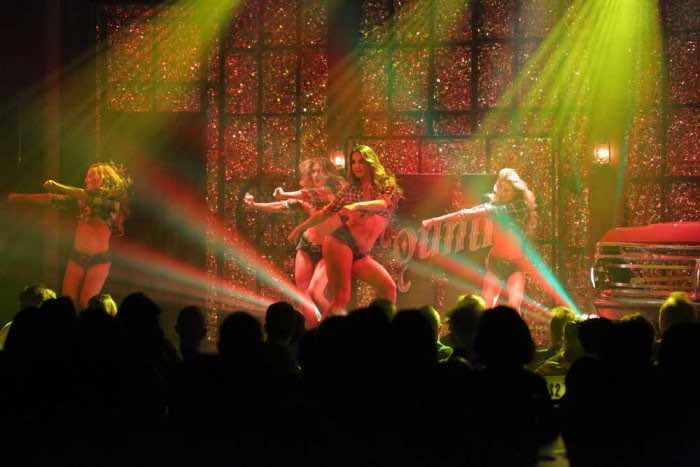 X Country Las Vegas show was created by Matt and Angela Stabile who also brought X Burlesque and X Rocks to the stage in Sin City. The couple has a keen eye for beauty and dance talent to help foster the sultriness of the show. The production and direction the couple takes X Country can only be described as fabulous.
Choreography is conducted by Anthony Carmella who is brilliant in creating costumes that match perfectly with the country music and dance moves of the sexy ladies.
The five dancers change routinely but one thing that stays the same is the sultry sexy ladies that adorn the stage during the show.
Tickets
X Country is performing at Harrah's Cabaret within Harrah's Las Vegas. The state-of-the-art venue is intimate and ideal for viewing such beautiful ladies dancing on the stage. The 90-minute adult show is open to all persons 18 years of age or older. Performances run daily at 10:00 P.M. There are several levels of X Country Las Vegas tickets including general admission, assigned front-row VIP seats, and there are several dinner packages available. Also available is a meet and greet where you will receive a souvenir signed poster and a chance for selfies with the sexy women.
Get Your Free Las Vegas Events Calendar!
Las Vegas Gifts - Art, Merch And more!
Grand Canyon Helicopter Tours by Papilloin
Grand Canyon Helicopter Tours by Maverick
Awesomest Things to do in Las Vegas Every Day!