Las Vegas Strip sightseeing Tours
Las Vegas sightseeing tours offer an excellent overview and highlights of the Strip and downtown - the city is home to word's most fascinating hotels, museums, amazing shopping malls and other attractions! You can look at the city from the air and from the ground, by day and by night - and never get enough of it!
Below I highlighted some of the best sightseeing tours within the city and around.
Helicopter Rides Above The Strip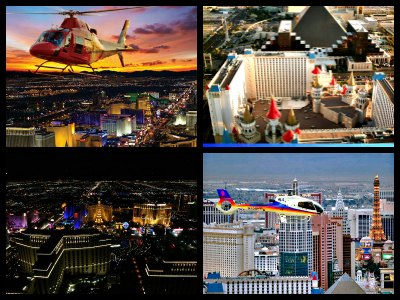 All Las Vegas Strip Helicopter Tours
Is there a better way to enjoy Las Vegas sightseeing tours than from far above the city? Helicopter flights are very popular here, especially at night when Vegas comes to life. The best part about helicopters is that they can fly slowly so you have lots of time to take in the sights. The helicopters in Vegas fly so close above the major attractions you feel like you can touch them - the dancing Bellagio fountains, the tower of the Stratosphere hotel, the Sky Beam of the Luxor, the erupting Volcano of the Mirage. This is an adventure you will never forget!
What's Hot
What's Hot
Plan Vacation