Las Vegas sightseeing Tours of the Strip & Downtown
Las Vegas sightseeing tours offer an excellent overview and highlights of the Strip and downtown - the city is home to word's most fascinating hotels, museums, amazing shopping malls and other attractions! You can look at the city from the air and from the ground, by day and by night - and never get enough of it!
Below I highlighted some of the best sightseeing tours within the city and around.
Most Popular
Deals
Helicopter Rides Above The Strip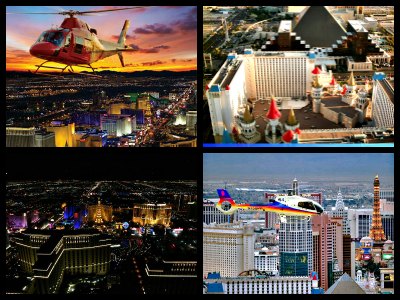 Las Vegas Strip Helicopter Tours
Is there a better way to enjoy Las Vegas sightseeing tours than from far above the city? Helicopter flights are very popular here, especially at night when Vegas comes to life. The best part about helicopters is that they can fly slowly so you have lots of time to take in the sights. The helicopters in Vegas fly so close above the major attractions you feel like you can touch them - the dancing Bellagio fountains, the tower of the Stratosphere hotel, the Sky Beam of the Luxor, the erupting Volcano of the Mirage. This is an adventure you will never forget!
Here are 3 of the most popular scenic helicopter tours that fly above the Strip, offering you amazing opportunities for sightseeing! All the Las Vegas helicopter tours are conducted by friendly professional pilots who combine their great piloting skills with expert knowledge of the city's history and it's top landmarks.
by Bus
Las Vegas sightseeing tours by bus are very popular and quite affordable. With these bus tours you will be able to get off near each attraction to see it closer. Expert tour guides will tell you about the history of Las Vegas, about it's landmarks, and about people who helped create what Vegas is now. You will hear stories about classic casinos and top casino moguls, legendary performers such as Frank Sinatra and Elvis Presley. You will learn useful tips about the best restaurants and how to skip lines in most places and will see the locations where the popular movies such as Ocean's 11 and Hangover were shot!
Sightseeing Around Las Vegas
I thought you might want to add to your Vegas vacations some attractions located near the city. These tours below are ideal to combine Las Vegas sightseeing tour with a quick excursion to the nearby Hoover Dam and Red Rock Canyon - you don't have to travel too far, and can return the same day and continue your vacation.
Unique Las Vegas Tours
So what do you do if you've seen it all in Las Vegas and want to something unusual and have a little more fun? Check out these fun Las Vegas sightseeing tours. Check out the Pawn Stars Tour, the Vegas Mob Tour, , Haunted Tour, a Balloon Ride over the city, a Photo Tour, a Mini-Scooter Tour, or a Gondola Ride!
Do It Yourself Tour

Would you rather explore the city by yourself? Easy ! Start with my about about Free Attractions - you might need to rent a car for that, because the Strip is quite long. If that's not enough, check out museums, parks and other attractions!
Don't forget to get your Las Vegas Power Pass - it will give you multiple discounts at top attractions!
Top Things To Do In Vegas
| | | |
| --- | --- | --- |
| Best Tours In Las Vegas By Transport/Interest | Best Tours In Las Vegas Area - Day Trips | All Grand Canyon Tours |
Top Pages
Deals
Find Me On Facebook