Las Vegas sightseeing Tours of the Strip & Downtown
Las Vegas sightseeing tours offer an excellent overview and highlights of the Strip and downtown - the city is home to word's most fascinating hotels, museums, amazing shopping malls and other attractions! You can look at the city from the air and from the ground, by day and by night - and never get enough of it!
Below I highlighted some of the best sightseeing tours within the city and around.
Helicopter Rides Above The Strip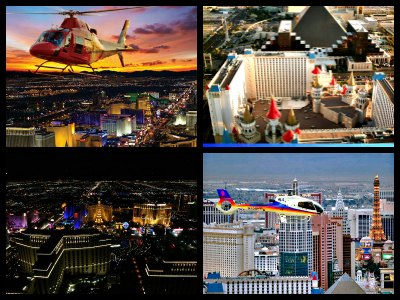 Las Vegas Strip Helicopter Tours
Is there a better way to enjoy Las Vegas sightseeing tours than from far above the city? Helicopter flights are very popular here, especially at night when Vegas comes to life. The best part about helicopters is that they can fly slowly so you have lots of time to take in the sights. The helicopters in Vegas fly so close above the major attractions you feel like you can touch them - the dancing Bellagio fountains, the tower of the Stratosphere hotel, the Sky Beam of the Luxor, the erupting Volcano of the Mirage. This is an adventure you will never forget!
Deals
by Bus
Las Vegas sightseeing tours by bus are very popular and quite affordable. With these bus tours you will be able to get off near each attraction to see it closer. Expert tour guides will tell you about the history of Las Vegas, about it's landmarks, and about people who helped create what Vegas is now. You will hear stories about classic casinos and top casino moguls, legendary performers such as Frank Sinatra and Elvis Presley. You will learn useful tips about the best restaurants and how to skip lines in most places and will see the locations where the popular movies such as Ocean's 11 and Hangover were shot!
Ultimate Las Vegas Bus Tour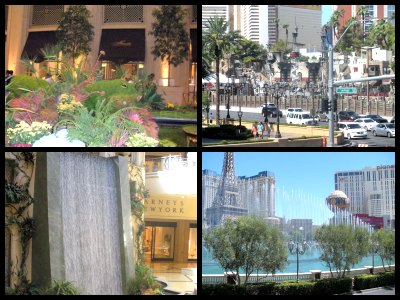 Book Vegas See It All Tour
From: $ $59.99; Duration: 4 hours
This tour is a perfect introduction to Las Vegas for first timers! With your extremely knowledgeable and enthusiastic tour guides you will explore the most interesting parts of the Las Vegas Strip. You will stop and take photos near major attractions and landmarks such as the dancing fountains at the Bellagio, the Statue of Liberty near New York New York hotel, the Eiffel tower of Paris hotel, the Great Sphinx at the Luxor. You will continue your Las Vegas sightseeing tour at Fremont street in downtown, and at the City Center.
Double-Decker Bus of the Stars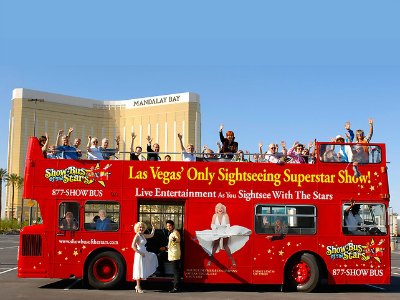 Book Double-Decker Bus of the Stars Tour
From: $39.95 ; Duration: 90 minutes
This is one of the most fun Las Vegas sightseeing tours - it's a tour conducted by very fun impersonators! You can get anyone for a tour guide from Elvis Presley to Marilyn Monroe, who will sing and entertain you during your entire experience.
Hop-on Hop-off open top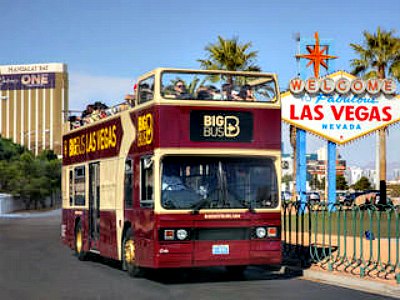 Book Hop-on Hop-off Double-Decker Bus Tour
From: $ 29.00; Duration: Varies
With Hop-on Hop-off bus you will have the opportunity to enjoy your Las Vegas sightseeing tour at your own pace. You can select between 24 hours and 48 hours options for just $5 extra. The bus has 2 routes and departs from 13 easily found locations. You can hop off the bust at any location you like and continue exploring it on your own. While you are on the bus, you will listen to the commentary of the tour guides.
Las Vegas Lights Night Tours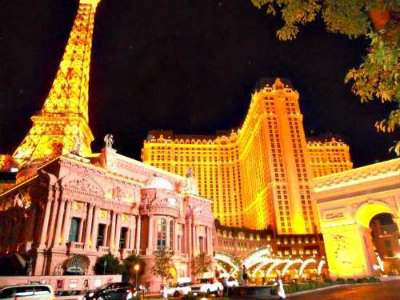 Book Las Vegas Lights Tour
If you think Las Vegas is fun by day, you should check it out by night! This is when all the fun begins. These are the Las Vegas sightseeing tours that will take you to the best spots in Vegas lit by neon lights - the light show at Fremont street, the famous Welcome to Las Vegassign, the fountains of the Bellagio, erupting Volcano at the Mirage, the Sirens show at Treasure Island, famous wedding chapels and much more!
This tour offers incredible sightseeing of Las Vegas during night time. The itinerary of the tour includesh stops at major attractions.
Small Group Sightseeing Tour by Pink Jeeps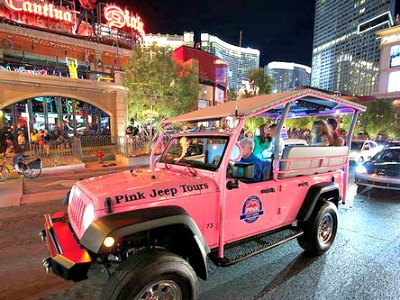 Book Small Group City Tour
From: $ 84.75; Duration: 4.5 hours
This Pink Jeeps tour might be not as cheap as the night tour above, but it includes something the other tours don't - it's like 3 tours in one. Other than a Las Vegas sightseeing tour of the must-see attractions, you will be able to visit the Mob Museum that displays memorabilia and images of Mafia that played major role in the development of the city. The tour also includes a visit to the Gold & Silver Pawn Shop (also offered as separate tours below).
Sightseeing Around Las Vegas
I thought you might want to add to your Vegas vacations some attractions located near the city. These tours below are ideal to combine Las Vegas sightseeing tour with a quick excursion to the nearby Hoover Dam and Red Rock Canyon - you don't have to travel too far, and can return the same day and continue your vacation.
Las Vegas Strip And Hoover Dam at Night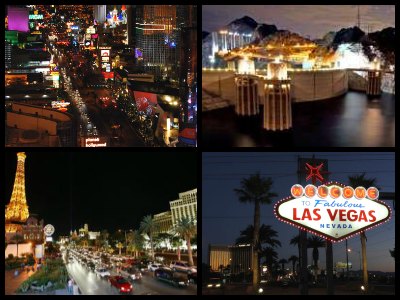 Book After Hours Night Tour
From: $ 70.00 ; Duration: 4.5 hours
Even if you have already seen Hoover Dam during the day, at night it's a completely different experience! This tour offers you just that - Las Vegas sightseeing tour of the Strip and downtown, and a quick trip to Hoover Dam! The Dam is lit up, just like Vegas, for your viewing pleasure and begs to be photographed.
Las Vegas Strip and Red Rock Canyon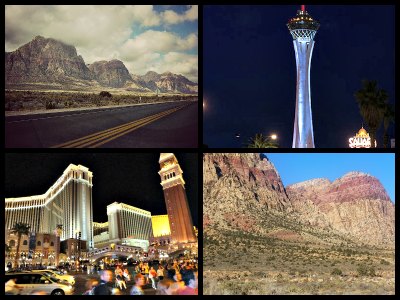 Book Vegas Strip and Red Rocks Canyon Tour
From: $ 169.99; Duration: 6.5 hours
For an unforgettable experience, head off for the Red Rock Canyon to watch the sunset and Western-style landscapes! This Las Vegas sightseeing tour departs just on time to let you catch the incredible sunset in the mountains. Optionally, you could take a horseback ride, too. Then enjoy delicious dinner - steak or your choice. Then you will be able to enjoy the views of Las Vegas Strip from the observation deck of Stratosphere Hotel and Casino.
Red Rock Canyon and Las Vegas Western Tour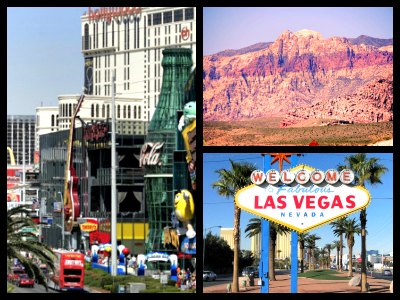 Book Red Rock Canyon and Las Vegas Highlights Western Tour
From: $ 79.00; Duration: 6 hours
This tour is quite affordable and offers a brief introduction to the lifestyle of Las Vegas locals. After a comprehensive Las Vegas sightseeing tour and funny stories by fun tour guides in western costumes, you will head off to the Red Rock Canyon for a scenic drive. As it's a pretty long tour, it also includes lunch.
Unique Las Vegas Tours
So what do you do if you've seen it all in Las Vegas and want to something unusual and have a little more fun? Check out these fun Las Vegas sightseeing tours. Check out the Pawn Stars Tour, the Vegas Mob Tour, , Haunted Tour, a Balloon Ride over the city, a Photo Tour, a Mini-Scooter Tour, or a Gondola Ride!
Pawn Stars Tour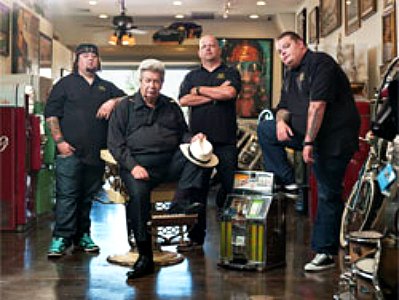 Book Pawn Stars Tour
From: $ 69.99; Duration: 4 hours
Do you watch any of the reality shows Pawn Stars, Rick's Restorations or Tanked? You have a perfect opportunity to take a Las Vegas sightseeing tour that takes you behind the scenes of the popular shows. You can actually watch the filming of the show and meet its stars Rick Dale, The Old Man, Big Hoss and Chumlee! You will also see how old choppers and hot rods are getting restored at Count's Kustoms by Danny "The Count" Koke, and how Rick Dale and his team restore old junk found in the city!
Hot Air Balloon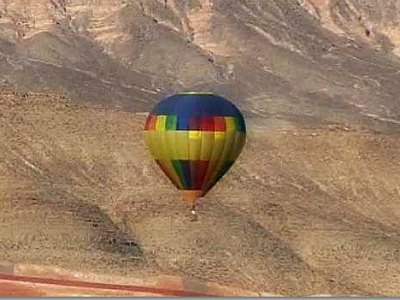 Book Hot Air Balloon Ride
From: $199.00 ; Duration: 4 hours - 1 hour flight
The hot air balloon Las Vegas sightseeing tour is a great way to see the city from the air! Balloons, steered by experiences pilots through the wind, slowly fly about 1000 feet above the city and the Nevada desert while you are taking in the sights! The flight starts early in the morning so you can watch sunrise. The flight itself is about one hour, but you will also have some time to learn how to inflate the balloon and tuck it away. It's something you will be telling your friends for ages!
Photo Tour of the Strip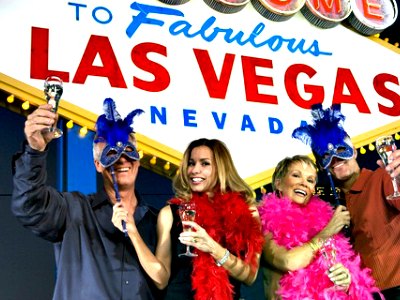 Book Photo Tour of the Strip
From: $ 400.00; Duration: 1 hour
Would you like your Las Vegas memories be captured by a professional photographer? Take this Las Vegas sightseeing tour in a luxury limousine! They will take you to the most interesting spots in the city where you will pose for photographs. You can pick the locations, and even schedule the time of the tour yourself!
Scooter Car Tour of Downtown Las Vegas and the Strip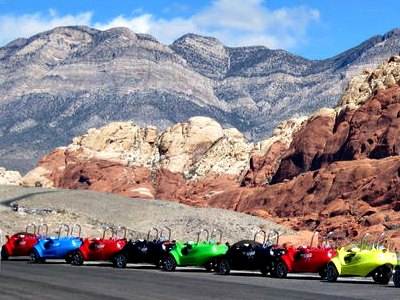 Book Scooter Car Tour Of The Strip And Downtown
From: $249.00 ; Duration: 4 hours 30 minutes
Here is a very fun and unusual Las Vegas sightseeing tour - in a tiny three-wheel scooter! On this guided tour you will cruise the most interesting sites in the Strip and in downtown - around famous hotels, through the Neon Museum where the city's neon signs come to die...You will cruise by the Gold and Silver Pawn Shop and maybe catch a glimpse of the reality show being filmed!
Gondola Rides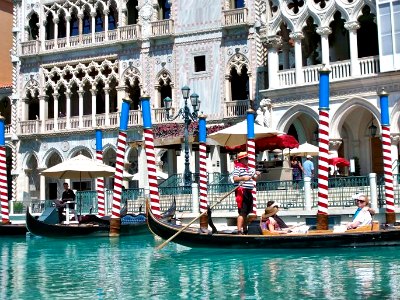 Book Romance Package at The Venetian Hotel
From: $ 59.99; Duration: Flexible
This is a romantic package that any couple would enjoy during a Las Vegas vacation - and it's a great value for your money! Included in the package are : a 12 minutes romantic gondola ride with a singing gondolier (don't forget to kiss under the bridges as you glide under them!), a visit to the Madame Tussauds museum, and a romantic meal at Zeffirino Ristorante or at Tintoretto Bakery!
Night Club Tours
More about Las Vegas Night Club Tours
Here is a little special something for night owls and party animals alike - night-time Las Vegas sightseeing tours of the pubs and clubs! There are guided tours that can take you to the city's trendiest night clubs, bars and pool parties. Besides, you can get vouchers that will save you a lot of money on nightclub-hopping!
Deals
Top Pages
Do you have any questions or Comments?