Adventuredome Las Vegas - Best Rides
Location: Circus Circus Hotel
The Adventuredome Las Vegas is dedicated to thrills, offering a fabulous day out for the family. Start with the Coasters, the Canyon Blaster and El Loco. Both twist and turn at incredible speeds around corkscrew bends. Catch your breathe and you are off again! The Premium rides offer the amazing Disk'O. Get strapped in and spin around like a discus. Kids will love the Great Jelly Rescue where they join Sponge Bob on a 4D mission to rescue the Jellyfish.
If you prefer to be on the ground, ride the Canyon Cars. These super bumper cars will have you on a crash course of defensive driving. Or take to the seas on an out-of-control Pirate Ship that heads off on a stomach-turning adventure.
Rides also cater for the little ones. Let them bounce on the Frog Hopper or soar above the crowds in the Thunderbird, an old 1920 airplane. Below is a selection of the best rides at Adventuredome Las Vegas!
Get Your Free Las Vegas Events Calendar!
Grand Canyon Helicopter Tours by Papilloin
Grand Canyon Helicopter Tours by Maverick
Awesomest Things to do in Las Vegas Every Day!

Canyon Blaster at "Adventuredome"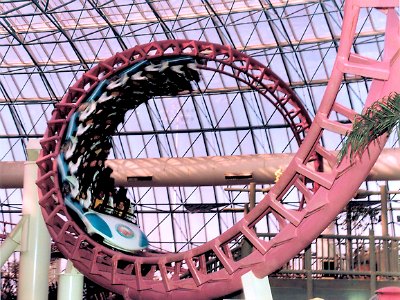 Review: This is a popular indoor thrill ride at the crazy-popular amusement park Adventuredome which is considered the biggest indoor double-loop double-corkscrew thrill ride. Canyon Blaster operates two six-car trains. Each car can seat four passengers in two rows. You will absolutely love this roller coaster, featuring vertical loops and corkscrews and ending with a helix inside a mountain.
The speed of the trains reaches 55 miles per hour. Besides, there's a place where it gets dark during the ride, which makes it all the more exciting. This rollercoaster isn't exactly very smooth, so you might find yourself gasping to catch your breath more often than you think.
Chaos at Adventuredome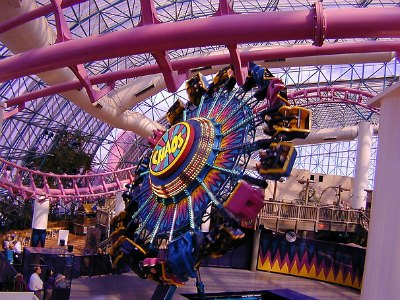 Review: Chaos is an ideal place to make a birthday celebration or to throw a party for your friends. Located at the Adveturedome Las Vegas amusement park of Circus Circus hotel-casino, Chaos is an ultra-thrill ride that will track and twirl you in different directions with different speed.
That's why each ride is unpredictable and gives you a totally new experience each time! It may not be as scary as the other roller coasters in the park, but it is definitely the most fun one, so if you want a good laugh this is exactly where you need to go!
Inverter at "Adventuredome"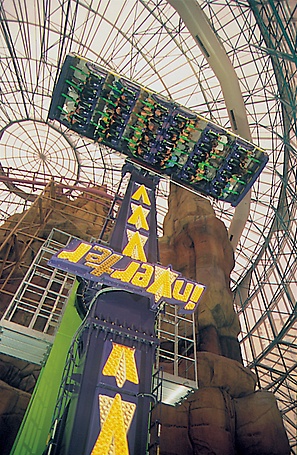 Review: Inverter at Adventuredome Las Vegas was constructed in 1999 and has been extremely popular since then. Imagine a piece of Lego with people screaming inside. If you like hanging upside down 50 feet away from the concrete floor you will definitely love the Inverter.
Oh, did I say that when you think the scariest part is over you'll flip upside down all over again? This roller coaster is definitely meant for daredevils and those who love new challenges and unexpected surprises.
El Loco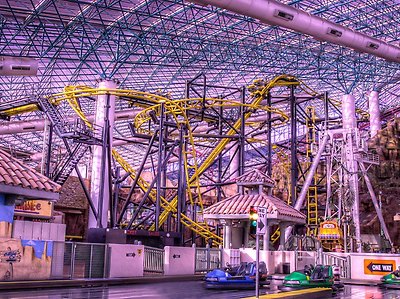 El Loco is one of two massive Coaster Rides found at the Adventuredome Las Vegas. It was opened in 2014 and has a height of 90 feet, a length of 1300 feet and travels at speeds of up to 45 miles per hour. Get strapped into the cars which hold four people in two rows of two each. Special music composed for the ride is piped through the speaker systems, adding to the mood.
Start off slow and then hold your breath as you plummet vertically downwards 90 feet at 1.5G's. Soon you are twisting and turning around hairpin bends, flying outwards onto a 45 degree banked turn and screaming on 180 degree turns that fling you upside down. You must be a minimum of 48 inches tall to ride El Loco.
Frightdome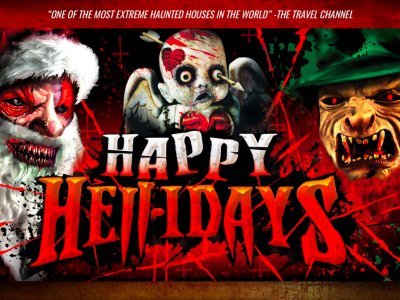 Get scared out of your wits at the Frightdome! This venue is the well known Adventuredome Las Vegas which reinvents itself at Halloween to become the scariest and most popular attraction in Vegas. Explore the haunted houses which hide all things terrifying and macabre. The five acre venue offers six haunted houses and four scare zones. Live shows are also staged nightly with a host of famous artists. There are also thrill rides and attractions.
The show was created by Jason Egan, a Halloween entrepreneur known for his unique and way-out ideas. Note that Frightdome is not suitable for children under the age of twelve.
Get Your Free Las Vegas Events Calendar!
Best of Vegas