Las Vegas Elvis Wedding Packages in 2023-2024
Las Vegas Elvis themed weddings are something that never goes out of fashion and there are a lot to choose from in 2023-2024! The legacy of The King of Rock And Roll lives on in our hearts and minds, and many couples rightfully consider getting married by an Elvis impersonator a superb idea. While it's super easy to find an Elvis themed wedding package in the Sin City, here are a few of the best ones I selected.
Elvis Wedding at Graceland Wedding Chapel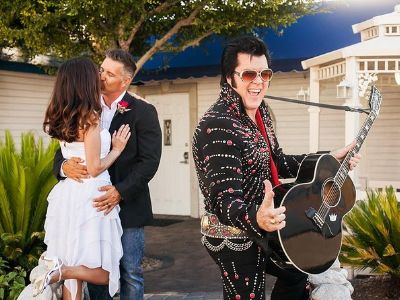 The Las Vegas Elvis Wedding at Graceland Chapel is one of the most popular ways for couples to enjoy their wedding day. For over 50 years, the Graceland Wedding Chapel is a special place where many celebrities like Johnny Depp and Jay Leno have tied the knot. There are two special packages for couples to choose for their ceremony with each boasting a luxurious limousine ride to and from the Graceland Wedding Chapel. Couples will be greeted by a coordinator and a photographer once at the chapel with flowers. From there Elvis will walk the bride down the aisle and sing several songs before, during and after the ceremony. The ceremony will be performed by a qualified minister with Elvis as one of your witnesses. When your ceremony is finished couples will receive a commemorative DVD for future viewing.
More Romance
Get Your Free Las Vegas Events Calendar!
Best of Vegas