The Best Las Vegas Hotel Wedding Packages In 2023-2024
There are more Las Vegas hotel wedding packages in 2023-2024 than one could imagine! You can have any wedding you like: classy, intimate, themed, extravagant and even hilarious. Below is my selection of the most interesting wedding packages offered by Las Vegas resorts and casinos.
Caesars Palace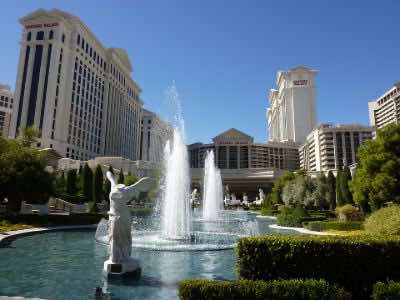 Caesars Palace Las Vegas hotel wedding packages include:
The Juno Garde at Caesar's Palace is an elegant, luxurious venue for weddings. With tropical landscaping and classic Roman architecture, it is a gorgeous outdoor venue for those who want a romantic wedding. The Juno Garden accommodates 100 guests.
Classico is an elegant chapel that can accommodate 196 guests and offers classic Las Vegas hotel wedding packages for couples who prefer a traditional wedding. Classico features a lot of classic features like stained glass windows and grand chandeliers. It also has a classic color scheme that never goes out of style.
Romano is a smaller wedding venue that is ideal for intimate weddings. With a seating capacity of 35, Romano has a very unique décor reminiscent of Roman weddings. This wedding venue offers the authentic look and feel of the romantic city of Rome.
The Venus Gardencan accommodate as many as 114 guests in a truly sublime outdoor setting. Featuring elegant Roman architecture, beautiful flowers and palm trees, it is a relaxing and serene wedding venue. The stone tiled aisle and romantic fountain adds to the elegant appeal of this venue.
Tuscana at the Caesars Palace will transport the bride and groom along with 80 guests to the charm and grace of Tuscany. This grand wedding venue is romantic, charming and timelessly classic. It helps create truly special fairy tale weddings.
More about Caesars Palace Las Vegas hotel Wedding Packages
More Romance
Get Your Free Las Vegas Events Calendar!
Best of Vegas