Best Las Vegas Country Music Clubs And Shows
Here are the best Las Vegas country music Clubs we recommend. Put on your cowboy boots, get prepared to learn line-dancing and set off to party the night away at the rocking Country Clubs in Sin City. These places playing country music range from adult only venues with scantily-clad sexy girls in leather to all-family outings. Classic country music is the vibe with live bands and world class DJ's. Trying to a ride and stay on a mechanical bull is a must, as is playing beer pong and eating home-made BBQ speciality foods.
X Country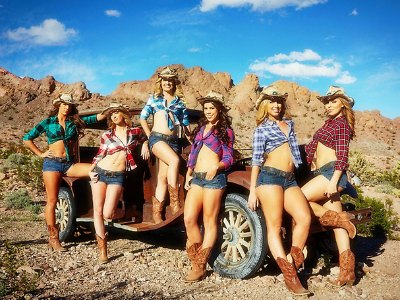 A great Las Vegas country music show for adult entertainment with a difference is the X Country. Be thrilled by beautiful topless girls dancing in sexy costumes and singing a range of current and classic country music hits. The vibe is hot, steamy and high energy. The theatre is small and intimate and you can relax at a table and enjoy a meal and a drink while watching the show. A fabulous, funny comedian will entertain you at half time and then the show continues. The sets are amazing and unusual, with fabulous props and state-of-the-art lighting effects.
Deals
Plan Vacation
Strip Hotels

Shows

Fun Activities

Tours

Nightlife

Stoney's Rockin' Country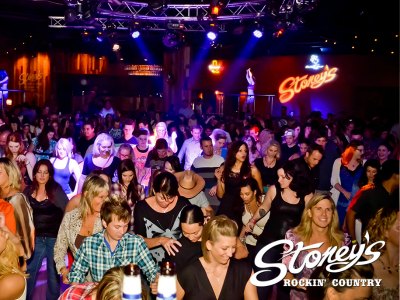 more about Stoney's Rockin' Country
If you still have not had enough of bull riding, boots and country music, head off to our next Las Vegas Country Club, Stoney's Rockin' Country, located at Town Square, a mere 10 minutes from the Strip.
Put on your boots for some dance lessons, saddle up and try to ride the mechanical bull and then settle down for some serious drinking at the bar. On weekends, the stage rocks with live music bands and fabulous DJ's. Ladies can enjoy Ladies Night on Thursdays with drafts at only $1 and a chance to ride the bull in a bikini. Play beer pong, dance the night away and be part of the iconic Las Vegas country scene.
The venue rocks with live music and cowboy boots are a must! Play a few rounds of beer pong and then try your skills on a mechanical bull as it does its best to throw you off. You can learn to dance with an instructor or just settle down and listen to great artists singing current and classic live country music. Enjoy a plate of Smoked Wings tossed in a buffalo style barbecue sauce from the award winning BBQ Pot Liquor Restaurant.
Gilley's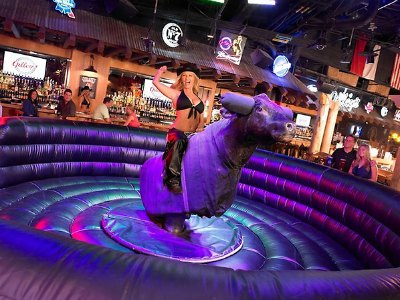 If whiskey, boots and sexy girls in shorts is your thing, head off to the next fabulous Las Vegas Country Club, Gilley's Saloon. The Wild West rocks here with a full time party. Sit on authentic saddle bar stools and enjoy a drink, then join the line dancers on the massive dance floor. The skimpily leather-clad bar girls will serve you and join you in the dance. Attempting the bull ride is a must, you only need hang on for 8 seconds, but no-one can do it. Then settle down and enjoy the great country classics with a touch of the Top 40's to mix things up.
Gilley's is a cowboy restaurant at Treasure Island and is another fantastic Las Vegas Country Club experience. Choose to relax in the dining area for a quieter meal or sit in the saloon and dance area if you want to get really involved. Join in and have a free line dancing lesson and then try to ride the mechanical bull. Gilley's features a rockin' live bandstand playing the likes of country western, blues, rock and folk. The food is top class BBQ fare, try the Sweet Potato Fries dipped in home-made molasses catsup. The views over the Strip are amazing, if you get the chance to take a look!
Toby Keith's I Love This Bar & Grill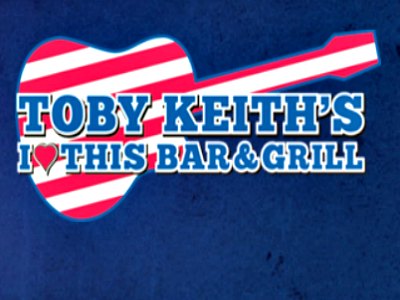 More about Toby Keith's I Love This Bar & Grill
Named after a song, I Love This Bar, this is our next choice of great Las Vegas Country Clubs.
Toby Keith's is a country fans delight, where you can eat, drink and relax. The vibe is all-country with American red, white and blue, and a massive guitar shaped bar with a stainless steel top. Sexy girls dressed skimpily in cow-girl attire will be delighted to serve you speciality drinks devised by Toby Keith himself. Sip a Who's Your Daddy Margarita or a Whiskey Girl. The music is country and blues. Dance a two-step to the live band and enjoy the great Southern style BBQ food. Before you leave, buy some genuine Toby Keith memorabilia at the store next door.
PBR Rock Bar & Grill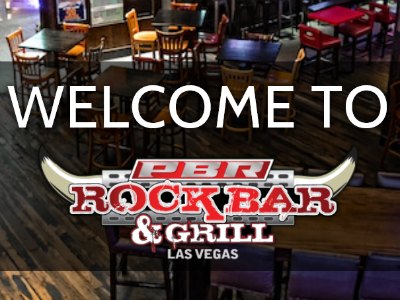 More about PBR Rock Bar & Grill
If you have ever boasted that you could ride a mechanical bull, your friends will be expecting just that at our next Las Vegas Country Club! The PBR Rock Bar has the most massive bull in a specially designed corral that will make you quake. Have a stiff drink first, try the Wild Wild Whiskey or the Hoedown Throwdown, before jumping on and being hurled off.
This rocking venue has over 100 high-definition TV screens for sports lovers, beer pong tables for drinking games lovers, a dance floor and fabulous country style music with live bands and world class DJ's. You can play, eat, drink and party the night away.
What's Hot
Plan Vacation
Strip Hotels

Shows

Fun Activities

Tours

Nightlife

Do you have any questions or Comments?