Etiquette in Las Vegas Gentlemen's Clubs And Other Tips
Las Vegas gentlemen's clubs are an integral part of the city's night life. Here you can relax, get an intimate one on one time with a hottie from your dreams, fall in love with a couple of beauties or have a crazy bachelor party! Do not shy away from them if you don't know how to behave in a strip club - read these tips below and you will be fine!
Strip Clubs Catering To Gentlemen (mostly)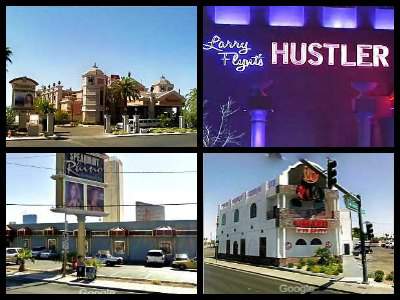 All Vegas Strip Clubs
Las Vegas Gentlemen's Clubs Tips
So what is it you are looking for in a strip club? There are two choices: you could find that perfect club and come back there over and over. Or you could go on a clubbing spree and see them all in one or two nights!
The most common mistake rookies make is arriving to Las Vegas gentlemen's clubs in a cab. You should never do that! Most strip clubs have a free pick up service - simply call and all you need to do is tip the diver ($5 per person in the car).
The reason why arriving in a cab to a strip club is not recommended is because the clubs have to pay the cab drivers for bringing you to them. To compensate for that they may raise your cover charge. Sometimes, if you use their free pick up service they can even waive the cover charge - especially if you order drinks as soon as you come in.
Even bigger mistake you could make is actually asking your cab driver which are the best Las Vegas gentlemen's clubs! Never ask a cab driver for a recommendation if you don't want to end up in a shady place. The clubs pay cab drivers for delivering customers and they will simply take you to those that paid them more, which not necessarily means the best.
If you want dancers to come to you and offer you lap dances - don't sit with your arms crossed - it's usually a sign that you want to be left alone. If a girl whom you don't like approaches you and offers a lap dance - simply tell her that you don't want a lap dance right now.
Establish the price for the lap dance right away - normally they go at the price of $20. Don't accept a higher price, especially after the fact. To be on the safe side it's best to ask in advance. Also remember that whether to tip a girl or not is up to you and there is no "tip rate" per dance. But it's a nice thing to do anyway - these girls work for tips alone!
Try to establish good relationships with everyone in the club - especially the security. The dancers rely heavily on the security guards and if they see you talk casually and nicely with them, they will feel safer with you which will result in a better lap dance!
Strip Clubs For Women
Please note that some strip clubs do not let unaccompanied women in. Some gentlemen's clubs don't let women in at all (if you are wondering why - the clubs want to be on a safer side and they suspect that these women might be prostitutes who would steal their customers).
It's always best to ask in advance if you want to go to strip clubs with your girlfriend or your wife. These are Las Vegas gentlemen's clubs that feature male strippers - recommended for a couple's night out!
If you want to make a present for your girlfriend (with incredible benefits for yourself!) - buy her a Stripper 101 Class- the ultimate class where she will learn how to do a strip dance (for you!)
Dress Code And Etiquette
Here are some common rules you should follow if you want to get the most out of your Las Vegas gentlemen's clubs experience:
Do not confuse strip clubs with brothels - prostitution is illegal in Vegas. Do not proposition the dancers and do not touch them where they don't want to be touched. If you want a lap dance - ask the dancer where she wants to be touched and avoid other places.
Always dress nicely. Although some clubs might let you in if you wear shorts and a t-shirt - upper-scale clubs require that you wear nice pants have your shirt tucked in. It's best to always look nice if you want to avoid the problems.
Prices in Las Vegas Gentlemen's Clubs
If you are wondering how much your night out will cost you - below are approximate rates in Las Vegas gentlemen's clubs. Please note that while you can pay for your drinks with your visa or debit card, dancers cannot accept them. Always bring enough cash with you, including enough dollar bills for tips - if you want good service - it's normal to tip everyone in the club who gives you the service.
Cover fee - starting at $30, Sometimes cover fee can be waived if you arrive by your own vehicle or the club's own pick up limousine. Cover fee can go up if you
Lap dances on the main floor start at $20. It's customary to tip the girl if you liked the dance - $1-$5.
Lap dances in the VIP area start at around $100 for 3 songs. You should also tip the girls in the VIP area for dances.
You should certainly tip the girl dancing on the pole - especially if you want her to come over and do a lap dance for you. $1-$5 dollars.
You should tip every staff member in Las Vegas strip clubs if you want to get the best service available. Normal tipping rates are $1-$5 - use common logic. If that's a waitress who brings you drinks all the time - tip her $1 per drink. If that's a host who shows you the best seats in the club - tip $5. The more personal the service - the better you should tip.
Drinks in Las Vegas gentlemen's clubs start at $7-$15 and up. If you want drinks served in your VIP room - the prices go up. Same goes for tips - you should tip more for drinks in the VIP room than for drinks on the main floor.
Get Your Free Las Vegas Events Calendar!
Las Vegas Gifts - Art, Merch And more!
Grand Canyon Helicopter Tours by Papilloin
Grand Canyon Helicopter Tours by Maverick
Awesomest Things to do in Las Vegas Every Day!