Best Las Vegas Strip Clubs In 2023
Which are best Las Vegas strip clubs? Here is a list to help you plan a fabulous bachelor party or a crazy night out.
There are a few things we can tell you for sure: In Vegas there are 2 types of gentlemen's clubs:
Totally nude
Topless
Both have advantages and drawbacks. As a rule of thumb, totally nude clubs prohibit any alcohol - you can drink juice, Red Bull, but no alcohol whatsoever. In topless clubs you can drink alcohol. If you ask me, I'd rather be pleased with topless and have access to drinks - the girls don't hide much anyway.
Crazy Horse III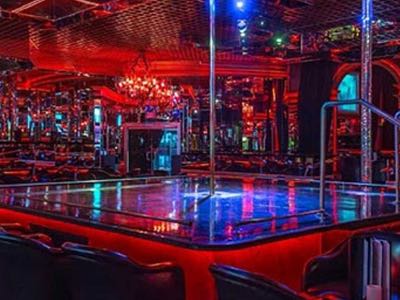 Address: 3525 W Russell Rd
Phone: 702-673-1700
One of the biggest and best Las Vegas strip clubs that combines all the goodies from beautiful women to hand-crafted cocktails to interesting bar food is the Crazy Horse III aka CH3. Located close to the Strip next to Allegiant Stadium, CH3 as all the elegance and decadence you seek in an upscale gentlemen's club. With 50,000 square feet of space there is plenty of exotic flesh to watch on one of the six stages that dot the interior while enjoying a libation from one of the four bars with your friends. Once inside the atmosphere is ideal for watching scantily clad women dance erotically with a state-of-the-art sound system and the special lighting inside helps bring the sexually energized space to its peak. There are multiple VIP rooms, party rooms for bachelor parties, and a variety of packages to help you dive into the action which is non-stop 24 hours a day every day of the year.
Sophia's Gentlemen Club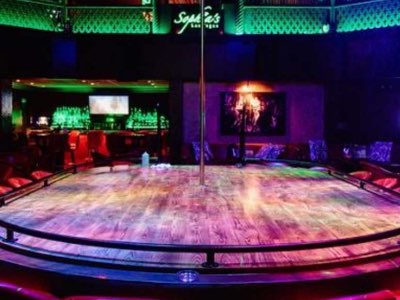 Address: 3500 W Naples Dr
Phone: 702-982-6777
Looking for an upscale Las Vegas strip club to spend some time with your friends that mixes everything up including cocktails and beautiful women, then you should try going to Sophia's Las Vegas. Located along West Naples Drive, this gentlemen's club brings everything together for a stellar night of drinking and watching gorgeous women dance erotically on one of the two stages located on the lower level. Upstairs you will find eight VIP rooms with ultimate private areas that wrap around the mezzanine giving you a bird's eye view of all the action below. Don't worry, there are plenty of packages to add-on beautiful women and bottle service in your private suite upstairs which gives you the intimacy desired when partying with your friends. The strip club is open seven days a week for your erotic viewing pleasures offering complimentary limo service to bachelor parties and there is a simple menu of great food.
Girl Collection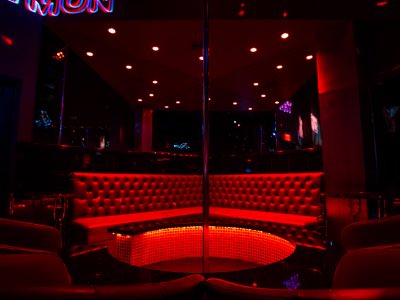 Address: 2580 S Highland Dr
Phone: 1 844-447-5758
When you need to see some flesh of some of the most beautiful women to grace the earth, then a perfect Las Vegas strip club for you to enjoy is the Girl Collection. Located along South Highland Drive, this boutique gentlemen's club is the creation of famous boxer/entrepreneur Floyd Mayweather who opened the upscale club in 2017 and you are sure to see some celebrities when visiting. Inside the atmosphere is brilliant with 7,000 square feet of space filled with gorgeous topless women. The main floor is ripe with the color red everywhere highlighted by numerous erotic dancers showing off their goodies. There are two private areas on the main floor with private poles for your enjoyment and three other options for larger groups as well as nine private rooms. The state-of-the-art sound system is incredible as the women gyrate to the music and the lighting effects showcase the beautiful sculpted bodies of the women.
Treasures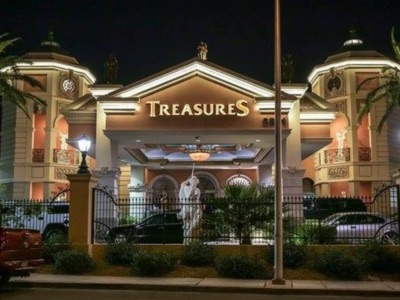 Address: 2801 Westwood Drive
Phone: (702)-257-3030
Review: According to many reviews, Treasures is the most upscale and tasteful of all Las Vegas strip clubs, located in a beautiful two-storey building. Treasures is dubbed "The Most Luxurious Gentlemen's Club in The World". It's more expensive than other clubs, and has a great bar/restaurant. The rotating cast of beauties work on three stages, incorporating neon light and special effects. There is always an eye candy to look at at any stage. If you want to get intimate with a beauty of your choice (and there are plenty to choose from), there are VIP private rooms semi-private rooms with glass doors.
Spearmint Rhino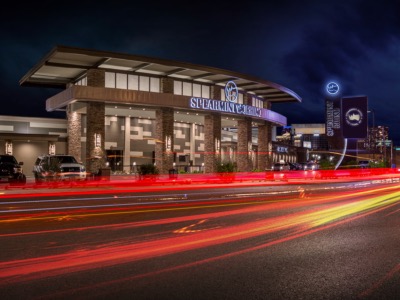 Address: 3344 Highland Dr.
Phone: (702) 796-3600
Review: Spearmint Rhino is one of the world' best gentlemen's clubs and certainly one of the hottest nightspots of the city. This 24/7 venue with four full-service kitchen bars, three central stages with easy access, and plenty of VIP seating options offers everything for a perfect night strip experience. You can get extremely close to the main stage with dancing beauties, or enter an intimate VIP cabana with a lady of your choice. Top-level VIP services include limousines, private lounges, individual lap dances, and one-on-one quality time with a strip dancer. Probably the most popular among Las Vegas strip clubs, Spearmint Rhino is usually crowded with guests, including celebrities. Reportedly, George Clooney is a frequent visitor.
Hustler Club
Address: 5969 Dean Martin Dr.
Phone: (702) 795-3131
Review: Larry Flynt's Hustler strip club is huge and full of erotic adventures. Four stories of bright glittering interior with a number of lap dance stages and hundreds of strip dancers is a one-stop destination for a night of debauchery. Gorgeous ladies seen on the pages of the "Hustler" magazine give great lap dances and turn on the visitors. Special features of Hustler Strip Club include a glass floor catwalk, free limo offer, special prices for drinks, and a Hustler retail shop. Patrons consider Hustler one of the most fun Las Vegas strip clubs because it holds cool contests for the guests during the night, and hosts many special events like celebrities appearances.
Sapphire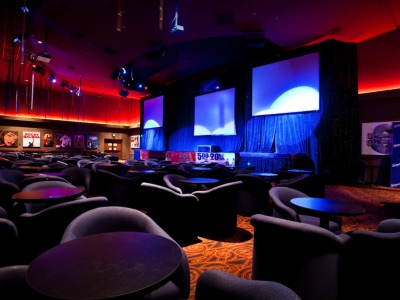 Address: 3025 S. Industrial Rd.
Phone: (702) 796-6000
Review: Sapphire is not only the largest of all Las Vegas strip clubs - currently it's the largest strip club in the world! With 70,000 sq.feet of adult entertainment, Sapphire is ideal for large bachelor parties and other events. It combines nightclub experience, strip dancing, celebrity appearances, stand-up comedy shows, finest variety of drinks and other attractions. Various VIP packages include business retreat, divorce party and pole dance classes. All of them offer free limo service. One of the best Las Vegas strip clubs, Sapphire has events for everyone. On Fridays and Saturdays, they run a Male Revue show Men of Sapphire just for the ladies!
Déjà Vu Showgirls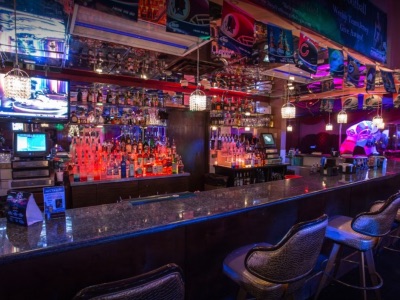 Address: 3247 Industrial Rd
Phone: (702) 308-4605
Review: Déjà Vu Showgirls is a mid-sized strip club that offers lots of special events, such as amateur contests with cash prizes, "Fetish Fridays" with bondage and body painting, and other. It is one of the most popular Las Vegas strip clubs among locals because of its intimate atmosphere, large choice of drinks and sexy waitresses. Bloody red lighting adds devilish notes to the Sin City atmosphere. Luxury and comfortable VIP seats surround a table-sized pole stage for individual strip dances, and it makes Déjà Vu Showgirls ideal for small bachelor parties.
The Palomino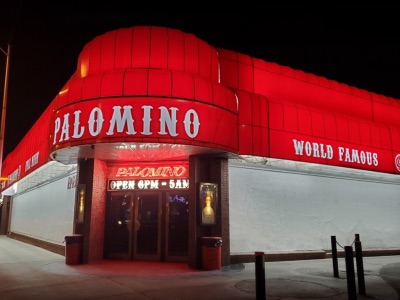 Address: 1848 Las Vegas Blvd
Phone: (877) 399-2023
Review: Palomino is the only strip club in Vegas that is both fully nude and allows alcohol - a perfect recipe for a night of extreme indulgence. The oldest of Las Vegas strip clubs, it has both spacious main tipping stage on the main level, an intimate Lipstick Lounge upstairs, and VIP Ultra Lounge. Two separate bars are offering alcohol drinks throughout the night. The hottest girls who fully "undress to impress" the customers fulfil the wildest fantasies in the red-hued private rooms. The "Stallions" of Palomino offer the "full monty" strip show with male dancers during a "ladies night" on Fridays, Saturdays and Sundays. Palomino brings what it promises - the best service to make a customer happy. Very happy!
Little Darlings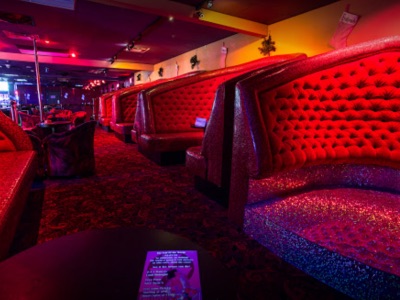 Address: 1514 Western Ave.
Phone: 702-366-1141
Review: If you enjoy themed events combined with erotic adventures, Little Darlings strip club is waiting for you. On Sundays they have Military Night, on Wednesdays you can Rock Naked and get a free tattoo, and on Saturdays entertainers are the sweetest with lots of chocolate syrup on their naked bodies! The main stage boasts one of the tallest stripper poles in the city, allowing flexible strippers to slide slowly all way down for the pleasure of the crowd. More than ten comfortable plush VIP booths are offered for private lap dances, or even couch and bed dances!
More Nightlife
Get Your Free Las Vegas Events Calendar!
Las Vegas Gifts - Art, Merch And more!
Grand Canyon Helicopter Tours by Papilloin
Grand Canyon Helicopter Tours by Maverick
Awesomest Things to do in Las Vegas Every Day!